NFL Office Pool Picks - Week 4
by Trevor Whenham - 9/28/2010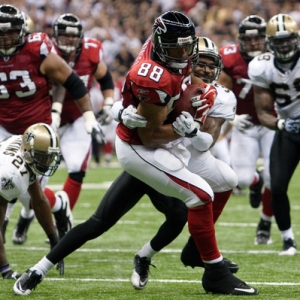 It has been yet another strange start to the NFL season. Who really thought that when the Chiefs and Niners played in Week 3 it would be the Chiefs who were unbeaten and the Niners who were winless? Or that the Kevin Kolb era would last just minutes, and Michael Vick would play better than he ever has before? Or that Chicago would be the only undefeated team in the NFC after just three games? Or that Austin Collie and Brandon Lloyd would be the leading receivers in the league? Strange times. It wasn't a very good week here when it came to my NFL Office Pool Picks, but picking St. Louis to pull off the upset eased some of the pain.
As we head into the first bye week of the year - Dallas, Minnesota, Kansas City and Tampa Bay are out of action - here's a look at how the 14 games should play out.
San Francisco at Atlanta - I had very high hopes for the Niners - like 12-win kind of hopes. Needless to say, they have been a major disappointment. I truly don't understand how this team can have been the worst in the league so far. I still hold out hopes that they are going to turn things around, but on the road against a good Atlanta team is not when they will start. Take the Falcons.
New York Jets at Buffalo - I still don't buy into Mark Sanchez entirely, but the Jets are just so much better than the Bills in virtually every aspect of the game that there is only one decision possible here. Take the Jets.
Cincinnati at Cleveland - I don't like the Bengals at all, and I think Marvin Lewis is as bad as a coach can be. Still, this is the Browns we are talking about here. The battle for Ohio won't be much of a fight. Take the Bengals.
Detroit at Green Bay - This is another classic rivalry that shouldn't be much of a classic this time around. The Packers are going to be angry after a very sloppy loss on Monday night, and they are going to take it out on the defenseless Lions. Take the Packers.
Denver at Tennessee - This is the first game I am going out on a limb with. I love the way that Kyle Orton is playing, and I really think that Josh McDaniels is getting through to this team. I don't trust the Titans at all, and am not impressed by their 2-1 record because the two wins have come against lousy teams. Take the Broncos.
Carolina at New Orleans - The Panthers are at a total loss at the quarterback position right now, and their offense is obviously struggling as a result. To win this game they would have to find a way to go punch for punch with the Saints' offense. That just isn't going to happen. Take the Saints.
Seattle at St. Louis - Despite their 2-1 start I don't think much of these Seahawks this year. There has just been too much change. They have long been a lousy road team, and their first trip this year did nothing to show that that has changed. They are traveling to face a St. Louis team that is riding high off a very solid win over Washington that was more complete than many thought they would be capable of at this point. Here's one vote for home team momentum - take the Rams.
Baltimore at Pittsburgh - The smart thing to do here would probably be to take the Steelers at home. I guess I'm not that smart, though. I can't see the Steelers going unbeaten without Big Ben, and I have a hard time imaging Charlie Batch - no matter how good his story is - thriving against this very tough defense. Joe Flacco and the Ravens' offense have yet to wake up yet, but they are showing progress, and I expect that progress to continue here. Take the Ravens.
Houston at Oakland - I was very disappointed by Houston's misfire at home against the Cowboys in a game in which they could have made a serious statement. Still, they have been playing well outside of that, and they are playing an Oakland team that can't figure out what it wants to do at quarterback, and which has to be frustrated because the promise that seemed so real before the season has yet to materialize in the regular season. Take the Texans.
Indianapolis at Jacksonville - I'll be brief. The Colts have improved significantly each week. The Jags haven't. Take the Colts.
Washington at Philadelphia - I can't explain the Michael Vick phenomenon, but I am starting to believe in it. I also don't have a lot of faith in Donovan McNabb's ability to hold up under the pressure of returning to Philadelphia for the first time - he didn't hold up particularly well to the far less significant pressure of playing in St. Louis last week. Philadelphia is just a better team, and they are at home. Take the Eagles.
Arizona at San Diego - I am at a total loss in this one. The Chargers are clearly the better team and they should win. They were also clearly the better team against Kansas City and Seattle, though, and look where that got them. This is a flawed program that just can't figure out how to play in September. Still, given the location of the game and the state of Arizona's QB play I am forced to back them. Take the Chargers.
Chicago at New York Giants - Another tough one. I absolutely do not believe that the Bears are good enough to be a 4-0 team. On the other hand, I think the Giants are even lousier than I thought that they were going to be - and my hopes for them were far from high to begin with. Chicago is producing some offense, and the Giants are struggling to answer. Take the Bears.
New England at Miami - One of these teams will have two losses in their division on their record after just four games - that's a problem. I was frustrated by some of Miami's play against the Jets, but Chad Henne was very good, and his chemistry with Brandon Marshall grows with every snap. They are at home, and in a few key ways - like the defensive line - think that they are the better team, so I like the Dolphins.
Doc's Sports has become known in nearly four decades in the sports handicapping business as one of the brightest and most successful college football handicappers in the nation and Doc has a big Game of the Year in college going this weekend and this will be one of the highest rated picks of the season.. Here ay Doc's Sports we provide both college football picks and NFL picks in one package so you can get the best of both worlds for all your football betting needs. Check our homepage for up-to-the-minute college football odds and daily exclusive college football betting articles.
---
Most Recent NFL Office Pool Picks