NFL Handicapping: Offseason Storylines
by Trevor Whenham - 2/10/2010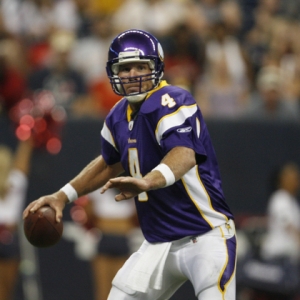 It seems hard to believe, but the football season is over. Until training camps start in the middle of the summer we won't get to see teams play again, and we won't see another meaningful game until September. That seems like an impossibly long time to wait. Luckily, the NFL never really rests. Between free agency, the Combine, the NFL Draft, and so on there is always something to follow. NFL handicappers can't lose any money over the summer, but by keeping an eye on what is going on they can put themselves into position to make some money when the season does start. Here's a look at five stories that will factor heavily into the path this offseason takes.

Vikings QB situation - Brett Favre is involved, so we know that this one won't move quickly or painlessly. Favre is under contract for another year, and the team wants him back, but he's publicly hesitant. There are a couple of reasons why this one is going to be significant.
First, there is the obvious issue of who is going to take the snaps. If it is going to be Favre, which I still don't doubt, then we have to determine what a 41-year-old quarterback is going to be able to bring to the table - especially since opposing defenses will have a much better sense of what he and the offense can do. If he doesn't come back then there is a real question of who is going to take over. Tarvaris Jackson is the most obvious choice, but there is little indication that he's going to get that chance.
Because the team feels like they are a contender they are more likely to bring in someone who they trust more because he is proven to be successful. That could include names flying around the rumor mill like Donovan McNabb, Marc Bulger, or Chad Pennington. No matter who it is, the move would create a domino effect around the league among the other teams needing proven QB talent. Finally, whoever takes over will have a significant impact on the prospects of this team next year, and will help to determine whether their +1300 Super Bowl future price provides any value at all.

Michael Vick - McNabb isn't the only Philadelphia QB who is rumored to be on the move. Vick was far from spectacular in very limited duty this past year, but he has stayed out of trouble, and that's enough to convince some desperate team to take a risk on him. There are reportedly at least three teams interested in him. The Rams are known to be one, and Buffalo is probably another. I'm not at all convinced that Vick is going to be a major contributor even if he does get a chance to start. What he will do, though, is draw more than his share of interest from the betting public. That will skew the odds on what is likely to be a bad team, and could create some value for betting against him and his new team.

Collective bargaining issues - The intricacies of the the labor dispute are far beyond the scope of this article. What you basically need to know, though, is that the owners and the players are very far apart and there is no common ground. The owners want to get their costs under control, and the players have no interest in helping them do that. This is going to create havoc this coming season with contracts, and the potential for a lockout next year is going to loom larger and larger as it gets closer. It's hard to know what the larger implications of this dispute are going to be, but there is a good chance this year that teams will not act in what we have come to understand is a rational manner because of this situation. That means that we'll have to pay special attention to who teams have on board and what kinds of contracts they are playing under.

The Saints - The euphoria over their big win can can last for a few more days, but sooner rather than later they are going to have to make a whole bunch of very difficult decisions. They have 29 players who are free agents, and others who they have to make decisions about. That means they really need to decide what direction they are going to go in, and who fits into those plans. It's highly unlikely that they will be able to bring back even the majority of those players, or that they would want to if they could.
Any time a team faces an overhaul like that chemistry is going to be an issue, and it won't be easy to know how they are going to fare next year. they also have to make a big decision about the future of Reggie Bush. It's hard to be terribly optimistic about the Saints next year given this situation, and it's certainly hard to justify their +750 Super Bowl futures price.

Draft QBs - There are a large number of teams that need quarterback help. The success of young quarterbacks the last couple of years - Flacco, Ryan and, to an extent, Sanchez - has made teams more willing to take a young quarterback and throw him to the wolves from the start. The problem this year is that there isn't a clear cut star in the quarterback class.
Sam Bradford is the brightest light, but he's coming off a serious arm injury. Jimmy Clausen has arm and toughness issues. Colt McCoy has an arm issue of his own among the concerns about him. Tim Tebow is a bundle of uncertainty, and did noting to help himself with a lousy Senior Bowl Week. Dan LeFevour is a personal favorite, but he's a stretch as a starter early on. Teams are going to be forced to gamble on QBs, and we'll be forced to decide how that is going to turn out.