NFL Picks: Baltimore Ravens Vs. Pittsburgh Steelers Betting Odds and Predictions
by Robert Ferringo - 10/1/2010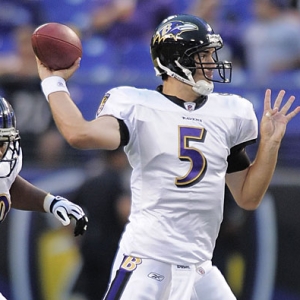 This week's Baltimore-Pittsburgh game is the type that makes you think you should have pads and a helmet on in your living room just to watch these guys hit each other.
The Ravens will square off with the Steelers at 1 p.m. on Sunday in the Steel City. This game matches two of the angriest, most violent, most savage, hardest-hitting teams in the NFL. And, not coincidentally, these are two of the best teams in the league and this early season grudge match is for position not just at the top of the AFC North but also at the top of the pile of the entire conference.
The host Steelers are listed as a slender one-point favorite in this game and they have beaten the rival Ravens in nine of 10 meetings in Heinz Field.
The obvious storyline in this clash is that this is the last game that the Steelers have to play without starting quarterback Ben Roethlisberger. Unless you have been living in an Afghani cave you know that Big Ben was suspended for conduct detrimental to humanity. He will miss this game and then take the reigns after a Week 5 bye.
It was just last November that these two teams met without Big Ben in the fold. And even though that game was played in Baltimore the Steelers and Dennis Dixon forced overtime before falling, 20-17. The Steelers actually led late in the fourth quarter in that game before a pair of field goals did them in.
This year it will be Charlie Batch under center instead of Dixon. Batch is coming off one of the best games of his long, mediocre career. He completed 71 percent of his passes and notched three touchdowns last week in a spot start against overmatched Tampa Bay. Between Batch's bombs and a stellar running attack the Steelers racked up 38 points last week in Florida.
I doubt very highly that the Ravens spent much of this week worrying about Batch. He was successful throwing the ball down the field last week. But what should trouble Baltimore is the No. 3 ranked rushing game in the NFL that Pittsburgh employs. Especially after the Ravens were torn up for 173 yards on the ground last week by creaky Cleveland.
Joe Flacco will be under center for the visiting Ravens, and he is also coming off his best game of the year. He has developed a great rapport with offseason acquisition Anquan Boldin in the passing game. And news has come back that starting running back Ray Rice will be healthy enough to suit up after leaving last week's game with a leg injury. The Ravens will need all hands on deck. Because not only are they facing the best defense in the NFL, but they have mustered only 10 points apiece in road games at the Jets and at the Bengals.
One thing to keep an eye on in this game is the total. The obvious thought is that these are two of the three or four best defenses in the NFL. Both teams like to run the ball and both teams want to just bang heads for 60 minutes. All of that should lead to a low-scoring grinder. Yet, the 'over' is 6-1-1 in the last eight meetings. Part of that is the oddsmakers preying on the general public perception that this is an easy 'under'. And part of that is just everyone underestimating the offenses.
Baltimore Ravens at Pittsburgh Steelers Football Betting Odds
The host Steelers are the slimmest of favorites in this game. They are currently posted at -1.0. However, when you figure that home field in the NFL is generally worth three points on its own you get the sense that the oddsmakers view the Ravens as the better team. The total is set at 34.0.
Baltimore Ravens at Pittsburgh Steelers Razorbacks Betting Trends
'Over' is 5-0-1 in the last 6 meetings in Pittsburgh.
'Over' is 6-1-1 in the last 8 meetings.
Road team is 3-1-1 ATS in their last 5 meetings.
Underdog is 4-1-1 ATS in their last 6 meetings.
Ravens are 0-3-1 ATS in their last 4 meetings.
Steelers are 11-4-1 ATS vs. a team with a winning record
Ravens are 1-5 ATS vs. a team with a winning record
Baltimore Ravens at Pittsburgh Steelers Football NFL Picks and Betting Predictions
I just have a hard time believing that the Steelers will go 4-0 without Big Ben. I know that they have been playing great football and that their defense has been dominating. Also, the home crowd was able to almost will them to an overtime win in the opener against Atlanta. But this game is different. This is a familiar opponent that smells blood and knows that Pitt is weakened.
I also have a hard time trusting John Harbaugh on the road. If he has proven one thing in his brief coaching career it is that he fields a pretty undisciplined team. Some of that is just Baltimore's natural aggression. But some of it is also the type of sloppiness that can cripple a tight bet in a game where one mistake can make the difference. That said, the advantages on the offensive line and at the quarterback position are enough here to give the Ravens the check mark.
Robert Ferringo is a writer and a professional college football and NFL handicapper for Doc's Sports. Last year he brought home +62.5 Units for his clients for NFL picks and he is regarded as one of the top totals players in the sport. So far this year he has banked $2,500 in profit for his clients and has brought in nearly $4,000 in football profit while posting three straight winning football months. He has a College Football Game of the Month on the card this week and he's looking for more profits this weekend. You can sign up for his college football and NFL picks and get more information here.