NFL Power Rankings Week 6
by Robert Ferringo - 10/13/2010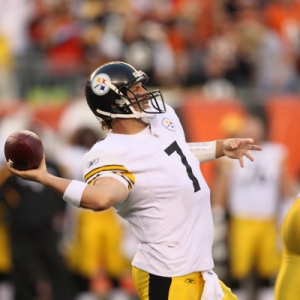 Here is my Week 6 NFL Power Rankings:
1. Pittsburgh Steelers (3-1) – How is this for old school: Pittsburgh is No. 32 in the NFL in passing (136 yards per game) but they are arguably one of the best three teams in the league. Obviously, Big Ben is back this week. And I expect him to be pretty sharp. But he's not going to be a cure-all for their offensive issues, which include its leaky offensive line. Pittsburgh has won 12 of 13 games against the Browns and is a solid 9-4 ATS in those games. However, that lone loss came last year in Cleveland and gives the Steelers a little revenge angle. That said, they are just 3-13 ATS as a double-digit favorite and just 1-4 ATS in the last five against the Browns.
2. Baltimore Ravens (4-1) – Last year the Ravens outplayed the Patriots both times they played them (and both games were in Foxboro). But in the first meeting penalties, turnovers and general miscues did them it. Not so much in the second meeting, as Baltimore just hammered a weak Patriots defense. The Ravens are just 1-4 ATS in their last five trips to New England but they are 20-7 ATS as a road underdog of a field goal or less. Baltimore is 2-0 ATS as a dog this year. And I have to say I find it odd that this will be the third time that they are catching points despite being considered one of the top two or three teams in football.
3. New York Jets (4-1) – New York's secondary, for the second time in three weeks, has looked oddly suspect. And Darrelle Revis has looked completely lost this year when he's been in there. All preseason people talked about the guy like he was the genetically engineered morph-man of Deion Sanders and Rod Woodson. Not so much. The Jets have the second-highest scoring offense in the NFL and they have gone 'over' in four straight games. I will 100 percent admit that I was one of the people very wrong about LT. I don't know why it is, but he didn't have anywhere near the burst he has now in his last two years in San Diego. The Jets are 7-1 ATS on the road and is on a four-game ATS win streak.
4. Atlanta Falcons (4-1) – A big reason why the Falcons have muscled their way into the Top 5: they are No. 2 in the NFL with a +7 turnover differential. That has them tied with this week's opponent, Philadelphia. Plus, Mike Smith, as you knew he would, has really built a fast, strong young defense that has a chance to be elite in the next few years if the core remains. This team has underrated players – Roddy White, Justin Babineaux, Kroy Bierman to name a few – all over the field and they are one of the most physical clubs in the league. Atlanta is 5-1 ATS in its last six road games but they have always had problems with the Eagles. Atlanta is just 2-8-1 ATS in the last 11 meetings and is just 1-4 ATS in the last five trips to Philly.
5. New Orleans Saints (3-2) – I know that everyone is sounding the alarms on this team. Not I. Yeah, they aren't as sharp or as motivated as they were last year. Few defending champions – in any sport – ever are. They feel like they can "turn it on" and that they just want to coast until the playoffs start. So I fully expect them to come to play this week against Tampa Bay and find out if the Bucs are for real. They are No. 6 in the league in defense, but they need to find a way to run the ball better outside the tackles, especially to the right side. New Orleans is just 3-13 ATS in conference games and they are 1-5 ATS on the road. Also, the favorite is 5-11 ATS in this series and four of the last five meetings have been decided by four points or less.
6. New England Patriots (3-1) – Here we are once again with the Patriots: the talent matchup says one thing, but Brady and Belichick say another. New England doesn't have the strength on either side of the ball to hold down Baltimore. But with two weeks to prepare and a load of us-against-the-world motivation after the Randy Moss deal you know that the Patriots will be sharp. The home team is 4-1 ATS in this series. But can all of this make up for the physical mismatch? The Patriots front seven is still feeble and is allowing opponents to convert 55 percent on third down. And despite what they say their passing game won't be as effective without Moss.
7. Indianapolis Colts (3-2) – The Colts need to retire that shotgun draw. It seemed like every other play was that trap draw, and they almost always go to it when they run on third-and-short. And I don't recall seeing it work all that much. However, when Joseph Addai went out, Mike Hart came in, and the Colts went with one-back, off-tackle runs and they worked infinitely better in short yardage situations. The Colts are 7-1-1 ATS against a team over .500 and they are 7-2 ATS as a road favorite. Peyton Manning has been money throughout his career in primetime games and he'll have his boys focused this week. Indy's whole scheme is not to make mistakes and to capitalize on others' miscues
8. Washington Redskins (3-2) – How about my boy Anthony Armstrong, eh? I said it in the preseason: it seems like this guy is open on every play. Still, after rewatching the tape of last week's game I have no idea how Washington won. Donovan McNabb is missing WAY too many throws. I mean, he has never been Mr. Accuracy but he is missing way too many easy throws that a guy of his experience and stature shouldn't be missing. Also, I have no idea at all what Kyle Shanahan is doing with his play calling. I think he has been one of the worst OC's in the NFL to this point in the season. This is Washington's fourth home game already; they have been an underdog in all four and are 2-0-1 ATS in the first three.
9. New York Giants (3-2) – You know how you can tell when a Giants team is for real: when they aren't giving up garbage time touchdowns to let games get closer than they should be. It's a pride thing. And it has been impressive to see the last two weeks. Perhaps this group just needed a few weeks to adjust to Perry Fewell's system, similar to the adjustment time they needed under Steve Spagnuolo. But beware this week: they are in a vintage Giants Letdown/Look Ahead spot off a huge road win and prior to a Monday Night Football game at Dallas. The Giants are 5-11 ATS overall and just 3-7 ATS as a favorite. But they are 20-8 ATS after a win and 5-2 ATS against a losing team.
10. San Diego Chargers (2-3) – At this point it's just piling on to say that San Diego's special teams are among the worst I've ever seen. They have the No. 1 offense in the NFL and the No. 2 defense, yet they have a losing record due to a just stunning, baffling, mind-blowing number of special teams meltdowns. The Chargers are 0-3 on the road, giving up 27.7 points per game (compared to 11.5 at home). And 30 of 83 points given up on the road have come via special teams errors. The Chargers are 0-4 ATS as a road favorite but they are 6-0 ATS after a loss ATS.
11. Tennessee Titans (3-2) – Good luck figuring this group out. They have plenty of talent and athleticism, a good coaching staff, and some decent mojo. But for the second time in three weeks they won a game in which they were outgained by around 200 yards. The Titans are also just 1-10 ATS in their last 11 games against a winning team. Tennessee is 5-2 ATS in its last seven against the Jaguars and they have won two straight Monday Night Football games.
12. Green Bay Packers (3-2) – If Aaron Rodgers can go this week then this club could go into an all-out free fall. I was one of the few – if not the ONLY – analyst in the country that suggested that the Packers were going to miss the playoffs and possibly finish with a losing record. About half of everyone else (everyone that didn't pick Dallas) had them in the Super Bowl. Besides Rodgers, who may miss this week with a concussion, the most significant injury they suffered on Sunday was to stud linebacker Clay Matthews. And by my count this team could be without eight "opening day" starters.
12. Chicago Bears (4-1) – There is no way that Chicago is the No. 12 team in the NFL. But I just can't keep putting moron teams like the Cowboys and Bengals ahead of them. Jay Cutler "should" be back this Sunday, which is good news for Bears fans after watching Todd Collins put up one of the worst performances in Bears history. And considering the disasters Chicago has had under center over the last quarter-century that is saying something. The home team is 5-1 SU in the last six meetings between Seattle and Chicago.
13. Dallas Cowboys (1-3) – What an amazing bunch of assholes. This team has so much talent but can't get out of its own way. I don't understand how Wade Philips still has a job. This team has actually outplayed all of the teams it has lost to. But their record is their record and they are in essentially an early playoff situation with Minnesota this week. Since 1990 only five teams have started 1-4 and made the playoffs. As I watch the Vikings and Cowboys I think Dallas is closer to the team that was playing in the Metrodome last January. But they have a lot of ground to make up after last year's 34-3 beating.
14. Houston Texans (3-2) – I really don't know what the Texans have done to warrant being as heavy of a favorite as they are this week. But they are also one of just a few favorites that aren't getting heavy public action. How anyone could possibly be surprised by how awful the secondary has played is stunning to me. This has been a problem for them for years and then in the offseason they lost their best corner. Where did they think this was going? If you kick out the last 20 minutes of the Washington game the Texans have been outscored by 55 points in their three games against the NFC East. They are a solid 9-3 ATS in their last 12 games after a loss but they are just 1-4-1 ATS in their last six as a home favorite.
15. Cincinnati Bengals (2-3) – What an amazing bunch of assholes. This team has so much talent but can't get out of its own way. I don't understand how Marvin Lewis still has a job. How does an offensive line get called for four false start penalties AT HOME? And how are you throwing the ball on third-and-long with 2:30 to play, a touchdown lead, and your opponent with no timeouts? It never ceases to amaze me how this team finds a way to bungle games.
16. Minnesota Vikings (1-3) – It's perfect symmetry that the Vikings face the Cowboys this week since they have had mirror seasons. The Vikings are 1-3, losing two tough games against quality teams (Jets, Saints) and one that they shouldn't have (Miami). And in the end they are just -4 in scoring differential. But before you think that this group will turn it around now that Randy Moss is on board, check out to their schedule over the next two months: Dallas, at Green Bay, at New England, Arizona, at Chicago, Green Bay, at Washington. Ouch. The good news is that the Vikings have dominated Dallas. They are 6-1 ATS in the last seven meetings and 5-0 ATS at home. Also, the favorite is 8-0 ATS in the last eight meetings.
17. Philadelphia Eagles (3-2) – I'm sure there are people surprised to see this team so low. But where are their quality wins? Detroit? San Fran? They are playing the hand they are dealt. But I don't think they are strong enough to hold up against the bigger, stronger teams in the division. Jason Peters had an MRI Monday and they lost Broderick Bunkley for the year, weakening them up front on both sides of the ball. The favorite in the Falcons-Eagles series is 6-2 ATS but the Eagles still have to prove that they can go out and handle quality teams. This week's matchup is speed-on-speed so the winner could be decided by which team is tougher in the trenches. That is rarely the Eagles. The public is all over Atlanta this week, with more than 80 percent of the action on this game going down on the Falcons.
19. Kansas City Chiefs (3-1) – Like a lot of other people, I gained a lot of respect for this team in defeat. Their defense is officially legit and their crop of running backs is as good as any in the NFL. Where their defense has been at its best is on third down, where they have allowed teams to convert just 32 percent of the time (No. 7 in the NFL). Going back to 2006 the Chiefs are 6-0 ATS in the second of back-to-back road games.
20. Denver Broncos (2-3) – This team seemed like it was hanging on and preparing to make a move in the muddled AFC West. But they just lost starting linebacker Robert Ayers and starting safety Brian Dawkins from an already teetering defense. Dawkins' loss is going to be huge because he is such a leader in the back. This is really a swing game for the Broncos because it's one of their few chances to match up with an elite NFL team. Denver is 5-2 ATS at home against the Jets and the underdog is 4-1 ATS in the series. But the Broncos are just 2-5 ATS at home and 11-25 ATS after a loss at the window.
21. Miami Dolphins (2-2) – This week is a great opportunity for the Dolphins to climb back into the AFC race. They have had two weeks to prep and are taking on a Green Bay team decimated with injuries. The Dolphins have converted 51 percent of their third downs but they are just No. 28 in yards per point. They are having to work too hard for too few points. They won at Minnesota despite being outgained by 138 yards. This line is going to be off the board until late in the week when there is an announcement on Rodgers. If he doesn't play I expect Miami to be a one-point favorite. Miami has converted a first down or touchdown 100 percent of the time this year when running the ball on third or fourth down and two-yards-or-less to go.
22. Tampa Bay Buccaneers (3-1) – Man, how good is Mike Williams? That kid is just making plays left and right for this team. They still can't run the ball and Josh Freeman is left running for his life. But this group has three wins and is in the mix in the NFC South much quicker than anyone thought. In the wake of a big win for the Bucs they suffered a potentially significant loss. Center Jeff Faine is likely out for at least the next month, which is a key blow to an already shaky line. Tampa Bay has forced an average of three turnovers per game, which has helped make up for their No. 30 rush defense (143.2 rush yards allowed).
23. Oakland Raiders (2-3) – I wrote it in my NFL notes two weeks ago: Bruce Gradkowski needs to learn to slide, man. Bernard Pollard almost decapitated him not once, but twice in the game against Houston. Then San Diego was teeing off on him on Sunday, leading to a mid-game injury sabbatical. He will start Sunday and I'm sure he'll be fine. This would normally be a prime letdown spot for the Raiders. But I think that the rivalry nature of this week's matchup will keep them focused. Or at least as focused as Oakland can be. The Raiders are 16-39-1 ATS against a fellow losing team and they are just 5-16 ATS after covering the spread.
24. Arizona Cardinals (3-2) – I've said all along that the Cardinals will again win the NFC West. And they will. Max Hall was OK in his debut but you got the sense that the team was playing harder for him. Arizona is getting plenty of credit for its win over the defending champs last week but, realistically, that win was a fluke, with several goofy bounces going their way. But hey, a win is a win. The bye week is coming at a great time for this group and they have two weeks to prepare for a big trip up to Seattle. The momentum and positive vibes from that New Orleans win will linger for the next couple weeks.
25. Jacksonville Jaguars (3-2) – An underrated aspect of Jacksonville's "ascent" is the play of the offensive line. They are No. 25 in sacks allowed (12), but they have been strong in the run game. Their 4.4 yards per carry is No. 12 – average – but only 7.3 percent of their rushing attempts (12 of 165) have been for negative yardage. That's one of the best percentages in the league. The Jaguars are 6-2 straight up at home on Monday nights and the home team is 7-3 ATS in their last 10 meetings with the Titans.
26. Cleveland Browns (1-4) – Cleveland has played very tough against one of the most challenging schedules in the NFL. But just when things seemed to be headed in the right direction they are about to get a lot worse. Colt McCoy against the Pittsburgh defense is going to be a bloodbath. What makes things worse is that tough back Peyton Hillis looks to be 50-50 to play this week as well. If the Browns score more than six points this weekend I will be absolutely stunned. Stunned. They are on a 9-3 ATS run and they are 8-1 ATS in conference games.
27. Detroit Lions (1-4) – For all the times that the Lions have had to lay there and get the snot kicked out of them I, for one, was happy for them that they got to be on the other end. I don't condone running trick plays late in blowouts but I'm cool with everything else. With a backup quarterback, Detroit has the No. 1 scoring offense in the NFC and is No. 6 in scoring overall. The road team is 5-0 ATS in the last five Lions-Giants meetings, and the dog is 4-1 ATS.
28. St. Louis Rams (2-3) – I'm going to set the 'over/under' on the amount of road games St. Louis wins the rest of this season at 0.5. I do think that they will bounce back from last week's bloodletting. Like all of the bottom feeders, St. Louis is improving and they are headed in the right direction. But there's no doubt that last week's beating rattled them a bit and had to dredge up some bad memories of blowouts past. The Rams have run the second-most plays in the NFL this year and their total offense ranked has inched up to mediocrity (No. 20 overall). However, their total yards are deceiving because they are No. 30 in yards per play at just 4.5. At some point they have to take the kid gloves off of Sam Bradford and let him throw deep.
29. Seattle Seahawks (2-2) – The Seahawks have had two weeks to prep for a team that has a load of holes, and they are catching a touchdown. If they are ever going to show up on the road this year this has to be it. But Seattle is just 8-21-1 ATS as a road underdog, 16-34-1 ATS in their last 51 road games, and 3-12-1 ATS against a team with a winning record. Oh, and more recently they are 1-10 ATS in their last 11 road games. There should be plenty of sacks and quarterbacks running for their lives in this game, as it will feature two of the worst offensive lines in football.
30. San Francisco 49ers (0-5) – I'm really tired of hearing about how good the 0-5 Niners are. Yes, all three of their losses to "good" teams (Atlanta, Philly, New Orleans) were by a combined eight points. But Seattle and Kansas City also routed them. San Francisco has three of its next five games at home, but they lose a home game with their trip to London to face Denver. All of the blame keeps being hurled at Alex Smith. If that's the case, make a change? He's one of those born loser quarterbacks that, no matter how well he plays for a while, will always do something stupid to blow it. But he's not the problem. The Niners are 11-4-2 ATS after a loss and 7-1-2 ATS after a loss against the spread.
31. Carolina Panthers (0-5) – The only thing this team has going for it heading into its bye week is that Buffalo hasn't been contracted yet.
32. Buffalo Bills (0-5) – Wow. One e-mail I got from a Buffalo fan friend of mine this week: the Buffalo Bills are the Texas State Armadillos. There is nothing positive about this team, except its tortured fan base. The only solace they can take is that I remember a time when the New England Patriots were as big of a laughingstock as the Bills are now. (They were 19-61 from 1989-1993.)
Robert Ferringo is a writer and a professional college football and NFL handicapper for Doc's Sports. So far this year he has banked $5,000 in profit for his football picks clients after three straight winning weeks. He has brought in over $13,000 in overall profit in all sports over the last two-plus months. He has a Big Ten Game of the Year on the card this week and he's looking for more profit today. You can sign up for his college football and NFL picks and get more information here.