NFL Predictions: Green Bay Packers May Be In For Turnover Hangover
by Robert Ferringo - 8/6/2010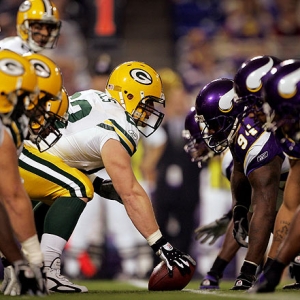 Turnovers are the fickle mistress of the NFL. Inexplicable fumbles, fluke bounces for interceptions, muffed punts, bumbled snaps, tipped passes into unexpected arms; these are weekly occurrences in NFL betting and they can be the difference between winning and losing, insanity and exaltation, and the stench and weight of sheer and utter failure or the unstoppable confidence and high of unimpeded success.
As one of my friends was fond of saying, "That's why it is a funny shaped ball." The idea is that anything can, and will, happen in regards to the bounces and breaks that will go for or against certain teams – and bettors – in the NFL. Turnovers are an equalizer. When two similar or evenly matched teams get together many times the difference comes down to which team benefits most from the turnover battle.
I've seen dozens of teams that benefited from fluke bounces, poor opposition, and just dumb luck to "create" turnovers in a certain season. That leads to easy scores, short fields, and overall the teams that win the turnover battle in the NFL usually win the game. Wins create momentum and confidence, and usually lead to even more victories.
But just like all "luck" in betting and in football, it runs out just when you need it most. And all of that momentum and mojo that turnovers create definitely do not carry over from season to season. And when the levy breaks the results can be sobering.
This year there is one team that stands out as a club that could be set up for a serious Turnover Hangover: the Green Bay Packers. As I touched on in my NFC North predictions, the Packers went 11-5 last year but benefited from an NFL-leading +24 turnover margin. This year Green Bay enters the season as one of the favorites not only to challenge for the division crown, but for the NFC Title and a shot at the Super Bowl.
However, if recent history is any indicator this team could be set up for a significant failure.
I went back over the last decade and took a look at the teams that either:
A) Led the NFL in turnover margin
B) Were tied for the league lead in turnover margin
C) Were No. 2 in turnover margin with a total that was +18 or better.
I then tracked the records of those teams in the season in which they benefited from a significant turnover margin and then how they performed the next season without that severe edge. The results speak for themselves, as 13 of the 14 teams that I tracked since 2000 had fewer wins the following season.
The only team that actually improved its record was the 2005 Indianapolis Colts. However, through my extensive research on futures trends I can tell you that because of Peyton Manning the Colts are a complete and total outlier when it comes to any measurement of wins, expected wins, overachievement compared to statistical performance and any other metric that you can use to predict a team's success. Manning is a mutant, and it is truly amazing how he and the Colts are able to defy the laws of probability and physics.
That said, between 2007 and 2008 even Manning and the Colts weren't immune to a turnover-related back slide. Granted, it was from 13 to 12 wins. But the following year they did have less turnovers and less wins, again proving a direct correlation that we've seen in the NFL time and time again.
The bottom line is this: the 14 teams that we analyzed produced a turnover margin that was about 19 TO's less the year after their extremely fortuitous seasons. And as a result they also experienced an average of 3.3 fewer wins. If we discount the Colts, then the other 12 teams – the ones led by mere mortals – saw their turnover margin drop by a stunning 20.9 the following season and their win totals decreased by an average of 3.9 per season.
That means that if things hold true to form this year the Packers should drop from +24 turnovers to around +3 and their record should regress from 11-5 in 2009 to around 7-9 in 2010. Needless to say, if that happens it would cost a lot of people a lot of money because The Pack is such a significant favorite to make a deep playoff run this season.
Well, when it doesn't happen, just remember who predicted it first.
Here are the results from my research:
2008 Turnover Leader: Miami (11-5 record with +17 turnovers)
2009 Record: Miami (7-9 record, -8 TO) for -4 wins
2007 Turnover Leaders: San Diego (11-5, +24 TO) and Indianapolis (13-3, +18 TO)
2008 Results: San Diego (8-8, +4 TO) and Indianapolis (12-4, +9 TO) for -3 and -1 wins
2006 Turnover Leader: Baltimore (13-3, +17 TO)
2007 Results: Baltimore (5-11, -17 TO) for -8 wins
2005 Turnover Leaders: Cincinnati (11-5, +24 TO) and Denver (13-3, +20 TO)
2006 Results: Cincinnati (8-8, +7 TO) and Denver (9-7, +0 TO), for -3 and -4 wins
2004 Turnover Leaders: Indianapolis (12-4, +19 TO) and New York Jets (10-6, +18 TO)
2005 Results: Indy (14-2, +12 TO) and New York Jets (4-12, -6 TO), for +2 and -6 wins
2003 Turnover Leaders: Kansas City (13-3, +19 TO)
2004 Results: Kansas City (7-9, -6 TO) for -6 wins
2002 Turnover Leaders: Tampa Bay (12-4, +17 TO) and Green Bay (12-4, +17 TO)
2003 Results: Tampa Bay (7-9, +2 TO) and Green Bay (10-6, +0 TO), for -5 and -2 wins
2001 Turnover Leaders: New York Jets (10-6, +18 TO)
2002 Results: Jets (9-7, +4 TO) for -1 win
2000 Turnover Leaders: Baltimore (12-4, +23 TO) and Denver (11-5, +19 TO)
2001 Results: Baltimore (10-6, -8 TO) and Denver (8-8, +10 TO), for -2 and -3 wins
Robert Ferringo is a writer and a professional sports and NFL handicapper for Doc's Sports. Last year his NFL picks brought home +62.5 Units for his clients and he is regarded as one of the top totals players in the sport. He guarantees a winning football season this year or he will work for free until you turn a profit. You can sign up for his college football and NFL picks and get more information here.