NFL Predictions: NFC North Odds and Preview with Football Betting Picks
by Robert Ferringo - 8/6/2010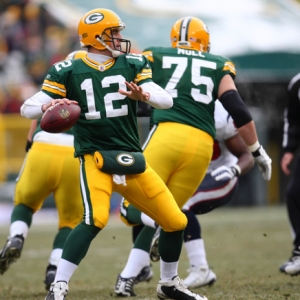 I have to think that Vince Lombardi and George Halas are rolling over in their graves as they watch the NFC North these days.
The "Norris" Division is what football is all about. The Green Bay Packers and Chicago Bears are two of the pillars of American football. The Minnesota Vikings and Detroit Lions are two more venerable organizations that made their mark the same way as the Pack and as The Monsters of the Midway: by playing a brutish, cannibalistic brand of football that laid the foundation of the modern game. Pound the ball on the ground and play great defense, that was the mantra and that's what these teams did. They did it in the elements. They did it outdoors, in the bitter cold, in the woodland areas of the Midwest. And they set the standard for physical play in the NFL for half a century.
Not anymore.
Now the NFC North is as pass-wacky of a division as you can find. Last year all four teams finished in the Top 10 in passing attempts. Back in 1969 all four clubs were in the bottom 10 (of 26 teams) in attempts. In 1979, three of the four teams were in the bottom half of the 28-team league. It was the same in 1989, as three of four organizations were in the bottom half of the NFL in pass attempts (of 28 teams).
But now as we scan through the division for this NFL predictions article, we see spread, gun-slinging offenses set up to hurl the ball all over the field and play soft and fast. Brett Favre, Aaron Rodgers, and Jay Cutler are all bold, aggressive passers and the focal points of their teams. Matt Stafford is on his way. Besides Minnesota, none of the teams rely on large, brawling offensive lines. Instead, the focus is on three-receiver sets, Mike Martz-style offenses, and being pass-wacky.
But that's the way of the world in the NFL these days and, once again, the North is the perfect symbol of that. Running the ball is out, and having a dynamic, attacking offense through the air is seen as the way to win. Everything from the rules to the personnel has shifted to facilitate this philosophical metamorphosis within the game and it has impacted every organization in the NFL. It's a copycat league. And last year it was pretty clear that the most explosive offense in the country was the team that won the title. So the impression that leaves is that if you can't throw the ball you can't win; at least not at the highest level.
Will the NFC North ever return to its roots? I can't say. But we'll see how their newfound philosophy is treating them at Soldier Field in the dead of winter.
Here is Doc's Sports 2010 NFC North predictions, odds and picks:
Minnesota Vikings Predictions
2009 Record: 12-4 (8-0 home, 4-4 road)
2009 Against the Spread: 10-6 ATS, 8-8 vs. Total
2009 Rankings: 5th offense (8th pass, 13th rush); 6th defense (19th pass, 2nd rush)
2010 Odds: 11/1 to win Super Bowl, 6/1 to win NFC, 1.5/1 to win NFC North, 9.5 wins O/U
Offense: The reason that there is as much buzz and B.S. surrounding the Brett Favre story is because, let's face it, he's still The Man. Favre was unreal last year and completely transformed the Vikings offense into one of the most explosive in the NFL. They have an excellent receiving corps, with a legit go-to guy (Sidney Rice), outstanding deep threat (Bernard Berrian), and explosive slot performer (Percy Harvin). And-oh-by-the-way, Minnesota has one of the top running backs in the league running behind one of the most dominant offensive lines. All five offensive line starters are back from one of the top three or four units in the league. I will say that the formerly unstoppable left side of Bryant McKinnie and Steve Hutchinson did appear to wear down last year. But Minnesota's offense, for all of the skill player stars and all the incredible numbers, is pretty simple: if the line is healthy and playing to its capacity this offense is going to hum. Whoever is quarterbacking will have time to throw and whoever is rushing will have huge holes to blow through. This is still an A+ unit.
Defense: Minnesota is such a great team because they dominate the line of scrimmage on both sides of the ball. On defense, it is all about Kevin and Pat Williams in the interior. They make it nearly impossible for teams to run and are constantly shutting down lanes. That opens up Jared Allen and Ray Edwards to rush the quarterback and they are exceptional in that regard. Their secondary is a little leaky, and was just no. 19th against the pass last year. But they brought in Lito Sheppard to start opposite Antoine Winfield, and once the Vikes get Cedric Griffin back from knee surgery they will have an excellent trio of corners. The safeties are just average and Minnesota can be exploited with the deep ball. That is if you can find enough time to hang back there and get a throw off. Middle linebacker E.J. Henderson is still working his way back from a gruesome late-season leg injury. Jasper Brinkley, who is excellent against the run and weak in coverage, is capable of covering in the middle until Henderson returns. Physical. That's the calling card of this defense. They have the same core they have had for several years now and it is still one of the best in the game.
Skinny: As always, it all comes down to Favre. If Brett comes back, and I'm assuming he will, then there is no reason to think that the Vikings won't win this division. They have the strongest offensive and defensive lines and they have the most depth. And after two straight playoff runs they have an experience edge. In fact, I can argue that they were one or two fewer turnovers in the NFC Title Game away from winning a Super Bowl. (They would have throttled Indianapolis.) But even if Favre comes back I don't think this team will win 12 games again. They rode an awful lot of magic last year (the Ravens game and the Niners game come to mind). With or without Favre, I don't know if that will occur again. This team is exceptionally physical. That's why they are as good as they are. But they won't be able to push around the NFC East and AFC East teams this year like they did the NFC West and AFC North in 2009. With Favre, they are a Super Bowl contender. But if they lose their quarterback and lose Kevin and/or Pat Williams for a suspension (for the third straight year the StarCaps case is hanging over their heads) then things could spiral out of control quickly.
Chicago Bears Predictions
2009 Record: 7-9 (5-3 home, 2-6 road)
2009 Against the Spread: 7-9 ATS, 6-10 vs. Total
2009 Rankings: 23rd offense (17th pass, 29th rush); 17th overall (13th pass, 23rd rush)
2010 Odds: 30/1 to win Super Bowl, 15/1 to win NFC, 4/1 to win NFC North, 8.0 wins O/U
Offense: If we've learned anything over the past decade isn't it that Mike Martz A) isn't a "genius" and B) his system doesn't win. In fact, his system doesn't work. He was an offensive coordinator in San Fran in 2008 and Detroit in 2006 and 2007. None of those teams finished higher than 19th in total offense despite a pass-crazy attack. And even going back to his days in St. Louis, where he coached from 2000-2005, Martz hasn't had a team in the Top 10 in the league in scoring in his last five seasons as head of an offense. Yet Chicago is hoping that the following recipe: overrated, turnover-prone quarterback + shaky offensive line + weak skill position players + completely new/foreign system run by overrated, turnover-prone coach = success. Good luck with that. Jay Cutler is not going to be a good quarterback in Martz's system because he's not very accurate and because he's more of a reactive quarterback than an instinctive one. He's going to force throws, he's going to be left exposed by his shaky line, and it's either going to lead to an excessive amount of turnovers (even more than his 27 last year) or an injury. Chicago has some small, fast, athletic receivers. But to this point they haven't proven that they are any good and I haven't seen enough to expect otherwise. And the reality is that until the offensive line gets settled – Josh Beekman and Frank Omiyale are worthless – there is no way that we can truly find out if Cutler or any of the other skill people are any good or not.
Defense: Chicago fans were ga-ga over the signing of Julius Peppers at the outset of free agency. However, it was just another questionable personnel move from a suspect front office. If Peppers still has something left of his prime (and his heart and work ethic were constantly called out in Carolina) then he could be a difference maker. But the problem with Chicago the last couple years hasn't been their defensive ends. Their major problem has been at defensive tackle, where they haven't had the big bodies to A) stop the run and B) keep Brian Urlacher "clean" and free to make plays. Lovie Smith's obsession with the small, fast, and disruptive tackles has doomed this defense, and they haven't been the same since Smith unceremoniously ditched Ron Rivera (who has since been exceptional with the San Diego defense). Further, Chicago was No. 22 in interceptions and No. 31 in red zone defense last year mainly because they have one of the weakest secondaries in the league. That, combined with getting pushed around in the front four, and lacking a physical presence in the middle of the field (either at tackle, MLB or safety), has relegated this defense to second-tier status. It isn't rocket science. The Bears have tried to play soft on defense the last three years and that is why they have sucked. When they were at their pinnacle, they were physical and were dominant at the line of scrimmage. Now they are getting pushed around. And I don't see any personnel upgrades or a philosophical shift this year that would lead me to believe that this year would be any different.
Skinny: I want to be clear – the Bears had a feeble offseason. Martz is a mistake, they overpaid for their free agents, they didn't address their true defensive issues and they didn't do anything in the NFL Draft to build for the future. However, they stand to be the biggest beneficiaries from any regression out of the Vikings (if anything happens to Favre or the Williams') or the Packers (more on that in a minute). And the moves they have made have been out of desperation: desperation to save jobs (like Lovie Smith) and desperation to make it back to the playoffs. This isn't a terrible team; it's just not very good. However, the Bears always play hard and they have managed 11, 13, seven, nine and seven wins over the last five years. That's pretty consistent, even though that's not the first word to come to my head to describe their play during the last three years. And it wouldn't be the word I'd be banking on for 2010. Chicago is a high-risk, high-reward team this year. They are going to chuck it around on offense and their defense is always set up to produce turnovers and scores. If they start making some big plays and catch a break here or there they could be off to the races. If they don't, it could get real ugly real quickly. But what is more likely is another record around 8-8, give or take a game, and no Wild Card out of the North.
Green Bay Packers Predictions
2009 Record: 11-5 (6-2 home, 5-3 road)
2009 Against the Spread: 12-4 ATS; 8-8 vs. Total
2009 Rankings: 6th offense (7th pass, 14th rush); 2nd defense (5th pass, 1st rush)
2010 Odds: 10/1 to win SB, 5/1 to win NFC, 1.5/1 to win NFC North, 9.5 wins O/U
Offense: Despite one of the worst offensive lines in the league last year, the Packers managed to finish No. 6 in the league in total offense. But now that Mark Tauscher and Chad Clifton are back and healthy (for now), along with last year's starting tackles and first round pick Bryan Bulaga, the Packers seem to have addressed their primary issue. So beyond that they are straight nasty. Aaron Rodgers is one of the best in the business and his trio of wideouts – Driver, Jennings, Jones – are as good as any in the game. Ryan Grant has posted back-to-back 1,200-yard seasons and should be entering his prime. One issue that needs immediate work – and this will likely level out as the line evens out – is that the Packers offense was the most penalized unit in football last year. They can't afford to give away yardage, no matter how good they are.
Defense: I think that the Packers went into 2009 training camp hoping for the best with their defensive overhaul from a 4-3 base to a 3-4 base. The best is what they got. Green Bay was a turnover-producing machine last year and they finished the regular season No. 2 in total defense. They were in the top five against both the rush and the pass and corner Charles Woodson was the Defensive Player of the Year. But then they got lit for 51 points in the playoffs and now I feel like they have some question marks entering this season. Two of their most physical players, John Jolly and Aaron Kampman, are no longer with the team. And as I look at the roster I have to say that I'm really unimpressed with their backups in the front seven. This team is just a couple injuries away from a total catastrophe and when I look at the rugged schedule that the Packers have to play I wonder if they will be able to hold up. The secondary is still very solid, with Woodson and Al Harris holding it down. But each of those players is entering their 13th year and Harris missed six games with injury last season. Also, it looks like they may be going with a rookie starter at safety (Morgan Burnett). Again, I see this group taking a step back. How large a step and how that influences the offense may be the determinants of their season.
Skinny: I actually think that the Packers are going to suffer a significant regression this year. They were +24 in turnover margin last season, and there is absolutely no way that they will repeat that performance. In fact, since 2000 there have been 12 teams that have led the league in turnover margin, were tied for the lead, or were No. 2 with +19 or more. Only one of those teams, the 2005 Colts, improved their record the next year. The other 11 teams saw their win total drop by an average of four victories per season the year after their exceptional turnover "luck". In 2008 the Packers were 6-10 so they also benefited from a weak schedule in 2009. That's not the case this year. In late November and early December they play four of five games on the road, with four of those five games being against teams I expect to be in the playoff mix. And that little stretch comes after a brutal run at Washington, vs. Miami, vs. Minnesota, at the Jets and vs. Dallas. This is also a big "buzz" team. So if they get off to a slow start then things could start to spiral. And injury here, a heartbreaking loss there, and things can get out of control. I know that just about every bobblehead in the country is all over the Packers. Not me. I'm calling for a letdown this year and I think there will be a lot of disappointed Packers backers this season.
Detroit Lions Predictions
2009 Record: 2-14 (2-6 home, 0-8 road)
2009 Against the Spread: 5-11 ATS, 8-8 vs. Total
2009 Rankings: 26th offense (21st pass, 24th rush); 32nd defense (32nd pass, 25th rush)
2010 Odds: 100/1 to win SB, 40/1 to win NFC, 20/1 to win NFC North, 5.0 wins O/U
Offense: I said it before and I'll say it again: I'm not convinced that Matthew Stafford is going to be a quality NFL quarterback. And even if he is, the Lions have made a major mistake by not grooming him for two or three years before trying to turn to him as a starter. As a result, he is the clear X-Factor for this unit this season. He has a burgeoning arsenal, with Kevin Smith, Jahvid Best and Calvin Johnson forming a solid young nucleus. Brandon Pettigrew is a waste of time and space, and will never be anything. The second issue, behind Stafford, is with the offensive line. The group has been a mess the last few years and they haven't made significant upgrades. They traded for Rob Sims, but he's not a top-level guard. Jeff Backus was great last year and Dom Raiola is solid. So they have a start. One of the biggest training camp battles is between grizzled vet Jon Jansen and young underachiever Gosder Cherilus. If the line can improve then the offense has a chance to score some points. But it is one of those things that I need to see before I'm buying in.
Defense: The manner that the Lions are building their defensive line lets me know that this franchise is heading in the right direction. They landed the best player in the draft, Mr. Suh, they signed underrated veteran Kyle Vanden Bosch, and they traded for burly Corey Williams. This team has gotten bigger, stronger, and more talented on the defensive line, and that's the first place you have to start when building a solid defense. Unfortunately, it is all down hill after that. The back seven is a debacle. Julian Peterson is still a name, but he's not an elite linebacker anymore. His two cohorts are both unproven and likely starters Zack Follett and DeAndre Levy not only weren't high draft picks but they have just 10 combined starts. The secondary has the look of one of the worst in the league, with retreads and youngsters manning all of the key positions. So having a strong front four is definitely going to help. But not for long. Detroit's back seven is one of the three or four worst in the game. And since the game has changed so much, to the point where it is clearly a passing league, that means the Lions aren't much better than they have been.
Skinny: The Lions are going to be competitive sooner, rather than later. Jim Schwartz has the right idea with how he is building his team, putting the focus on being physical and big on the offensive and defensive lines. And Detroit has made strides in those two areas. But they aren't there yet. There are too many question marks in the backfield for much to be expected from the offense. That, in turn, is going to put too much pressure on a defense that doesn't have the skill or the depth to handle it. They lost seven games by 14 or more points last year, which was the same amount that they lost by that margin in their 0-16 season of 2008. And over the last two seasons (32 games) the Lions have been outscored by 481 points (15 points per game). So they are still a full two touchdowns worse than just about every team that they take the field against, and the reality is that they still suck. And games against St. Louis, Buffalo and Tampa Bay this year might be the only situations where Detroit isn't an underdog of between 8-16 points, so there is still a long way to go. But if Stafford can exceed my expectations then this team could at least start to get feisty. Anything past four wins would be stunning.
Robert Ferringo is a writer and a professional sports and NFL handicapper for Doc's Sports. Last year he brought home +62.5 Units for his football picks clients in the NFL and he is regarded as one of the top totals players in the sport. He guarantees a winning football season this year or he will work for free until you turn a profit. You can sign up for his college football and NFL picks and get more information here.