2010 NFL Predictions: Buffalo Bills Strength of Schedule, Futures Odds and Betting Picks
by Alan Matthews - 8/14/2010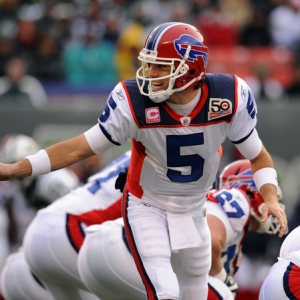 The Buffalo Bills were the worst team in the AFC East last season and there's simply no way they won't be again this year.
I mean, it was almost a sad offseason for this team. The Bills couldn't get any big-name coaches to even listen to them for their head coaching job, so they settled on retread Chan Gailey. Terrell Owens also is gone – not necessarily a bad thing – and Buffalo cut its best pass rusher, Aaron Schobel, who basically said he would retire rather than play for the Bills.
Oh, and who is the quarterback? There is a three-man "competition" between Trent Edwards, Ryan Fitzpatrick and Brian Brohm. It's assumed Edwards will win the starting job, but expect the Bills to again finish somewhere around 29th in passing and 30th in offense as they were last year. It's a lock this team takes a quarterback with its No. 1 pick next season. Buffalo does have a pretty good stable of running backs, adding C.J. Spiller to Fred Jackson and Marshawn Lynch, so expect a ground-heavy attack.
On defense, the Bills finished 30th against the run last year and didn't really add anyone of substance (Andra Davis?) to change that. Perhaps a switch to a 3-4 scheme will help some.
I know the preseason is all about optimism, but this team will likely regress from last year's 6-10 record and will miss the playoffs for the 11th consecutive season. WagerWeb lists Buffalo's 'over/under' for NFL season win totals at 5.5. Let's break down the 2010 Buffalo Bills schedule:
Week 1: Sunday, Sep. 12, Miami, 1:00 PM
Week 2: Sunday, Sep. 19, at Green Bay, 1:00 PM
Week 3: Sunday, Sep. 26, at New England, 1:00 PM
Week 4: Sunday, Oct. 3, NY Jets, 1:00 PM
Week 5: Sunday, Oct. 10, Jacksonville, 1:00 PM
Week 6: BYE
Week 7: Sunday, Oct. 24, at Baltimore, 1:00 PM
Week 8: Sunday, Oct. 31, at Kansas City, 1:00 PM
Week 9: Sunday, Nov. 7, Chicago, 1:00 PM (Toronto)
Week 10: Sunday, Nov. 14, Detroit, 1:00 PM
Week 11: Sunday, Nov. 21, at Cincinnati, 1:00 PM
Week 12: Sunday, Nov. 28, Pittsburgh, 1:00 PM
Week 13: Sunday, Dec. 5, at Minnesota, 1:00 PM
Week 14: Sunday, Dec. 12, Cleveland, 1:00 PM
Week 15: Sunday, Dec. 19, at Miami, 1:00 PM
Week 16: Sunday, Dec. 26, New England, 1:00 PM
Week 17: Sunday, Jan. 2, at NY Jets, 1:00 PM
This ranks as tied for 16th in schedule strength in the NFL this season with an opponents' 2009 winning percentage of .500 (128-128). There are eight games against playoff teams and six of those come on the road.
I am seriously trying to find six wins on here to give Bills optimists a reason to go 'over' that WagerWeb total, but I can't find them. I'm not even sure the Bills will be favored more than a few times. They are three-point home dogs in Week 1 against Miami. They did beat the Fins in Buffalo last year, 31-14, thanks to 24 consecutive points in the fourth quarter. If Buffalo doesn't win that one it seems a lock to lose at least its first four games. The Bills have lost 13 consecutive games to the Patriots (equaling the longest streak by one team over another) although they should have beaten them in Week 1 last year.
The good news is following that Week 3 game at New England, the Bills don't play on the road again for nearly a month thanks to the bye being in there. Oddly. it's the fifth year in a row the Bills play the Jags.
Gailey will be very motivated for that Halloween matchup with the Chiefs considering they fired him as offensive coordinator during the 2009 preseason after only three games with new coach Todd Haley. Buffalo will travel to Kansas City for the third consecutive season and the Bills have defeated the Chiefs in each of their previous three games.
Buffalo could beat Chicago at "home" in Toronto, but why do I think there will actually be more Bears fans there? Plus, the Bills have yet to win one of those Toronto regular-season games (0-2) at Rogers Centre.
Starting in Week 10 the Bills should be favored at home against Detroit and Cleveland, but that's probably it. Every other team on the schedule from that point on either made the playoffs last year or well could this year. The Bills have won nine in a row against the Bengals, however.
If the Bills can win one road game (not counting Toronto) it's conceivable they can match six wins again, but that's assuming five wins at home and that's being way too optimistic. Take the 'under' and pencil in Buffalo for a Top-5 pick in next year's NFL Draft.