2010 NFL Predictions: Jacksonville Jaguars Strength of Schedule, Futures Odds and Betting Picks
by Alan Matthews - 8/20/2010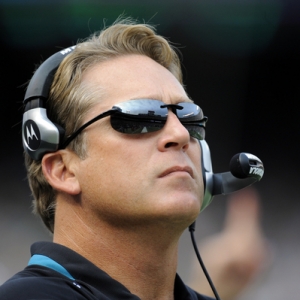 Coming off a 5-11 season in 2008, not much was expected of the Jacksonville Jaguars last season and many thought it would be the final year on the sidelines for Coach Jack Del Rio and his staff. But after starting 0-2 last season, the Jags started playing quite well – yet would also throw in an occasional stinker.
For example, the Jags won division games against Houston and Tennessee to get back to .500 but then got blasted 41-0 by a bad Seattle team. A close win against the Rams followed that, but then the Vince Young-led Titans crushed the Jags in Week 8. So at 3-4 the playoffs looked unlikely, but then Jacksonville lost only once in the next five games to get to 7-5 and pretty much became in charge of its own destiny. However, the wheels fell off in the final month, with the Jags finishing on a four-game losing streak to miss the playoffs again.
This season could be franchise-altering in many ways. Certainly Del Rio will be a goner if the Jags suffer another losing season – he nearly took the USC job. In January, Del Rio said quarterback David Garrard was in the "middle tier of quarterbacks in the league." And he's probably right considering Garrard has thrown 30 touchdown passes and 23 interceptions the last two seasons and been sacked 84 times. And owner Wayne Weaver questioned Garrard's leadership skills. This could be the QB's final season in Jacksonville.
This season Del Rio wants to open up the offense more after it ranked 24th in the league in scoring last year. The problem is that the Jags have an iffy offensive line and no real big weapons on offense other than Maurice Jones-Drew and emerging wideout Mike-Sims Walker.
The defense was by far last in the league last year with only 14 sacks (fifth-worst in NFL history) – a few individuals had more than the Jaguars in 2009. The team hopes it helped solve that problem by drafting Cal's Tyson Alualu at No. 10 and signing Packers free agent Aaron Kampman. Of course, many panned the Jags for picking Alualu too early and Kampman is coming off major knee surgery. Jacksonville will shift from a 3-4 to a 4-3 in an effort to get more pressure.
And the franchise's north Florida future could be affected this year. A lousy season and more empty seats – the Jags face blackouts for every home game – could see the team moving to Los Angeles soon.
WagerWeb lists Jacksonville's 'over/under' for NFL season win totals at 7. Let's break down the 2010 Jacksonville Jaguars schedule:
Week 1: Sunday, Sep. 12, Denver, 1:00 PM
Week 2: Sunday, Sep. 19, at San Diego, 4:15 PM
Week 3: Sunday, Sep. 26, Philadelphia, 4:05 PM
Week 4: Sunday, Oct. 3, Indianapolis, 4:05 PM
Week 5: Sunday, Oct. 10, at Buffalo, 1:00 PM
Week 6: Monday, Oct. 18, Tennessee, 8:30 PM
Week 7: Sunday, Oct. 24, at Kansas City, 1:00 PM
Week 8: Sunday, Oct. 31, at Dallas, 1:00 PM
Week 9: BYE
Week 10: Sunday, Nov. 14, Houston, 1:00 PM
Week 11: Sunday, Nov. 21, Cleveland, 1:00 PM
Week 12: Sunday, Nov. 28, at NY Giants, 1:00 PM
Week 13: Sunday, Dec. 5, at Tennessee, 1:00 PM
Week 14: Sunday, Dec. 12, Oakland, 1:00 PM
Week 15: Sunday, Dec. 19, at Indianapolis, 1:00 PM
Week 16: Sunday, Dec. 26, Washington, 1:00 PM
Week 17: Sunday, Jan. 2, at Houston, 1:00 PM
This ranks as the fifth-toughest schedule in the NFL with an opponents' 2009 winning percentage of .535 (137-119). There are five games against playoff teams.
The Jags start with three of four at home, which sounds nice, but that is easily their toughest stretch of opponents this season, including three in a row against potential Super Bowl contenders and the two teams with the best records in the AFC last year. Jacksonville has won four of the past five against Denver, so starting 1-0 is likely. Winning at San Diego seems unlikely because the Jags clearly don't like traveling to the West Coast: they were outscored a combined 61-3 in two games on the left coast last year. On the positive side, the Jaguars have won nine of their past 13 September games under Del Rio.
Following that Colts game comes arguably the easiest three-game stretch of the season and the time when the Jags must capitalize with a minimum of two wins before facing Dallas prior to the bye week. And while Houston should be good, the Jags certainly are capable of winning those back-to-back home games out of the bye. And they better considering four of the final six are on the road. Jags backers better pray for unseasonably warm weather in New Jersey (Giants) and Tennessee. Why? The Jaguars are 1-8 all-time in games played in temperatures of 27 degrees or colder. By comparison they are 24-10 in games played in 81 degrees temperatures or higher. Don't rule out an upset at Indy, as the Jags won there in 2008 and nearly did again last year. Indy has won five of six in the series, but Jacksonville usually gives the Colts trouble.
Jacksonville should be able to win six games at home, so can it get two road wins to exceed the WagerWeb total? Obviously those games at Buffalo and Kansas City stand out as excellent chances. This looks like an 8-8 team, which may or may not save Del Rio, so take the 'over'.
Allen Eastman is back with his 99 System for NFL picks in 2010 and before he even came across this system he was considered one of the best NFL handicappers in the business – now he is just unstoppable. Last season the 99 System was 27-13 ATS and this system not only helped his clients make a boatload of money, but also helped Eastman to third place in the prestigious Las Vegas Hilton NFL Contest.