NFL Predictions for St. Louis Rams Quarterback Sam Bradford
by Trevor Whenham - 9/10/2010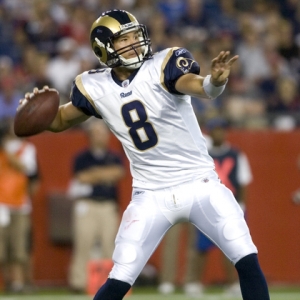 Sam Bradford presents NFL handicappers with a very interesting puzzle. He's obviously a phenomenally talented player, and he performed so far above expectations in the NFL Preseason that he has already won a QB contest that was expected to last at least a few weeks longer. The hype really couldn't be higher than it is now - and that's saying something for a guy who went No. 1 overall in the NFL Draft. The problem, of course, is that Bradford, while a special quarterback, is on a terrible team. Really awful. We have to try to figure out, then, how much Bradford is going to improve this team, or how much the team will drag him down. For the sake of interest, I thought it would be fun to look back at five comparable quarterbacks to see what their first season looked like.
Peyton Manning - We might as well start at the top. I'm not saying that Bradford is the next Manning, but they have the first overall pick thing in common. Manning's first season has now become part of his legend - he set five rookie records while throwing for 26 TDs and more than 3,700 yards. There are two things that aren't remembered as easily - the Colts were a brutal 3-13 that year, and Manning was far from consistent. He started 16 games, but only had more TDs than interceptions four times and threw 28 interceptions to go with the 26 scores. His accuracy ranged from a high of 70.4 percent against Atlanta, to 45.5 percent against the Jets. He figured it out more as he got more comfortable, but early on it was really ugly - he threw four touchdowns in his first five games compared to 12 picks. The Colts were not much better than the Rams are now, so this is probably a good example of what we can expect from Bradford - moments of brilliance surrounded by stretches of frustration. The good news for St. Louis fans is that Manning was significantly better in his second year.
Alex Smith - Smith and Bradford have a lot in common. They are both No. 1 picks that left school early after leading very potent offenses. They are also both extremely intelligent players. St. Louis fans will hope that that's where the similarities end because Smith was terrible as a rookie. He started seven games and played a fair bit in one other. He threw one TD and 11 interceptions, and the team was just 2-6 in his games. Like Manning, Smith got better as the season went along - his best game by far was the second last of the year. He won his last two games and covered the spread in his last three.
JaMarcus Russell - It's not polite to compare anyone to Russell, but we have to do it - another top pick who left early and could throw the ball very well. The most obvious difference is that Russell never accomplished anything with his brain at any level. Beyond that, Russell isn't much of a comparison. He played in only four games, starting two. The Raiders were blown out in both of the starts, though his performance in the final game was about as good as he had in his career.
Matt Ryan - Ryan was only the third pick in 2008, but he's another cerebral QB who came into the league with high hopes. The problem with this comparison, though, is that the Falcons were a pretty good team when Ryan joined them. They had won just four games the year before, but that was when Michael Vick had his 'issues' and Bobby Petrino proved just how slimy he is. Ryan was the biggest name in a big offseason and the Falcons jumped to 11-5. St. Louis sure won't make a jump like that, and Bradford won't have nearly as many tools to work with. Ryan was a solid 9-7 ATS on the season. What stands out for Ryan is that his best YPA of the season, and second best QB rating, occurred in the first game he played. Granted, that was against the Detroit team that failed to win all year, so it barely counts.
Matthew Stafford - Here's yet another first overall pick that left school early. Stafford is probably the best comparison we have yet - the Lions and Rams are similarly lacking in talent, and Stafford started right out of the gate without a lot of help around him. The only real difference is that Bradford is by far the better QB in my eyes. Stafford started 10 games as a rookie and had two wins. He had 13 TDs and 20 interceptions, but those numbers look better than they really were because of a bizarre five-TD outburst against Cleveland in which both Stafford and Brady Quinn looked like seasoned pros. Outside of that game Stafford didn't show a lot of progress as the season went along, but it's hard to know how much of a factor injuries were. He was a dismal 2-7-1 ATS.