2010 NFL Predictions: Washington Redskins Strength of Schedule, Futures Odds and Betting Picks
by Alan Matthews - 8/10/2010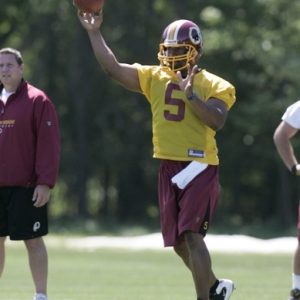 You may have heard a thing or two about the Washington Redskins this offseason following a 2009 4-12 season and the end of the Jim Zorn era.
Of course, Mike Shanahan was brought in as coach, bringing instant credibility to the franchise with his two Super Bowl rings (albeit none without John Elway). And then the Skins stunned the NFL by convincing the Philadelphia Eagles to trade Donovan McNabb inside the division to them. The Skins also brought in veteran running backs Larry Johnson and Willie Parker to push a slowing Clinton Portis, although it appears Portis will be the starter.
Perhaps the most amusing part of the Skins' offseason and early part of camp was the Albert Haynesworth saga. Of course Haynesworth whined about his role in Washington's new 3-4 defense and asked for a trade, alienating pretty much all of his teammates. He's in camp now but couldn't even pass a conditioning test for a week or so in an apparent battle of wills with Shanahan. Haynesworth's contract renders him untradeable, but even with his attitude Haynesworth remains the team's best defensive player. That unit was actually solid last year in most facets.
For sure the main questions still surround the offense on the Skins. McNabb has played all 16 games only once in the past six seasons. And his backup is…gulp…Rex Grossman. The offensive line wasn't great last year and already lost guard Mike Williams and will start a rookie (Trent Williams) at left tackle to protect McNabb's blind side. Perhaps the biggest problem is at receiver as former second-round receivers Devin Thomas and Malcolm Kelly have been disappointments and currently are on the third team on the first depth chart. The current starters are Santana Moss, who had a career-worst yards-per-catch average last season, and way-past-his-prime Joey Galloway.
The Redskins' over/under for NFL season win totals is 7.5 on BetUS. Let's break down the 2010 Washington Redskins schedule and then offer some NFL predictions for betting:
Week 1: Sunday, Sep. 12, Dallas, 8:20 PM
Week 2: Sunday, Sep. 19, Houston, 4:15 PM
Week 3: Sunday, Sep. 26, at St. Louis, 4:05 PM
Week 4: Sunday, Oct. 3, at Philadelphia, 4:15 PM
Week 5: Sunday, Oct. 10, Green Bay, 1:00 PM
Week 6: Sunday, Oct. 17, Indianapolis, 8:20 PM
Week 7: Sunday, Oct. 24, at Chicago, 1:00 PM
Week 8: Sunday, Oct. 31, at Detroit, 1:00 PM
Week 9: BYE
Week 10: Monday, Nov. 15, Philadelphia, 8:30 PM
Week 11: Sunday, Nov. 21, at Tennessee, 1:00 PM
Week 12: Sunday, Nov. 28, Minnesota, 1:00 PM
Week 13: Sunday, Dec. 5, at NY Giants, 1:00 PM
Week 14: Sunday, Dec. 12, Tampa Bay, 1:00 PM
Week 15: Sunday, Dec. 19, at Dallas, 1:00 PM
Week 16: Sunday, Dec. 26, at Jacksonville, 1:00 PM
Week 17: Sunday, Jan. 2, NY Giants, 1:00 PM
This ranks as the eighth-toughest schedule in the NFL with an opponents' 2009 winning percentage of .523 (134-122). There are seven games against playoff teams.
Boy, that opener with the Cowboys really could set the tone for Washington's season. The Skins have opened as 3.5-point underdogs, but if they can pull the upset there it's very possible they could open 3-0 before the schedule gets rough for a month. It's the third straight game that McNabb will face the Cowboys and he wasn't good in the previous two with a lot more weapons. Washington and Dallas have not met each other in Week 1 since 1999. By the way, Washington lost every division game last year. New offensive coordinator Kyle Shanahan should know the Texans attack well considering he was their coordinator for two years. And watch out for that Rams game as St. Louis beat Washington two years ago and should have last year.
Of course, that Week 4 matchup back in Philly in McNabb's return will be possibly the most-hyped game of the regular season. And that starts a killer stretch with the contending Packers and Colts following what should be an emotional game. At least Green Bay and Indy come to Washington. The Skins haven't beaten Green Bay in 22 years. They have won at Detroit in each of the past two years, but both games were close. Let's call the Skins 4-4 at the bye, which comes at a great time (exactly midseason).
Washington comes out of the bye with four games in a row against possible playoff teams in 2010. That Dec. 5 matchup with the Giants is the latest in the year the teams have played their first game since 1943. It's hard to see the Skins winning a road game in the second half of their schedule, although possibly at Jacksonville – but that follows a big rivalry game with Dallas and is the second in a row on the road.
The folks at BetUS have it about right on with their total – I'd say this is an 8-8 team, but I can't see it winning more than that. If McNabb gets hurt early and misses any games, I would take the 'under'. So really what you are betting on his health, and you know how fragile that has been. Don't waste your money on this team winning the NFC East. In fact, I'd take the -275 that BetUS offers for Washington to MISS the playoffs again.
Doc's Sports went 7-1 for member's NFL picks in the 2009 NFL Preseason and we are very excited about the 2010 slate of exhibition games. Our picks against the NFL line for the entire NFL Preseason are just $49. Also, our Early Bird Special for the NFL full season is just $695 and that will get you all the picks from the first kick in preseason to the Super Bowl (normal price will be $950). Check our home page daily for NFL handicapping articles and up-to-the-minute updated odds.