2010 San Diego Chargers Strength of Schedule, Futures Odds and Predictions
by Alan Matthews - 7/21/2010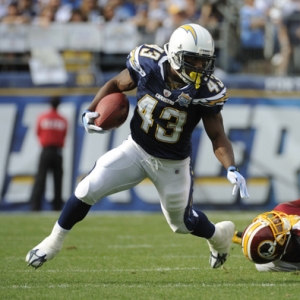 The San Diego Chargers' regular season was a huge success last year as the Bolts ended it on an 11-game winning streak to match the best single-season streak in franchise history. San Diego's 13 wins were the second-most in franchise history. But once again the playoffs were a disappointment, as the Bolts – the AFC's No. 2 seed -- were upset at home by the New York Jets.
That disappointment brought one big change as the team said goodbye to future Hall of Fame running back LaDainian Tomlinson. The 2006 and '07 rushing king (and 2006 MVP) has seen his yards per game average drop in each of the past four years. He was injured early in the 2009 season and finished with 730 yards on 223 carries for an average of 3.3 yards per carry, all career lows.
San Diego traded up to get Fresno State's Ryan Mathews, and it's expected that he and Darren Sproles – who was almost jettisoned himself – will share duties in the backfield. In addition, the Chargers will be without top WR Vincent Jackson for the first three games as he was suspended by the league for violating its substance abuse policy. Jackson is an unsigned restricted free agent who had been planning to hold out anyway, so who knows when he actually takes the field. There have been plenty of rumors of the Chargers shopping him, but they claim it's not true. And San Diego also has been mentioned as a landing spot for Terrell Owens, but the Bolts say they aren't interested. Left tackle Marcus McNeill, one of the league's best, also is on a contract dispute with the team and says he's ready to hold out deep into the season. So that San Diego offense could struggle early on.
Still, this team is the big favorite at BetUS to win the AFC West again at -350.
Here is the 2010 San Diego Chargers schedule (all times Eastern):
Week 1: Monday, Sep. 13, at Kansas City, 10:15 PM
Week 2: Sunday, Sep. 19, Jacksonville, 4:15 PM
Week 3: Sunday, Sep. 26, at Seattle, 4:15 PM
Week 4: Sunday, Oct. 3, Arizona, 4:15 PM
Week 5: Sunday, Oct. 10, at Oakland, 4:15 PM
Week 6: Sunday, Oct. 17, at St. Louis, 1:00 PM
Week 7: Sunday, Oct. 24, New England, 4:15 PM
Week 8: Sunday, Oct. 31, Tennessee, 4:05 PM
Week 9: Sunday, Nov. 7, at Houston, 1:00 PM
Week 10: BYE
Week 11: Monday, Nov. 22, Denver, 8:30 PM
Week 12: Sunday, Nov. 28, at Indianapolis, 8:20 PM
Week 13: Sunday, Dec. 5, Oakland, 4:05 PM
Week 14: Sunday, Dec. 12, Kansas City, 4:15 PM
Week 15: Thursday, Dec. 16, San Francisco, 8:20 PM
Week 16: Sunday, Dec. 26, at Cincinnati, 8:20 PM
Week 17: Sunday, Jan. 2, at Denver, 4:15 PM
San Diego's strength of schedule is ranked 29th in the league in terms of opponents 2009 winning percentage (116-140, .453) and is the easiest in the AFC.
If this team could just start in average shape it might get homefield advantage throughout the AFC Playoffs because the Bolts under Norv Turner are crazy good in the latter half of the season and the team is on a ridiculous 18-game winning streak in December (13 of them under Turner). In 2007 San Diego started 1-3, in 2008 it started 0-2 and last year was 1-3 again.
The Chargers open with a road Monday night game against a divisional opponent for the second year in a row and wouldn't seem to have much trouble with a Chiefs team they swept by a combined score of 80-21 last season. San Diego is a six-point favorite for that one. The Chargers have opened the season with a nationally televised night game four times and are 4-0 in those games
While it looks daunting that four of San Diego's first six games are on the road, take a look at the opponents as they were all pretty wretched last year. Thus, San Diego could conceivably be favored in each of them. Anything worse than a 4-2 start would have to be considered a disappointment.
The bye comes at a good time, as it follows probably the toughest three-game stretch of the season. At worst the Bolts should be 5-4 at the bye. Other than a game at Indy, the second half of the schedule is very manageable. The Bolts split with Denver last year, crushing the Broncos 32-3 in Denver. And you know they will beat Oakland, considering they have done so 13 consecutive times. The December win streak should be at 21 straight when the Chargers visit Cincinnati when the weather could play a huge role.
San Diego's 'over/under' for NFL season win totals on BetUS is 10.5, and oddsmakers nailed it because this looks like either a 10-6 or 11-5 team. It's just hard to know for sure until the Jackson and McNeill situations are resolved and whether Mathews can shine as a rookie (I say he wins Rookie of the Year). I would lean toward the 'under' there – barely.
The Chargers are +500 to win the AFC and +900 to win Super Bowl XLV, but this team isn't as good as in recent years so those aren't wise bets.
Doc's Sports went 7-1 for member's picks in the 2009 NFL Preseason and we are very excited about the 2010 slate of exhibition games. Our picks for the entire NFL Preseason are just $49. Also, our Early Bird Special for the NFL full season is just $695 and that will get you all the picks from the first kick in preseason to the final buzzer of the Super Bowl (normal price will be $950). Click Here for more information about football picks and Click Here for prices and packages.