2010 San Francisco 49ers Strength of Schedule, Futures Odds and Predictions
by Alan Matthews - 7/27/2010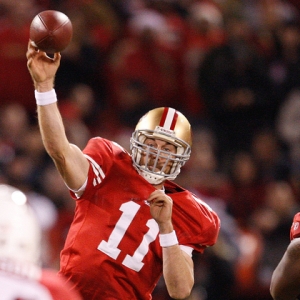 In their first full season with Mike Singletary as coach, the San Francisco 49ers definitely showed signs that they might be a team to be reckoned with this season with some stellar pieces in place.
For example, the Niners swept the NFC West champion Arizona Cardinals last season on their way to finishing 8-8. It was San Francisco's first non-losing season since going 10-6 in 2002. But to speak as the glass is half-empty for a minute, the Niners' other six wins all came against non-playoff teams (two against St. Louis, Jacksonville, Chicago, Detroit, Seattle). So in reality the Niners beat who they should have beaten but weren't able to step up their game against the better teams in the league. A 45-10 loss in Week 5 last year to Atlanta led to Singletary replacing Shaun Hill with former No. 1 overall pick Alex Smith at quarterback. Smith was solid, averaging 213.6 yards per game in 11 starts and completing 60.5 percent of his passes with 18 touchdowns and 12 picks. He's the unquestioned starter this season.
A big problem last year was the offensive line, as it has been for a while. For example, no team has allowed more sacks than the Niners in the past three seasons. And even with Frank Gore at tailback, the Niners ranked just 25th in rushing last season. So San Francisco drafted Mike Iupati, a guard from Idaho, and Anthony Davis, a tackle from Rutgers, in the first round of this year's draft. Both are likely to start in 2010. If that line can give Smith time to throw to Vernon Davis and Michael Crabtree and give Gore some holes, this offense will jump up the rankings.
The defense was a strength last year, led by All-Pro linebacker Patrick Willis. The Niners ranked fourth in points allowed (17.6 per game). But that unit needs a bounce back from big-money cornerback Nate Clemens after he was dumped from the starting lineup at one point last season. He hasn't lived up to the massive free-agent contract he got in 2007.
WagerWeb lists the Niners' 'over/under' for NFL season win totals at 8.5 this year. San Francisco is a -135 favorite to win the NFC West, something the franchise hasn't accomplished since 2002.
Here is the 2010 San Francisco 49ers schedule (all times Eastern):
Week 1: Sunday, Sep. 12, at Seattle, 4:15 PM
Week 2: Monday, Sep. 20, New Orleans, 8:30 PM
Week 3: Sunday, Sep. 26, at Kansas City, 1:00 PM
Week 4: Sunday, Oct. 3, at Atlanta, 1:00 PM
Week 5: Sunday, Oct. 10, Philadelphia, 8:20 PM
Week 6: Sunday, Oct. 17, Oakland, 4:05 PM
Week 7: Sunday, Oct. 24, at Carolina, 1:00 PM
Week 8: Sunday, Oct. 31, Denver, 1:00 PM (London)
Week 9: BYE
Week 10: Sunday, Nov. 14, St. Louis, 4:15 PM
Week 11: Sunday, Nov. 21, Tampa Bay, 4:05 PM
Week 12: Monday, Nov. 29, at Arizona, 8:30 PM
Week 13: Sunday, Dec. 5, at Green Bay, 1:00 PM
Week 14: Sunday, Dec. 12, Seattle, 4:05 PM
Week 15: Thursday, Dec. 16, at San Diego, 8:20 PM
Week 16: Sunday, Dec. 26, at St. Louis, 1:00 PM
Week 17: Sunday, Jan. 2, Arizona, 4:15 PM
San Francisco's schedule ranks as the fifth-easiest in the NFL with an opponents' cumulative winning percentage of .457 (117-139). For what it's worth, the other three teams in the NFC West have the three easiest schedules in the league.
The 49ers' opening and closing stretch is not easy. Three of their first four games are on the road, and their only home game during that stretch comes against the Super Bowl champion Saints. The good news is all three road games are against 2009 non-playoff teams and San Francisco should be favored in two of them – it has opened as a two-point favorite at Seattle. San Francisco is 34-29-1 overall in season openers, which includes a 6-3 record in its past nine opening contests. It split with the Seahawks last year and that one loss was the Niners' only one in the division.
A 2-2 record in the first four, at worst, should be manageable and allow the Niners to potentially take off with a favorable schedule until Week 12. San Francisco, like every NFC West team, gets a break in facing the AFC West, which really features only San Diego as a likely playoff team (maybe Denver). If the Niners can hold serve at home (including the London game) in that next four-game stretch, a 5-3 record at the bye sets them up nicely for the second half. That Eagles game is the first matchup ever for the Niners on NBC's "Sunday Night Football." The last time they played on Sunday night (NBC didn't have it then) was 2005. That game with the Bay area neighboring Raiders is the first between the teams since 2006.
And there's no reason that San Francisco can't win its first three games after the bye as it will be a big favorite against the Rams and Bucs, and the Cardinals were gutted by free agency and Kurt Warner's retirement. You probably can't expect wins at Green Bay and San Diego (although San Francisco is 5-0 all-time on Thursday nights), but the Niners will be favored at St. Louis and at home against the Seahawks and Cardinals.
I love the 'over' on the Niners this year because I think this is a 10-6 team and certainly no worse than 9-7. And I do think San Francisco wins the division, but it's not ready to make noise in the NFC playoffs yet.