2010 St. Louis Rams Strength of Schedule, Futures Odds and Predictions
by Alan Matthews - 8/4/2010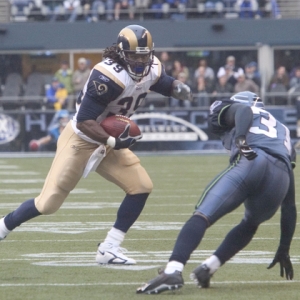 It's probably fair to say that the St. Louis Rams have become the sad-sack franchise in the NFL. Last year the Rams went 1-15 for their third straight losing season (a total of six wins in that stretch). Fans in St. Louis haven't witnessed a Ram victory in person in that city since Oct. 19, 2008. And ESPN had a cool stat: every team in the NFL has at least four players who have been to at least one Pro Bowl. Every team but the Rams, who have one: running back Steven Jackson, and he's coming off offseason back surgery.
Obviously, the one good thing about being perennially lousy is getting high draft picks, and the Rams finally believe they found their quarterback of the future in Oklahoma's Sam Bradford. The No. 1 overall pick in this year's NFL Draft was then handed a contract that could potentially pay him a whopping $86 million and includes an NFL-record $50 million guaranteed. So Bradford better be the answer or that contract could set the team back for years. Don't expect to see the former Heisman winner starting Week 1, however, as second-year coach Steve Spagnuolo has said that the job is veteran journeyman A.J. Feeley's to lose – but this is A.J. Feeley we are talking about so it's certainly possible he does lose it.
Other than Jackson the Rams really don't have much on offense – the team actually kicked the tires on Terrell Owens before passing. The scary thing is that T.O. would probably have been the No. 1 receiver on this team. Now it's probably Donnie Avery, although rookie Mardy Gilyard should emerge as the best of that group. With a second-year player at left tackle in Jason Smith and possibly a rookie starting Week 1 at right tackle in second-round pick Rodger Saffold, you can see why Bradford probably sits until midseason: the team doesn't want him to get killed. If Jackson gets hurt, the Rams might actually not be able to match last year's offense, which had just 16 touchdowns.
The defense can't be much worse than it was in 2009 when it ranked 31st in points allowed, 29th in total yards and tied for last with only eight interceptions (none by cornerbacks) in '09. That unit really needs last year's No. 2 overall pick, defensive end Chris Long, to step up and he did start to show signs late last season. Maybe new linebacker Bobby Carpenter, acquired from the Cowboys, will show why he was a first-round pick a few years ago.
BetUS lists the Rams' over/under for NFL season win totals at 5, which is tied with the Lions for the lowest in the NFL. Can the Rams reach that number? Let's break down the 2010 St. Louis Rams schedule:
Week 1: Sunday, Sep. 12, Arizona, 4:15 PM
Week 2: Sunday, Sep. 19, at Oakland, 4:05 PM
Week 3: Sunday, Sep. 26, Washington, 4:05 PM
Week 4: Sunday, Oct. 3, Seattle, 1:00 PM
Week 5: Sunday, Oct. 10, at Detroit, 1:00 PM
Week 6: Sunday, Oct. 17, San Diego, 1:00 PM
Week 7: Sunday, Oct. 24, at Tampa Bay, 1:00 PM
Week 8: Sunday, Oct. 31, Carolina, 1:00 PM
Week 9: BYE
Week 10: Sunday, Nov. 14, at San Francisco, 4:15 PM
Week 11: Sunday, Nov. 21, Atlanta, 4:05 PM
Week 12: Sunday, Nov. 28, at Denver, 4:15 PM
Week 13: Sunday, Dec. 5, at Arizona, 4:15 PM
Week 14: Sunday, Dec. 12, at New Orleans, 4:05 PM
Week 15: Sunday, Dec. 19, Kansas City, 1:00 PM
Week 16: Sunday, Dec. 26, San Francisco, 1:00 PM
Week 17: Sunday, Jan. 2, at Seattle, 4:15 PM
This schedule ranks as the second-easiest in the NFL this season with an opponents' 2009 winning percentage of .449 (115-141). There might only be two lock playoff teams on this schedule: New Orleans and San Diego (although likely the 49ers, too, since someone has to win the NFC West). But will St. Louis be a favorite in any game? It has opened as a 3.5-point dog for the opener. Perhaps the Rams have a shot at being favored in those home games against Seattle and Kansas City. To no surprise, there are no prime-time games on here.
Maybe the Rams should start Bradford right away because the first five games are against teams that probably won't make the playoffs this year (only rebuilding Arizona did last year). St. Louis did get its lone win at Detroit in 2009. Don't rule out an upset of Washington because the Rams tend to give the Skins (albeit pre-Donovan McNabb) trouble. St. Louis won at Washington for one of its two wins in 2008 and its last victory outdoors, while the Rams only lost 9-7 at the Skins last year.
With the bye week right in the middle of the schedule, it seems like a lock that Bradford will be starting no later than Week 10. It's never easy, though, to ask a rookie QB to win on the road and the Rams have three in a row away starting in Week 12. In Week 12 (Nov. 28), the Rams travel to Denver to face the Broncos in the first of three consecutive road games. It's the first time the Rams have had three consecutive games away from home since 2002.
I would bet the house on the 'under' 5 wins at BetUS (if you can find 5.5 at another site bet your friend's house too!) because I can't optimistically see more than four and this is probably a 3-13 team.
Doc's Sports went 7-1 for member's NFL picks in the 2009 NFL Preseason and we are very excited about the 2010 slate of exhibition games. Our picks against the NFL line for the entire NFL Preseason are just $49. Also, our Early Bird Special for the NFL full season is just $695 and that will get you all the picks from the first kick in preseason to the Super Bowl (normal price will be $950). Check our home page daily for NFL handicapping articles and up-to-the-minute updated odds.