Week 12 NFL Picks and Odds
by Trevor Whenham - 11/24/2010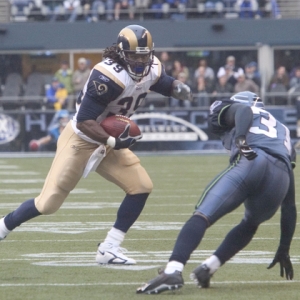 As seems to be the unfortunate trend lately, the picks last week were a split affair. The Bills were brilliant in beating up on a pathetic Bengals team, but the Browns couldn't quite handle the Jaguars. Hopefully, these Week 12 NFL picks and odds will be one step more successful than last week. It's a nice week of action, so I am optimistic:
St. Louis (+4) at Denver (Sunday, Nov. 28, 4 pm ET) - Neither of these teams is in a great place right now. The Broncos have lost five of six, while the Rams have dropped three of four. The difference, though, is in the quality of efforts that the teams are putting forward.
The only time that the Broncos have covered the spread in those last six games is when they won. The Rams, on the other hand, have covered seven of their last nine games and are consistently showing up and working hard.
Josh McDaniels has struggled mightily to get consistent effort out of his team, so the fact that St. Louis is sure to show up and work from the opening snap to the final whistle is enough to put them over the top alone.
I really didn't like how the Broncos responded last week - they were challenged early by the Chargers and instead of fighting back they just quit.
Defensively the Broncos are very vulnerable. Sam Bradford has already shown his ability to exploit defenses, and we can be all but certain that St. Louis will be able to move the ball on the ground.
I think St. Louis is likely to win this game, but even if they don't there is a good chance that they are going to be able to keep it close, so four points is just too many to be giving them here.
Pittsburgh (-6) at Buffalo (Sunday, Nov. 28, 1 pm ET) - I have all kinds of respect for what the Bills are doing right now. Despite a stunning lack of talent on both sides of the ball they are 4-0-1 ATS in their last five games - with three of those games being on the road, and a fourth in a neutral site in Toronto.
I was very skeptical of the hiring of Chan Gailey, and I am still not convinced he can bring any lasting success to this team. However, whatever he is selling right now is being bought in bulk by his players.
All that being said, I just can't buy into the Bills at this price. Pittsburgh laid an egg against the Patriots, but they bounced back with one of the more complete games we have seen in the league this year as they dismantled the Raiders last weekend. They are bigger and more talented than the Bills on either side of the ball, and they are operating at a far higher level this year.
Buffalo's two wins have come against Detroit and Cincinnati, so this is a massive step up in class, and one that they aren't ready for. This is also a very good Pittsburgh defense - especially against the run. Buffalo will struggle to run, so their offense will have to become more one-dimensional, and that will only further amplify the skill differences between these squads.
Buffalo's defense, on the other hand, has been porous against the the run, so Pittsburgh will be able to establish themselves early and do whatever they want. This one could get out of hand. At the very least there is a good chance that the Steelers will win by a TD or more.
This NFL line is on the move upwards, so if you are interested in this play I would leap on it while you are still on the right side of the key number of seven.
Seven of eight profitable weeks for football picks for Doc's Sports and Doc has helped $100 bettors make nearly $9,000 during that stretch! Our picks against the NFL Point Spread for this coming weekend include some very strong plays and Doc also has a 6-Unit Game of the Year in college Check our home page daily for NFL handicapping articles and up-to-the-minute updated odds.