Week 6 NFL Picks and Odds
by Trevor Whenham - 10/17/2010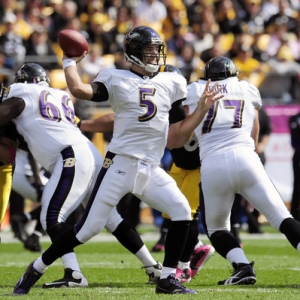 Last week was a mixed bag for these picks - Jacksonville was a great pick, but St. Louis was a lousy one. This week with our Week 6 NFL picks and odds we'll look to do a little better - at least we'll try to avoid the 41-point losses. It's just a coincidence that I am on two underdogs this week, but it's not a bad place to be - dogs are a stunning 46-26 ATS through five weeks of the season. That's clear proof that this has been a weird year.
More clear proof is the fact that the Vikings and Cowboys - two big time Super Bowl contenders before the season - come into their game this week with matching 1-3 records. The loser of this game is all but eliminated from playoff consideration. Who would have guessed that?:
Baltimore (+2.5) at New England (1 pm ET) - This game opened up on the key number of three, according to the NFL lines, but has moved to this level thanks to slightly heavier action on the Ravens. Baltimore wasn't impressive in their first two games, but they have gotten better and better in each of the last three weeks, and are now favored to win it all. I'm not convinced that they really are the best team in the league, but I do feel like they are the best team in this game right now.
There is just too much going on in New England that I don't like right now - the wide receiver shuffling and the Logan Mankins issue chief among them. They are obviously still a very good team - they crushed a Miami team I respect last time out - but I find them hard to trust consistently.
I look back to the Jets game - a 14-point New England loss. In that game the Pats struggled to handle the hyper-aggressive defense of the New York. That defense has a lot in common with what they will see from Baltimore thanks to the Rex Ryan connection, and I think Baltimore's defense is even better - certainly deeper - so I expect them to find some success against the Pats.
Baltimore won a road game at Pittsburgh this year, so they can handle the setting. The last time these teams met was in the playoffs last year, and Baltimore won big in New England. I expect them to win again here.
Dallas (+1) at Minnesota (4:15 pm ET) - Both of these teams have been horrible all year. The trick is to figure out which underperforming team is going to get their act together in this one. My bet is that it will be Dallas.
Both of these teams have been incomprehensibly bad, but my feeling is that Dallas' issues are less fundamental than Minnesota's. For starters, Dallas has had much better quarterback play than Minnesota, and Romo is getting far less tabloid attention than Favre. He's healthier, too. Dallas' only win on the year was a road game at Houston in a game that should have been much tougher for them than it was. That shows that they can stand up to road pressure.
On the other hand, Minnesota's only win was a home game against Detroit. That's hardly impressive. Dallas' defense faced Chris Johnson last week, so they know what they are in for with Adrian Peterson this week. Johnson was reasonably successful, but at least Dallas won't be caught off guard here.
I could go into more detail here, but the fact of the matter is that I just think that Dallas is playing better than Minnesota, that their drama is less all-consuming than Minnesota's, and that they are going to get better QB play and better coaching. That means that the Cowboys are attractive in a game that has a small line like this one.
Two straight profitable weeks for football picks for Doc's Sports and we are very excited about this weekend's picks. Our picks against the NFL Point Spread for this coming weekend are looking very fruitful. Call us toll-free at 1-866-238-6696 to find out about a free one-week football package from Doc's Sports or any Advisory Board handicapper of your choice. Check our home page daily for NFL handicapping articles and up-to-the-minute updated odds.