Monday Night Football Picks: Chargers at Jaguars Odds and Betting Predictions
by Alan Matthews - 12/1/2011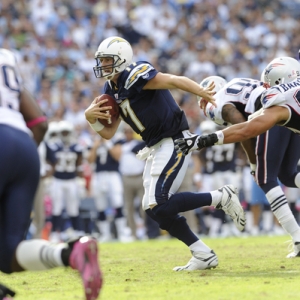 This coming Monday night, I recommend you watch a college basketball game – although no ranked teams play – or perhaps Bruins-Penguins in a possible Eastern Conference Finals preview in the NHL.
Maybe tune-up your car or finish your Christmas shopping, or even watch some chick-flick romantic comedy to make your wife or significant other happy.
Do anything but watch the "Monday Night Football" matchup between San Diego and Jacksonville in what could be termed the "First One to Relocate to L.A. Bowl".
I have complained often this year that MNF doesn't have the chance to flex its schedule like NBC does late in the season on Sunday night.
There have been some bad MNF games this year, but at least they always included one good team. That's not the case here with the 4-7 AFC West cellar-dwelling Chargers and the 3-8 only-ahead-of-the-winless-Colts in the AFC South Jaguars.
I'm sure there have been worse MNF games in recent years, but I can't remember one I have had less interest in. There will be swaths of empty seats in Jacksonville, and that's even with a chunk of the EverBank Field seats covered in a tarp.
But, we are here to provide you the NFL betting information, so that's what I will do.
Chargers at Jaguars Betting Storylines
San Diego still has one of the most talented rosters in the NFL, yet somehow this club has lost six games in a row (0-6 ATS) – coach Norv Turner is a dead-man walking without question (hope you took my advice about a month ago to bet the Bodog prop on whether Turner would be the Bolts' coach to start 2012 -- NO). At least the Bolts have been consistent, as they have lost three at home and on the road during the streak.
It would have been unthinkable to start this year, but now there is talk the Chargers might draft a QB to groom behind Philip Rivers, who has taken a gigantic step back this year. In last week's 16-13 overtime loss to Denver, Rivers at least had his first interception-free game since Week 4. But he also completed barely more than 50 percent of his passes for only 188 yards.
Guys like Matt Moore, Donovan McNabb and rookies Andy Dalton and Cam Newton all have better QB ratings than Rivers, who continues to lead the league in picks and total giveaways.
It has been quite a newsy week in Jacksonville as the Jaguars fired their head coach, extended their GM and sold the team to an Illinois businessman who claims to want to keep the team in northeast Florida -- the Jags and Bolts are considered the two to candidates to move to Los Angeles.
Coach Jack Del Rio was told before the season that he was out without a playoff berth, and with fan interest down to zero in this club current owner Wayne Weaver decided not to wait any longer. Defensive coordinator Mel Tucker is the interim coach, but the Jags will almost certainly find an outside full-time hire in the offseason (Rob Ryan? Jeff Fisher?).
Tucker's defense has been a lone bright spot, ranking No. 4 overall in yards per game allowed and passing defense and No. 5 in points.
One of Tucker's first proclamations was that rookie Blaine Gabbert will remain the team's starting QB. Del Rio benched Gabbert in the fourth quarter of the 20-13 loss to Houston on Sunday and put former starter Luke McCown in, hoping he would give the offense a spark. He didn't.
When Gabbert was pulled, he had a 44.6 passer rating and had completed 13-of-29 passes for 136 yards. He was sacked six times and threw a costly interception that set up a Houston field goal.
The Jags are 2-7 in games Gabbert has started, and he has a paltry 62.2 passer rating and seems to be regressing. He has the worst completion percentage (48.5) in the NFL this season. Jacksonville has scored the fewest points in the league (12.5 points per game), has the No. 32 pass offense and is No. 31 in red-zone efficiency.
Essentially, the Jaguars offense is RB Maurice Jones-Drew. He has rushed for a team-high 1,040 yards and five touchdowns, averaging 4.5 yards per carry. The Bolts have been very vulnerable against the run, ranking No. 25 in the NFL.
Last week, the Broncos ran for 208 yards against San Diego. Look for MJD to get up to 30 touches in this one but also for the Chargers to force Gabbert to throw to beat them.
A few big plays deep could be there for Gabbert with the San Diego emphasis on stopping MJD and all of Gabbert's dink-and-dunk throws; the rookie averages only 5.19 yards per completion.
These two teams last played in 2010, a 38-13 Chargers win in Week 2 in which the Bolts forced six turnovers. Rivers threw for 334 yards and three scores.
Chargers at Jaguars Betting Odds and Trends
San Diego is currently a three-point favorite with the total at 38.5 on NFL odds.
The Bolts are 2-9 ATS overall and 1-4 on road. The Jags are 4-6-1 ATS overall and 2-3 at home. 'Over/under' records: SD 5-6, JAC 1-10 (!!!).
The Bolts are 1-4 ATS in past five Monday games. They have covered just two of past 11 as a road favorite overall. They haven't covered past eight following a loss.
The Jags have covered just twice in past 11 as a dog. They are 1-4 ATS in past five vs. a team with a losing record. The 'under' is 6-2 in SD's past eight as a favorite. The 'under' is 6-0 in Jaguars' past six MNF games.
The Home team has covered all four in this series.
Monday Night Football Picks: Chargers at Jaguars Betting Predictions
I had said previously that I'm off the Bolts forever, but I simply can't take Jacksonville and the points here with how bad Gabbert has been.
If McCown had started, I might have.
San Diego's offense is still pretty good and its weak defense won't be tested much by the terrible Jacksonville offense unless MJD single-handedly wins the game for the Jags.
Have to go Bolts and give the points. I'm also going 'over' because I do think Tucker will take more chances because he has nothing to lose as the interim coach.
Allen Eastman is on a roll for his NFL picks. His incredible 411 System, the top NFL betting system in the nation, is on a 5-1-1 run the last few weeks and it is 81-47-4 the last four years overall. He will have a 7-Unit Game of the Year on his weekend card this week and a one-week package is only $99. Also, check his Insider's Page HERE for free sports picks daily.