New York Jets at New England Patriots Predictions and NFL Odds
by Alan Matthews - 1/14/2011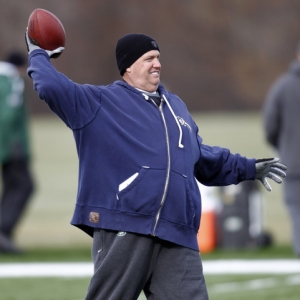 The Pittsburgh Steelers and Baltimore Ravens have the NFL's most physical rivalry. The Chicago Bears and Green Bay Packers can claim the league's oldest rivalry. But the most entertaining rivalry in football? It has to be New York Jets vs. New England Patriots.
All the entertainment usually flows from the New York side, and this week was no different. You had Rex Ryan calling Sunday's AFC Divisional Round game personal between he and Pats coach Bill Belichick. Or Jets cornerback Antonio Cromartie accusing New England's Tom Brady of always pointing to the Jets sideline when things are going well and saying Brady was an "a*****e" and "(bleep) him." There's plenty more trash-talking quotes coming from the Jets, but it really has little to do with what happens on the field other than perhaps motivating the always-silent Patriots. But it's obvious these teams don't much like each other.
Let's start with what really does matter, and that's injuries. The Pats are basically healthy after having last week off. The Jets definitely are not. In fact, it seems like bad things happen to Jet players on Patriots week.
Three days before the Week 13 meeting in Foxborough, the Jets lost starting safety Jim Leonhard to a broken leg after a collision in a Friday practice. This week has been more of the same. Starting right tackle Damien Woody hurt his Achilles' in last week's win over the Colts, but there was still hope he could play. But Woody was ruled out for the season on Wednesday. On Thursday, nickel cornerback Drew Coleman suffered a knee injury in practice that leaves his status up in the air for Sunday. Ryan said if Coleman, who has four sacks and three forced fumbles this season, is unable to play that rookie first-round draft pick Kyle Wilson will replace him as the nickel back. But then defensive coordinator Mike Pettine said Coleman would be replaced by committee.

Finally, receiver/return man Brad Smith is iffy for Sunday because of a groin injury suffered by the Colts. Smith ranked second in the NFL this season with a 28.6-yard average and he ran one kick back for a touchdown against the Steelers. He also plays quarterback in the team's Wildcat formation, which would be scrapped as an option if Smith can't go.
Of course, these two teams played twice this season. The Jets won at home, 28-14, in Week 2 when Mark Sanchez threw a then-career-high three touchdown passes. That was the game Randy Moss made a sweet one-handed TD grab and Jets star corner Darrelle Revis hurt his hamstring. Brady had statistically his second-worst game of the season in that one, completing just 55.8 percent of his passes with two touchdowns and two picks. He has thrown two total interceptions since then (and those came in the same game against Baltimore and one was on a Hail Mary).
Things were much, much different in Week 13 as the Pats embarrassed the Jets, 45-3. Brady had statistically his second-best game of the season in that one, completing 72.4 percent of his passes for four touchdowns and no picks. The 45 points scored were the most on a Ryan defense since he became Ravens defensive coordinator in 2005. Sanchez was awful, completing 17 of 33 for 164 yards and three picks. It was New York's worst loss since 1986.
Gillette Stadium has not been good to Sanchez in his young career. He has lost both games and thrown seven total picks. Thus, look for the Jets to run early and often. Last week against Indy that attack was potent as LaDainian Tomlinson had 82 yards and two scores and Shonn Greene added 70 yards. In four postseason games under Ryan, the Jets are averaging 148.8 yards rushing.
Perhaps the key matchup is Revis against Patriots receiver Wes Welker. Last week Revis made Reggie Wayne invisible. In the Dec. 6 matchup vs. the Jets, Welker had seven catches for 80 yards and a touchdown.
The Pats were unbeaten at home during the regular season, but that was also the case last year and then the Ravens went into Foxborough and stomped New England. Since 2000, the Jets' five wins at Foxborough are most by a Patriots opponent during that span.
NFL Odds: Jets at Patriots
New England is currently a 9.5-point favorite on NFL odds; it was -4 for the last meeting with New York. The line has generally moved up a half point at most books. The total is at 44 and that has dropped a point from its open. New England was 4-3-1 ATS at home this year while the Jets were 5-3 ATS on the road.
Jets at Patriots Betting Trends
The Jets are 11-4 ATS in their past 15 road games
New York is 12-5 ATS in its past 17 as a dog
The Pats are 0-5 ATS in their past five playoff games
The 'over' is 9-1 in the Jets' past 10 road games
The 'under' is 11-3-1 ATS in New England's past 15 home playoff games
The home team is 4-0 ATS in the past four meetings
New York Jets at New England Patriots Predictions
Does experience matter in the playoffs? If it does then New England is in trouble. The Jets have 35 players with at least four games of playoff experience. The Patriots have 22 players with zero experience in the postseason. But the Pats have Brady, who is a ridiculous 33-4 in his career when the temperature is below 40 degrees, which it certainly will be on Sunday. His rating is above 95.0 in such games, which is a bit higher than his career rating. It's just too bad it won't be snowing as the Pats are unbeaten under Belichick in snow games and Brady's stats are off the charts.
Does New England win this game? I think no question. But 9.5 points is a lot and the Jets want to make up for that embarrassment back in December. So take them and the points. The 'under' also looks good here – last week three of the four playoff games went 'under'. New York will try to chew up clock with its run game and that should help keep the score down.
Vegas Sports Informer has been hot for his football picks and he has gone 11-5 the last five weeks for his NFL picks and he will have a hot card for the Divisional Round of the NFL Playoffs this weekend. He has been firing on all cylinders for all sports, check out his current hot streaks here.