NFC West Predictions and NFL Futures Odds
by Robert Ferringo - 8/24/2011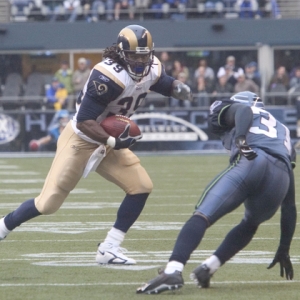 About the nicest thing that I can say about NFC West football is that it makes a great punching bag.
The NFC West is a bit like the minor leagues of the NFL. Outside of a few glimpses, this division has generally produced the weakest collective group of teams in the sport. While that's not exactly a benefit to season ticket holders, teams from opposing divisions love seeing the boys from out West on their schedule.
Over the course of the last seven years there have been 14 opposing divisions, one in each conference each year, that have played crossover games with the NFC West. Of those 14 divisions, eight of them have sent multiple teams (the division winner and a Wild Card) to the postseason. Also, in four of the last five years at least one of the two No. 1 overall conference seeds came from a division that had the NFC West on its schedule.
This is not a coincidence and the correlation between No. 1 seeds and multiple playoff teams is by far stronger with the NFC West than with any other division.
The West is perpetually horrible, and this year is no exception. So if you are a fan of a team from the AFC North or the NFC East you should be counting your lucky stars.
Here is my NFC East predictions and betting odds and NFL futures:
St. Louis Rams Predictions
2010 Record: 7-9 (5-3 home, 2-6 road)
2010 Against the Spread: 10-6 ATS, 6-10 vs. Total
2010 Rankings: 26th offense (21st pass, 25th rush); 19th overall (19th pass, 17th rush)
2011 Odds: 45/1 to win SB, 22/1 to win NFC, 2/3 to win NFC West, 7.5 wins O/U
Offense: Sam Bradford looks like a worthy franchise quarterback, and he is the point guard for this attack. If his receivers can stay healthy then he should have plenty of options in the passing game. And, as always, Steven Jackson is one of the warmest security blankets in the game. St. Louis bolstered its offensive line this offseason and their group is the best in the division. The X-Factor is new offensive coordinator Josh McDaniels. Like most other former New England assistants, McDaniels took a lot of credit for a lot of things he had little to do with, and then he was exposed as a head coach. But St. Louis was way too conservative with its offense last year. Will McDaniels burn out Bradford or will he be just what the Rams need to elevate this group?
Defense: St. Louis is now in the third year of Steve Spagnuolo's scheme and they have enjoyed the continuity that comes from not a single change to the defensive coaching staff. That makes this a sink-or-swim year. The Rams made a huge pickup in free agency by luring Quintin Mikell away from Philly. I think that will really stabilize their back line. But the issue that I have with this group is that I don't see many playmakers. I see some solid, capable veteran guys. But they don't have many difference makers. We will see how far they can get on scheme and continuity. And one thing is for sure: this group isn't good enough to overcome being the No. 1 most penalized defense in football last year. They need to tighten it up.
Skinny: Very quietly the Rams had a very good offseason. They were only a game away from hosting a playoff game last year and they added several solid pieces through free agency. Mix in a new coach here, a player returning from injury there, and add another year of familiarity and this team looks poised to control the West. But I think their true progress will be measured by how they hold up against the power teams from the East and the AFC North.
Arizona Cardinals Predictions
2010 Record: 5-11 (4-4 home, 1-7 road)
2010 Against the Spread: 5-11 ATS; 10-6 vs. Total
2010 Rankings: 31st offense (31st pass, 32nd rush); 29th defense (23rd pass, 30th rush)
2011 Odds: 60/1 to win SB, 28/1 to win NFC, 1.8/1 to win NFC West, 6.5 wins O/U
Offense: Apparently, Kevin Kolb is The Answer. The bobblehead media seems certain that Kolb is the cure for what ails this offense. But I am not so sure. I don't think that "Happy Feet" Kolb is going to fare well behind Arizona's rusty gate offensive line. Also, outside of Larry Fitzgerald (who may face the league's first quadruple-team) the Cardinals don't have nearly the weapons that they did when they were winning division titles not so long ago. Todd Heap is washed up and in a new system and Beanie Wells is terrible. I think that it all adds up to a tough situation for a new quarterback to deal with. And even though Kolb is getting undue praise now, I think it won't be long before he's getting undue blame.
Defense: Arizona's defense has finished No. 26 or lower in scoring defense in five of the last six seasons. Their secondary – especially with Pro Bowler Adrian Wilson battling a torn bicep – is still in shambles and their linebacking corps is a collection of past-their-prime and never-going-to-have-a-prime bodies. The defensive line is capable. But on the whole this is still the same disjointed unit that was hit for 36 or more points in one-quarter of their games last year.
Skinny: Arizona is on life support out West. But they aren't dead. This division is going to be determined by who can win the most home games, and the Cardinals always seem to play up to the level of their competition out in the desert. I am not buying into Kolb. And I think that they have holes all over the field. But they have more top-end talents and more playmakers than division-favorite St. Louis. So while they may be half as disciplined, they are still more experienced and, in spots, more talented. But I still see plenty more blowouts in Arizona's immediate future and this team could be painful to watch.
Seattle Seahawks Predictions
2010 Record: 7-9 (5-3 home, 2-6 road)
2010 Against the Spread: 7-9 ATS, 11-4-1 vs. Total
2010 Rankings: 28th offense (19th pass, 31st rush); 27th defense (27th pass, 21st rush)
2011 Odds: 75/1 to win SB, 40/1 to win NFC, 8/1 to win NFC West, 6.5 wins O/U
Offense: Much like Kolb, Tarvaris Jackson is being billed as a starting quarterback capable of guiding his team to a division title. Apparently people weren't watching the same guy that I was when Jackson was in Minnesota. But, to be honest, you could put Tom Brady on this team and with that mess of an offensive line it wouldn't matter. Seattle is building up its overall talent at the skill positions. Their running back stable is stocked and Sidney Rice gives them a potential No. 1 guy to throw at. Mix in Pro Bowler Zach Miller and the offense has the makings of being decent. But their line is so pathetic that I don't see them being able to sustain drives or beat good defenses. Their 4.9 yards per play last year was only about a half-yard better than 2-14 Carolina.
Defense: The Seattle defense is a hodgepodge of players that don't form a very daunting unit. Young players Earl Thomas and Aaron Curry showed some signs last year, but they aren't ready to lead this group. Getting Leroy Hill back will help, but his addition is muted by the loss of Lofa Tatupu. I don't know; I'm unmoved by this entire group as they don't do anything particularly well. The front line routinely gets pushed around and the corners are shaky. So, yeah, I think they are in for a long season.
Skinny: Absolutely everything about what this team did last year was a fluke. They were actually outscored by 71 points on the season, and every one of their regular season losses was by 15 points or more. They somehow dodged a -9 turnover margin. Their offensive and defensive yards per point were shocking low compared to their overall rankings. This team is going to come back to earth in a big, big way this year and I think it will get real ugly, real quick.
San Francisco 49ers Predictions
2010 Record: 6-10 (5-3 home, 1-7 road)
2010 Against the Spread: 6-10 ATS, 9-6-1 vs. Total
2010 Rankings: 24th offense (18th pass, 19th rush); 13th defense (24th pass, 6th rush)
2011 Odds: 45/1 to win SB, 22/1 to win NFC, 22/1 to win NFC West, 7.5 wins O/U
Offense: Alex Smith is your quarterback and Braylon Edwards, Michael Crabtree and Ted Ginn are your to top wide receivers. Basically, their passing game is like the NFL's version of the "Surreal Life". The good news is that the poor play of the skill position players can again be blamed on an overmatched offensive line. But at least they still have Frank Gore (who they are pissing off by not offering a new contract) and Vernon Davis. Other than that there is not a lot to like out of this group.
Defense: For all of his faults, Mike Singletary had done a good job of making this a tough, physical defense. They lost two of their best players – tackle Arubayo Franklin ad linebacker Takeo Spikes – but there is still a solid core here. And, frankly, as long as Patrick Willis is in the mix this defense will never be all that bad. San Fran addressed its biggest issue in the offseason by beefing up the secondary. They brought in two new safeties and added corner Carlos Rogers. If the pass defense can improve I feel like this team could end up with the top defense in the division.
Skinny: It is interesting to me that the Niners have been posted as the "second favorite" to win the NFC West by the NFL oddsmakers. This team was supposed to run away with the West title last year and then fell flat on its face. I don't think that they have improved their talent pool this offseason, and while I think Jim Harbaugh will be an excellent NFL coach I don't expect his impact to be felt overnight.
Robert Ferringo is a writer and a professional sports and NFL handicapper for Doc's Sports. In 2009 his NFL picks brought home +62.5 Units for his clients and in 2010 he managed another profitable overall football season (college and NFL). He guarantees a winning football season this year or he will work for free until you turn a profit. You can sign up for his college football and NFL picks and get more information here.