This Week in NFL Betting By the Numbers
by Darin Zank - 10/18/2011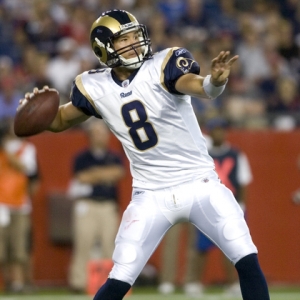 Another week of NFL betting action is in the books, and another trend reveals itself. This one has to do with time off, and how teams react to it. Here's a quick look at some of the more interesting numbers we've come across the last few days.
2-4 – Week 6 ATS record of teams that were coming off their bye weeks. Cleveland, Miami, St. Louis and Washington all had Week 5 off, and all lost vs. the point spreads this past weekend. Only Baltimore and Dallas covered after having last week off. Last year, teams coming off their bye weeks went 18-10 straight-up and 15-11-2 ATS. Those numbers exclude the two games that matched two teams coming off bye weeks.
4 – Thanks to the new agreement between the players and the owners, this is the consecutive number of days off players now get during their bye week. Can you imagine telling Lombardi he can't drill his players for four straight days in the middle of the season? Yikes. And like the guys on "Monday Night Football," we're left wondering if this didn't have an adverse effect on the first teams to have bye weeks this season. For this week, among the teams that had Week 6 off, BetOnline is listing Arizona as a 3.5-point home underdog vs. Pittsburgh; Denver is a 2.5-point dog at Miami; Kansas City is a 3.5-point underdog at Oakland; San Diego is giving 1.5 points at the Jets; Seattle is getting three points at Cleveland; and Tennessee is favored by three points at home vs. Houston.
109 - Yards rushing by 34-year-old Tampa Bay RB Earnest Graham in the Bucs' 26-20 win over New Orleans on Sunday. With LaGarrette Blount expected to miss the next two weeks, at least, with a knee injury, Graham will be counted on to provide Tampa with a ground game. For this week the Bucs are one-point underdogs for their game Sunday vs. Chicago in London.
12 – Winning streak of the Green Bay Packers in games that have counted, and that's the longest in the league. Green Bay is also 10-2 ATS over that span. For this week the Pack is favored by 7.5 points at the hated Minnesota Vikings.
1- Number of fingers Green Bay LB AJ Hawk flashed after sacking St. Louis QB Sam Bradford Sunday. And no, he wasn't pointing out the Packers are the lone remaining undefeated team in the league.
12-4-1 – Combined ATS records of the three California teams after San Francisco's upset of Detroit on Sunday. The 49ers lead the NFC West by three games over second-place Seattle, while San Diego and Oakland are running 1-2 in the AFC West. This week the Raiders are favored by 3.5 points at home vs. Kansas City and the Chargers are favored by 1.5 at the Jets, and the Niners have off.
-17.6 – The per-game point differential for the sorry-ass St. Louis Rams, after losing at Green Bay Sunday, 24-3. And now they've apparently lost QB Sam Bradford at least for this weekend due to an ankle injury. For this week St. Louis is a 13-point underdog at Dallas, according to the NFL odds.
30 – The per-game number of yards the Detroit Lions are getting outrushed by this season. On Sunday Detroit got outrushed by San Francisco, 203-66, in suffering its first loss of the season. The Lions may be 5-1, but they're still a flawed team, and if they continue to have problems running the ball, and stopping the run, they won't make the playoffs. For this week Detroit is favored by 3.5 points at home over Atlanta.
10 – The number of Week 6 games that played 'under' their totals, out of 13. After trending hard toward the 'overs' through the first five weeks of this season, the law of averages caught up a bit on the totals, as Week 6 games averaged just 40 points per, easily the lowest-scoring week of this season. On the year NFL 'over/unders' are now 50-38.
50 – The number of $2 mugs of beer I can buy this week with my teaser winnings from last weekend.