NFL Betting Tips: Fourth Week of Preseason
by Trevor Whenham - 8/31/2011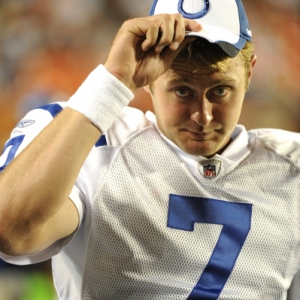 I hate the NFL preseason. It's a pointless month of horrible action designed to fatten the owners' wallets and torture fans. The whole preseason is terrible, but it's the fourth week when things really hit a low. That's when most major decisions have been made and most coaches are just focused on keeping their teams healthy for the first week. We'll see lots of playing time from guys who won't be starting in the regular season, and a lot of high-paid stars will do nothing more strenuous than holding a clipboard or riding a stationary bike. It's all a painful waste of time.
Mostly. In a few cases there are storylines that are worth a closer look because they aren't entirely resolved and they have a big bearing on how the start of the regular season will play out. Here are six NFL betting tips to keep an eye on:
Cam Newton - The Panthers seem determined to make Newton their starter out of the gate — mostly because Jimmy Clausen is an even worse option. If you watched him play at all last week then the only way you could be left with any optimism about his chances early on in the season is if you are blind. He often looked confused and rushed, and he had a bad habit of throwing to very well-covered receivers. It was ugly — and that was against a Cincinnati defense that will regularly get shredded in the regular season.
Now they are at home against a Pittsburgh team that knows a thing or two about playing defense — and which has some nice depth on defense even if their starters take a paid holiday in this one. Newton doesn't have to set the world on fire — and it wouldn't mean a ton if he did — but it sure would be nice to see some progress and some reason to believe that he is going to be ready in just over a week when he makes his professional debut.
Andy Dalton - Unlike Newton, Dalton showed a lot of progress in his last game when the two draft picks met and the Bengals won easily. That came against a really terrible Carolina defense, though, so there is a big asterisk beside his nice numbers. He still missed open receivers, and he still looked uncertain in the pocket at times.
I really like Dalton and I want him to succeed, but he doesn't have a lot to work with in Cincinnati. He's probably being thrown to the wolves in a bad situation this year, but I'll be watching him this week to see if he continues to impress. Given how little Indianapolis cares about the preseason he should be able to exploit them and score some points if he is in good form.
New England Patriots - I attach almost no significance to the record of top-level teams in the preseason. Still, I can't help but be a little concerned by their last outing. They played almost flawlessly early in the preseason, but last week against Detroit it was as if they didn't care. They were sloppy, they were disinterested, and they made far more mistakes than we expect from this team.
I don't expect to see the stars play much, but I will still be looking closely to make sure the team is playing with more focus, intensity and effort than they did in the last one.
Washington Redskins - This is the quarterbacking job that no one wants. I have been waiting all preseason for either Grossman or Beck to make an emphatic claim on this job, but neither has been particularly impressive in a sustained way.
This is the last chance for one guy to really take ownership. While I don't expect to see that it would be nice.
Indianapolis Colts - The quarterback situation has been badly mishandled here, and now we get to watch closely to see how they are going to salvage it.
Manning won't be playing. Collins will need all the work he can possibly get, so he'll be active here and we'll have to watch closely to see how he is able to perform given he's been put into a situation that really doesn't suit him — short preparation time, a new team, and a tenuous grasp of his job.
Manning and Collins will likely be fighting for time with the first team next week if Manning really hopes to start the regular season, so this game will be very significant for Collins.
New York Giants - I have a real problem with this team. Eli Manning is as overrated as a player can be, and this team just doesn't seem to be built to be anything other than ordinary this year.
In two of their three preseason games they have been lousy — sloppy and unfocused. I'd like to see them look like they are committed to being a decent team in this game — even if it means nothing.