NFL Handicapping: Second-Half Comebacks
by Trevor Whenham - 10/7/2011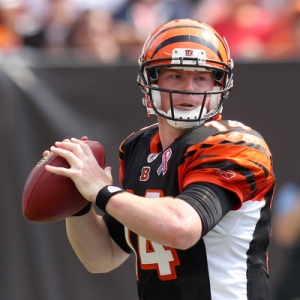 It was a strange week in the NFL last week. Of course, part of the joy of the NFL is that pretty much every week finds some way to be strange and unique. This time, though, it was because of the number of big second-half comebacks that there were.
Three decent teams — the Bills, Cowboys and Eagles — were up by at least two touchdowns at the half, but they all blew it in the second half and wound up losing. The Eagles and the Cowboys lost at home, and none lost to teams that were significantly better than them on paper. Seeing teams collapse is a regular occurrence, but seeing these three collapse in the same afternoon was striking.
For bettors it would obviously be useful to be able to spot situations where a team with a big halftime lead might not be stable and able to maintain it. That could be useful in halftime bets, and it could save you from panicking too much if your team is the one far behind at the half. Here are four factors to consider when evaluating a big halftime lead:
How has the leader been closing in past games? - You can learn a lot about where a team is at and how they are feeling by how they are playing in the second half.
The Eagles right now are a perfect example. If you look at the two games they played before their collapse you got clues that they weren't closing games out. In Week 3 they were up 16-14 heading into the final quarter at home against the Giants, but were totally ineffective in the final stanza, allowing 15 unanswered points en-route to the blowout home loss. In Week 2 they were up 31-21 after three quarters in Atlanta, but again forgot to show up for the last quarter, gave up two touchdowns, and lost again. Given that, it would have been more surprising and noteworthy if they had somehow managed to hold onto their halftime lead.
The Eagles clearly have some issues, and those issues are getting in the way of their performance. It's not uncommon to find that a team that collapses often has issues of some sort as well.
How does the trailing team close out games? - Just as there were clues that the Eagles could collapse there were also signs that the Niners could finish strong in the same game.
The sample size of Jim Harbaugh as an NFL coach is small, but it has already shown that he is very good at second half adjustments and halftime motivation. In their opener against the Seahawks they scored 17 points in the fourth quarter to put the game away. They were shut out by the Bengals in the first half, but they were much better in the second half and scored 13 points to win. Harbaugh has this team believing that they are closers — an attitude that he also instilled at Stanford.
Similarly, Detroit had come back from a 20-0 halftime deficit to Minnesota just the week before, so they obviously weren't going to be intimidated by the hole they were in, and coaches had lots to call on for motivation.
How has the leading team scored their points? - There are a lot of ways that a team can score points, and some are more impressive than others in the overall scheme of things. If a team is scoring touchdowns through overwhelming their opponents, then it could be sustainable.
For example, they could be totally overwhelming the opposing defensive line, or torching the secondary every time they look to throw. That could be a mismatch of talent or schemes, and it could be tough for the opponent to overcome that in the second half.
Often times, though, the lead isn't because of domination. Maybe they have scored points on special teams, or they have capitalized on turnovers. Maybe they weren't moving the ball well generally, but were able to break a big play or two to score the points.
Impressive individual performances are less compelling overall than a generally dominant offensive performance because they are less likely to keep happening in the second half.
What do the stats say? - The scoreboard is the only thing that matters at the end of games, but it can be very misleading up to the final whistle. Far more important than the score at halftime is the story that the stats are actually telling in the game.
It's not at all uncommon to see that the trailing team is performing just as well as the leading team or even better, but they just aren't getting the breaks or converting their performance into points yet.
There are several different places you can look to see what the stats are saying. How do the yards per attempt stack up between the two quarterbacks? How about the yards per carry for the running backs? What kind of numbers are the defensive lines putting up — sacks, pressures, tackles for a loss, and so on?