NFL Office Pool Picks Week 15
by Trevor Whenham - 12/13/2011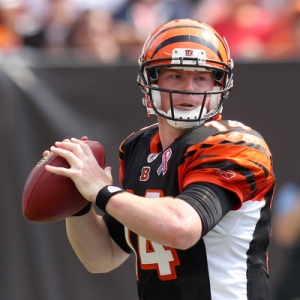 As I get ready to make my NFL office pool picks this week I need your help. If I ever say anything positive about the Bucs again this year or even consider picking them again this year then reach through your computer screen and slap me.
I have been sucked in by that ridiculous team one too many times this year. Actually, about six times too many. With that in mind, here's how I see this week playing out. Remember, these picks are straight up, not against the spread:
Jacksonville at Atlanta - The Falcons are rounding into form -- at least compared to how they were playing -- and are looking like a playoff team. The Jags are coming off an impressive win. However, that was against a badly broken team, so it only 'sort of' counts. Atlanta has been solid at home, and should be able to handle this one. Take the Falcons.
Dallas at Tampa Bay - The Cowboys concern me -- that was a gutless loss of a game they should have won last week. Still, it's the Bucs, so there is no decision to make here -- I hate getting slapped. Take the Cowboys.
Cincinnati at St. Louis - The Bengals have come back to Earth after a strong start with four losses in their past five games. I don't think that that's a big coincidence -- the team was overachieving significantly in my eyes, and the coaching is lousy. Still, they should be the better time here. The Rams looked lousy on Monday night against an underwhelming Seattle team, and are hard to like. Take the Bengals.
Miami at Buffalo - Ugly, ugly game. The Bills are in a funk and the season has become a lost one after a very promising start. The Dolphins come into this one after having fired coach Sparano on Monday. I'd rather not pick either team, but I guess I'd take the Dolphins in hope that the coaching change gives them a spring in their step.
Washington at N.Y. Giants - Another disappointing game in the disappointing NFC East. Despite only being one game above .500, the Giants are in first place. They should have gotten a boost from their win last week, and the Redskins haven't shown a whole lot this year. Take the Giants.
Tennessee at Indianapolis - It's usually a bad idea to bet against a streak, and the Colts are mired in an ugly, ugly streak. Plus, they are lousy. This is a game that they could potentially win, but I can't bet on it. Take the Titans.
Seattle at Chicago - This is another ugly game. Seattle faces a short week, and they aren't very good on the road. Chicago has a QB crisis, and they made some bone-headed plays last week. It's hard to get excited about either team, but I'll take the Bears.
Green Bay at Kansas City - One team is terrible and essentially quarterback-less at this point, and facing a midseason coaching change. The other team is by far the best in the league and has yet to lose. If only every pick was this easy. Take the Packers.
Carolina at Houston - Despite being on their third QB of the season the Texans are heading to the playoffs for the first time ever. The big question here is how they will respond to having their position clinched. That makes me nervous, but they are the better team here and would normally be the right pick, so I can't go against them. Take the Texans.
New Orleans at Minnesota - The Saints are one of the best teams in the league, and they have a good shot at getting a bye if they finish strong. Motivation won't be an issue. The Vikings are a lousy team with injury woes that will just be desperate for the season to end. Take the Saints.
Detroit at Oakland - Neither of these teams has looked as good recently as they have at times this season, but both need a win here to keep their playoff hopes alive and well. I have concerns about both teams, but Detroit has been better recently, and should have the edge here. Take the Lions.
Cleveland at Arizona - The Cardinals have shown some surprising heart recently and have been tougher than they should be given their roster. Cleveland has struggled and now has injury issues. Take the Cardinals.
N.Y. Jets at Philadelphia - The Eagles have been inconsistent at best recently -- and that is being kind. They have been lousy at home as well. The Jets have issues of their own, but they have won three in a row and are showing signs of life. Take the Jets.
New England at Denver - I'll admit I have been a skeptic throughout the Tebow era. I still am, but I can't deny that that last game was a thriller. Still, they have been winning by the narrowest of margins, and Tom Brady is the real deal. I'll take the Patriots.
Baltimore at San Diego - The Ravens haven't been the same team on the road that they are at home. The Chargers have looked much more like they should be looking recently. I'll take the mild gamble here and go with the Chargers.
Pittsburgh at San Francisco – This one is a very interesting game -- much better than I would have guessed it would have been when it showed up on the NFL schedule at the start of the year. The Niners lost a game they had no business losing last week, but coach Harbaugh will have this team fired up to perform on this stage. The Steelers have injury issues, and could limp into this one. Take the Niners.
Strike Point Sports is destroying the bookies with their NFL picks. A 3-0 sweep this past weekend has helped their clients to 10 of 15 winning NFL weeks, including three of their last four. They will have a big card coming this weekend. Click Here for more info.