NFL Office Pool Picks Week 16
by Trevor Whenham - 12/20/2011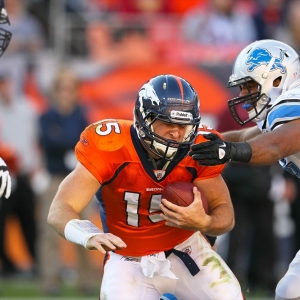 Last week was perfect proof of just how little sense the NFL can make at times. Within minutes of each other on Sunday the Colts managed their first win and the Packers suffered a highly improbable defeat at the hands of an impressively good Kyle Orton and the Chiefs.
Those were the two most shocking results, but they weren't the only ones that didn't make sense.
Houston celebrated clinching their first-ever playoff spot two weeks ago by giving themselves the week off last week. Eli Manning threw all the momentum he had right out the window with some terrible play in an ugly loss by the Giants to the Skins. No one ever said picking winners in this league was easy.
It's a whole new week — one that hopefully will turn out a bit more logically. Remember, Christmas is on Sunday this week, so most of the games are on Saturday. Make sure you don't get lost in the eggnog and forget to get your NFL office pool picks in on time.
Houston at Indianapolis - The Colts showed some nice heart, and pulled off a win. The Texans were lousy. I'm not willing to bet that either thing will happen again. Houston is the far better team, and they should be interested in bouncing back strong from last week's showing. They don't have any playoff experience, but they'll know enough to know that they won't want to limp into their first postseason. Take the Texans.
Miami at New England - I was impressed with the heart the Dolphins showed under a new coach. The Patriots are a proud team, though, and they are playing very well right now. They aren't going to let the Dolphins show them up. I'd be a bit more tempted to consider the Dolphins if they were at home, but Foxborough is a brutal place to play. Take the Patriots.
Cleveland at Baltimore - I don't understand how a team as good as the Ravens can look so bad at times — like they did in San Diego. Luckily, they bounce back well, and should be much better this week playing at home. The Browns were solid last week, but they have too many issues to overcome, and are clearly second best in this one. Take the Ravens.
Arizona at Cincinnati - The Cardinals are playing surprisingly well right now, and they have been tough late in games. They are not strong on the road, though. The Bengals are not n good form right now, but they are at home and should be able to come out on top in this one. It's not a pick I am in love with, but I'll take the Bengals.
Minnesota at Washington - The Vikings just aren't very good right now, and the combination of inexperience and injuries have conspired to make that painfully obvious. The Redskins played surprisingly well last week, and though inconsistent and not particularly strong at home they should be the better team here. Take the Redskins.
Denver at Buffalo - I was relieved that the Broncos were beaten up on by the Patriots last week because I don't think I could have handled the heights of Tebowmania if he had pulled that game off. I have not really bought into the hype, but the Bills are a mess right now and Denver should be motivated to win this one. Take the Broncos.
St. Louis at Pittsburgh - A Pittsburgh team that is banged up and coming off an ugly beating in San Francisco is still much more attractive than this mess of a St. Louis squad right now. Take the Steelers.
N.Y. Giants at N.Y. Jets - It's hard to feel positive about either of these teams after the games they played last week. Both were very disappointing last week, and both showed a shocking lack of heart in the games. Travel obviously won't be a factor in this one, so it is the definition of a coin flip in my eyes. Mine came up heads, so I'll take the Giants.
Tampa Bay at Carolina - I said last week that I was done getting sucked in by Bucs, and they certainly didn't do anything last week to make me thing I was wrong. They are easily the most surprising and disappointing team in the league in my eyes. Carolina still obviously is invested in playing well, and they should win this one easily. Take the Panthers.
Jacksonville at Tennessee - It will be interesting to see how the Titans bounce back from losing to the worst team in the league. Luckily they get to play another one of the worst teams in the league. Jacksonville is bad at home and terrible on the road. Take the Titans.
Oakland at Kansas City - Carson Palmer was a nice addition in the longer-term, but he hasn't proven to be enough to make a big difference for this team this year. The Chiefs come into this one riding some serious emotion after a shocking upset last week, and Romeo Crennel obviously has them believing. Take the Chiefs.
San Diego at Detroit - Detroit is well positioned to make it to the playoffs this year. The Chargers will be desperate, though, and they are playing very good football right now. I hesitate to trust the Chargers on the road, but if both teams are at their best then they should win. Take the Chargers.
Philadelphia at Dallas - The Eagles are playing well right now and came off a very impressive performance. They aren't fully healthy, though, and they are heading into a tough building against a quarterback who is playing very well. It has been hard to trust Dallas in December the last few years, but I am going to jump on board here. Take the Cowboys.
San Francisco at Seattle - If you watched the Monday Night game then you know that the Niners are the real deal. This is going to be a tough team to beat in the playoffs. They still need to keep winning to secure a first-round bye, and I don't expect Jim Harbaugh to allow them to let up — especially not against a former Pac-10 foe. Take San Francisco.
Chicago at Green Bay - If the Packers don't bounce back from their shameful performance last week and thoroughly destroy the badly-struggling Bears this week then I am going to have serious doubts about their chances of repeating. I expect that they should be fine — especially when you compare Rodgers to Hanie. Take the Packers.
Atlanta at New Orleans - The Saints haven't lost at home all year, and I don't expect them to start here. Drew Brees has his shot at history with a good passing day here, and that will be a motivating factor for this team. Take the Saints.
Strike Point Sports is destroying the bookies with their NFL picks. A 5-0 sweep the past two weekends has helped their clients to 11 of 16 winning NFL weeks, including four of the last five, and $100 NFL bettors are up $6,600 on the season. They will have a big card coming this weekend. Click Here for more info.