NFL Office Pool Picks Week 9
by Trevor Whenham - 11/1/2011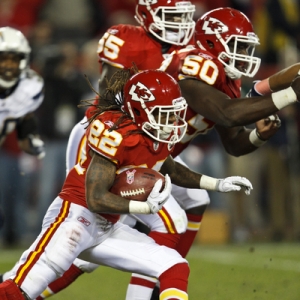 We bounced back nicely last week from a really lousy week before that. Let's keep the upward arc going with even better results this week for our NFL office pool picks. To help you decide which teams to back in your NFL office pools, here's a look at who I think will be the straight up winner in each of the 14 games to be played this week:
Miami at Kansas City - The Dolphins showed a lot more heart than I might have guessed they were capable of last week. They have one big problem, though — they just aren't very good. The Chiefs started the season looking far worse than Miami does right now, but they have turned things around convincingly for the most part, and are the better team here. Take the Chiefs.
Tampa Bay at New Orleans - What the heck was that, New Orleans? A team that has looked so good recently played a shockingly poor game against the previously-hopeless Rams. St. Louis came out of the gate firing on all cylinders, and New Orleans just backed down under the assault instead of asserting themselves. Very concerning. Of course, it's the exact same thing that the Bucs did against the Niners a few weeks back, except New Orleans at least turned things around later on while the Bucs never bothered to show up. These are two talented teams with obvious mental problems. The Saints haven't lost at home, so I have to take them.
Atlanta at Indianapolis - I have never been a big Colts fan. Actually, I have long hated them. Despite that, though, this is getting a little sad. They are just really bad at football right now, and that's a problem in this league. Atlanta is far from perfect, but they look like the Steel Curtain Steelers compared to these Colts. Take the Falcons.
Cleveland at Houston - I like how the Texans have responded after losing Andre Johnson. They haven't been perfect, but in the past they could have quit when suffering a loss like that, but here they haven't. I feel much better about them now than I did a couple of weeks ago, and I am less impressed with Cleveland than I thought I was. Take the Texans.
N.Y. Jets at Buffalo - That Buffalo win over Washington was very impressive. The Redskins aren't a great team, but Buffalo totally shut them down, and had an answer for everything Washington tried on both sides of the ball. This is a quietly dangerous Buffalo team that plays well at home. The Jets have yet to win on the road, and I have real issues with their attitude and preparation that have not waned over the course of the season. Take the Bills.
San Francisco at Washington - The Niners are no fluke. By now we have to come to terms with that because it can't be avoided. There are more talented teams, but they believe absolutely and completely in what Jim Harbaugh is asking of them. Washington doesn't have anywhere near the faith in Mike Shanahan right now, and they don't match up in talent, either. In the past the trip across the country would have been a concern for San Francisco, but not this year. Take the Niners.
Seattle at Dallas - If there were a 'none of the above' option I would take it here because neither of these teams are worthy of any real respect. I'll take the Cowboys because they are at home, but the chances for them to self-destruct and really implode are high.
Cincinnati at Tennessee - I owe the Bengals an apology. I came into the season thinking that they were in the race for Andrew Luck. Now I am about to pick them to move to 6-2. Strange times. I still hate their coaching, but they are playing tough and match up well here. The most compelling thing to watch in this one will be the continued decline of Chris Johnson. What a shocking turnaround in a short time. Take the Bengals.
Denver at Oakland - Tim Tebow is a really, really bad quarterback. Watching him last week was like watching a baseball game when the game is out of hand and the bullpens are depleted and they bring the center fielder in to pitch because he used to pitch in high school. It was horrible, and it's not going to get any better in one week. Normally Oakland's QB situation would scare me off, but, incredibly, they are by far the better choice here. Take the Raiders.
N.Y. Giants at New England - Tom Brady was flat out outplayed by Big Ben on Sunday. There is no way to sugarcoat that. He can respond in two ways — continue playing like that, or let his pride kick in and show Eli Manning what being an NFL QB is all about. I expect the latter. The New England defense is scary bad, but the Giants aren't as able as others to exploit that. Take the Patriots.
St. Louis at Arizona - That St. Louis performance against New Orleans was one of the biggest surprises of the year. Maybe the biggest. The problem is, though, that it was fueled entirely by emotion after Stephen Jackson made a passionate pre-game address to the team. I don't think they can dip into those passion reserves two weeks in a row, and if they don't then they just don't have the tools to win on the road — even against a bad Arizona team like this. Take the Cardinals.
Green Bay at San Diego - San Diego plays with no passion. Green Bay plays with all the passion in the world. San Diego's QB has been underwhelming. Green Bay's has been superhuman. San Diego comes off a short week. Green Bay is rested and reloaded. This one could get ugly. Take the Packers.
Baltimore at Pittsburgh - This game is a bizarre. A few weeks ago I would have told you that the Steelers were old and washed up, and that the Ravens were the best team in the AFC. But then Baltimore needed last-minute heroics last week to avoid going 0-fer against the Jags and Cards, and the Steelers annihilated the Patriots. It's a strange, strange league. Take the Steelers.
Chicago at Philadelphia - I don't like either team very much. I was impressed by the Eagles on Sunday night, though, so I'll give them the edge here. Take the Eagles.
Doc's Sports has been dominating the NFL odds this season en-route to a 19-10-3 record and this NFL handicapper has helped $100 bettors earn nearly $3,000 thus far this season. Doc loves the NFL picks on this weekend's card and he expects another strong winning weekend. Click Here for packages and pricing info.