2011 NFL Power Rankings - Week 2
by Robert Ferringo - 9/13/2011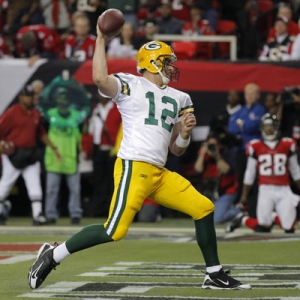 Welcome to Overreaction Tuesday.
In the echo chamber that is the modern media, overreaction is an ethos; "Whatever happened yesterday is most important thing that ever happened and is the deciding factor in what will happen tomorrow." Beyond politics, there is nowhere in the (lexicon) where this concept is more prevalent than in the World of Football.
Every team that lost on Sunday is suddenly in Panic Mode. And each team that won last weekend is suddenly bearing down on a playoff spot. Or so the bobblehead legion would have you believe. But talk is cheap n the National Football League. Some teams were simply more prepared to play in Week 1. And others were the beneficiaries of a disgusting amount of turnovers. Yet others took advantage of an exorbitant amount of special teams breakdowns to generate offense. But in the end it is simply one week of action and it's just the first step in what is a five-month death march for players and NFL betting aficionados alike.
Besides the individual results there were some obvious trends that NFL bettors should have noted in the opening week. The 'over' was an incredible 12-3-1 this week, and it will be interesting to see if the books and gamblers overreact while betting on NFL totals this week. Also, the underdogs were the play in the openers, with the puppies going 8-6-2 ATS and notching six outright victories. The Week 2 NFL odds don't appear to be shy about handing out points, however, with six of 16 opening lines featuring spreads of a touchdown or more.
Stay calm. Be cool. Things along the NFL landscape are going to look a lot different a month from now than they do today. Overreaction is what the sportsbooks are counting on. Keep your wits about you and enjoy my Week 2 version of Doc's Sports NFL Power Rankings:
1. Green Bay Packers (1-0) – Defensive coordinator Dom Capers – a former Carolina head coach – should be licking his chops at devising a plan to stop Cam Newton. He can also motivate the Packers by pointing out their awful defensive numbers against New Orleans last Thursday night. Green Bay is 8-2 against the spread as a favorite and they are 12-3-1 ATS in their last 16 games against teams with a losing record. This group poured it on Buffalo (34-7) and San Fran (34-16) last year, but both of those games were at home.
2. New England Patriots (1-0) – Same as it ever was. That Patriots offense is just impossible to stop. As I have pointed out before: the Pats have circumvented the current defensive trends of focusing on lockdown cornerbacks and pass rushing linebackers by hammering the middle of the field with their passing game, focusing on two exceptional tight ends and slot guys. But New England's defense is still incredibly suspect and didn't look sharp Monday night. They have a tall task this week against Philip Rivers and I don't see Rivers missing a lot of the throws that Chad Henne did.
3. Pittsburgh Steelers (0-1) – Willie Colon is likely lost for the year, further shredding a shaky offensive line that wasn't adequately addressed in the offseason. This week it is almost too obvious to think that the Steelers will bounce back with a 30-point blowout against a lowly Seattle team. Pittsburgh was 4-0 ATS last year as a favorite of 9.0 or more, but in 2009 they went just 1-5 in those situations and I have a hard time laying a couple touchdowns with a team that was so unprepared for its opener. Over the last five years the Steelers are 12-9 ATS as a favorite of nine or more points.
4. New Orleans Saints (0-1) – I talked last week about how the Saints first team offense and defense had been terrible during the preseason. I believe that it carried over into the first quarter on Thursday and that played into their slow start. Drew Brees has not had any success against Chicago's Cover-2 in his career. Brees is 0-3 with a 66.4 passer rating, with five TDs and five INTs, against the Bears. An interesting subplot here is that former Bears center Olin Kreutz is now in New Orleans. He played with the Bears for 13 years and should be vital in helping the Saints prepare for Chicago's offense and defense.
5. New York Jets (1-0) – Same as it ever was. The Jets will win with defense and will take advantage of opponents' mistakes. But their running game is not nearly as powerful or effective as it needs to be. Shonn Greene has the signal light on for a turn down Draft Bust Avenue. Keep an eye on New York's continued success against the total. They are now 19-7 against the total in their last 26 games despite having one of the league's best defenses. The Jets are 8-3 against the total in their last 11 as a favorite and 20-7-1 on the 'over' against the AFC.
6. San Diego Chargers (1-0) – After a focused, intense, impressive preseason the Chargers looked like the September Chargers again for three quarters against Minnesota. But they were able to overcome more special teams breakdowns and general malaise to score a win. The underdog is 6-2 ATS in the Patriots-Chargers series, which is one of the best nondivisional rivalries in the game. With a 4 p.m. prime time start the Chargers avoid having to kickoff at 10 a.m. PST, which has been a death knell for West Coast teams in recent years.
7. Philadelphia Eagles (1-0) – For all the hype surrounding Mike Vick's return to Atlanta and his impending duel against Matt Ryan, the real story here should be about Philadelphia's domination of the Falcons over the last decade. In the last three years alone the Eagles have gone 3-0 against Atlanta with an aggregate score of 92-38. That includes a 31-17 blowout win at Lincoln Financial last year. The Eagles are 9-2-1 ATS in their last 12 against the Falcons and have lost to them just one time since the turn of the century.
8. Baltimore Ravens (1-0) – Kudos to the Ravens last week. They were the more motivated, prepared team and scored a blowout win over a hated rival. It will be interesting to see if they can avoid a letdown this week. Baltimore's punishing running game should overwhelm Tennessee's feeble front seven. But the Ravens are just 5-11 ATS as a road dog and this is a tricky situational spot for them. As long as they maintain their physical tone they should be fine. But if they are lax at all this week they could bust a lot of square bettors.
9. Chicago Bears (1-0) – Don't sleep on the Bears, I suppose. I still believe that this team will wear down as the season progresses. However, they are a system team and as a result they were one of the biggest beneficiaries of the lockout. They now have five Pro Bowlers on defense and this group is starting to look eerily similar to the devastating 2006 unit. The Bears have been very predictable over the last few years: they are a great favorite and a terrible underdog. The Bears are just 8-22 ATS as a road dog of more than a field goal.
10. Atlanta Falcons (0-1) – Were the Falcons looking ahead to this week's emotional home opener against Mike Vick and the Eagles? Or are they just not as good as people think? Atlanta's pass rush is still questionable. As I said this offseason, Ron Edwards was one of the most overrated free agent pickups of the summer. In fact, other than aging John Abraham, who is really the stud, superstar player on this Falcons defense? They don't have one and that is their biggest problem at the moment. Atlanta is 16-5 ATS after a loss and they are 10-1 ATS after scoring two touchdowns or less.
11. Houston Texans (1-0) – This is the fifth time in six years that the Texans and Dolphins are going to play. Houston is 4-0 in the previous four meetings but seven, one, three and two points have decided the games. The Texans need to show some maturity this week if they are really going to step into the upper echelon. They have a regional rivalry game at New Orleans next week but they can't afford to look past a desperate Miami team. The Texans are just 4-10-1 ATS the week after they cover the spread and just 4-9 ATS in their last 13 games overall, so it is not as if we're catching a ton of value betting this team.
12. Detroit Lions (1-0) – Excellent win by the Lions last week on the road. I will say I was less than impressed with Matt Stafford's performance though. The numbers were stellar (305 yards, 2 TDs), but he threw the pick six, had another INT dropped, and was able to recover his own fumble. He also had some happy feet despite not seeing a ton of pressure. Stafford has gotten a lot of practice work, but with just 15 career starts he is still a very inexperienced QB. He needs to take care of the ball if this team is going to beat good teams. The Lions were 3-0 ATS as a home favorite last year but 10.0 is an awful lot of points for them to be laying this week.
13. New York Giants (0-1) – If Hakeem Nicks' knee injury keeps him out for an extended period of time the Giants will be without three of their top four receivers from last season. New York has always been a strong play in prime time situations and they are 4-1 ATS in their last five Monday Night Football games. This team doesn't want to fall to 0-2 and the heat could really be turned up on Tom Coughlin if the G-Men fall this week. I expect the Giants to be somewhere in the neighborhood of a five- or six-point favorite when the line on this game gets released. (It is off the board at most books because of Sam Bradford's status.)
14. Tampa Bay Buccaneers (0-1) – I expect a lot more of LeGarrette Blount this week. He had just five carries for 15 yards and was very vocal after the game about not getting his touches (and he was right) .Tampa Bay's zone schemes didn't have an impact on Detroit's passing game. But their system should be the perfect defense for neutralizing Minnesota's struggling passing attack. We will see if this young team plays with any more urgency this weekend in Minnesota. The Bucs are 13-3-1 ATS on the road and 12-1 ATS in their last 13 games on turf.
15. Washington Redskins (1-0) – There is a ton to like about this team and prior to the season I had predicted that they would leave the NFC East basement. But I just can't wrap my mind around Rex Grossman leading a team that I would wager on. Washington is just 1-7-1 ATS as a favorite recently and they are 0-6 ATS when laying points at home. This week is a revenge spot for running back Tim Hightower. He was dumped by the Cardinals this offseason and has looked great through the first month of the year. Look for him to run extra hard this week, and I am predicting a two-touchdown day.
16. Dallas Cowboys (0-1) – How are people surprised that Tony Romo is a loser? Is this news? Have people not been watching this guy – and this team, for that matter – play over the course of the last five years? Dallas had to fly to New York last weekend, go home, and now fly out to San Francisco this weekend. It will be interesting to see if this travelling has any impact. That said, Dallas looked excellent for about 80 percent of that game and they should have enough talent to roll through the Niners this weekend. And for the record, I completely agree with Drew Pearson about Dez Bryant.
17. St. Louis Rams (0-1) – Injuries shredded this team last week. St. Louis lost four offensive starters, but they received good news when they found out that Sam Bradford will be good to play on Monday Night Football. The bigger problem is that with Steven Jackson and Danny Amendola gimpy and missing the Rams are down the only two quality skill people (outside of Bradford) that they have. This week's primetime game is also a homecoming for former Giants defensive coordinator Steve Spagnuolu and he will have his offense prepared for the blitz-happy New York defense.
18. Jacksonville Jaguars (1-0) – In a league full of pass-wacky teams you have to tip your hat to the Jaguars for being one of the last power-running teams in the league. Their reliance on a physical ground game is what made David Garrard expendable. The Jags match up well with the physical Jets and Jacksonville is 6-0 ATS in the series and 4-0 ATS in their last four trips to the Meadowlands.
19. Tennessee Titans (0-1) – The Titans will face their second tough, physical, ground-and-pound team in a row this week when Baltimore comes calling. The Titans bowed their back enough to hold Jacksonville to just 16 points. But the Titans had the ball for only 20 of 60 minutes on Sunday. Matt Hasselbeck needs to put that lob pass on ice and get back to zipping the ball to open targets. He missed too many open receivers and threw that horrendous interception to end the game due to those disgusting lobs. The Titans are 8-2 ATS as a home underdog but they are just 4-12 ATS against a team with a winning record. Can they hold up, physically, two weeks in a row?
20. Kansas City Chiefs (0-1) – I am not going to completely bury the Chiefs – yet – after getting humiliated by the Bills. But their margin for error certainly got a lot shorter. The Chiefs have now lost four of their last six games by an average of 27 points per game. Eric Berry is lost for the season and right now this team just has way more questions than answers. If the Chiefs can't establish the run against Detroit's front four then K.C. could have its lights shut out very quickly for the second week in a row.
21. Indianapolis Colts (0-1) – I understand that the Colts are a train wreck without Peyton Manning under center. (Having walking disaster Kerry Collins calling the shots compounds the Manning Effect. I don't understand why this team didn't bring in David Garrard the moment he got cut.) But how are they home underdogs against the Cleveland Browns? I expect a very game effort out of a proud Colts team this week. This team may only win four or five games this year, but this weekend should be one of them.
22. Buffalo Bills (1-0) – Hey, break up the Bills. Everyone is ragging on the Chiefs this week but Buffalo actually played great. And now they have a nice situational edge in their home opener against Oakland. I don't think that the Bills are going to run the ball as effectively against the Raiders, so any wager on Buffalo this week would have to be because you think Ryan Fitzpatrick will build on his Week 1 success. Buffalo is actually 8-4-1 ATS as a home favorite over the last several years.
23. Oakland Raiders (1-0) – There are a lot of things working against the Raiders this week. They are off a Monday Night Football game so that gives them a short week. They have to make their second straight road trip to open the season, and they have to do it while making a 1 p.m. EST start. It is well documented how much West Coast teams struggle in these spots.
24. Denver Broncos (0-1) – I don't know what Kyle Orton has against Eddie Royal, but Orton needs to find a way to get him involved. Orton is way too dependent on Brandon Lloyd (11 targets) and that led to two of Denver's turnovers. The Broncos offensive line was a farce and Denver couldn't run or pass protect on Monday against a merely better than average Oakland front. Pay close attention to the injury news coming out of Denver this week. Elvis Dumervil, Champ Bailey, Knowshon Moreno (shocker), and Lloyd all underwent MRI's after Monday's game.
25. Miami Dolphins (0-1) – I wonder if Vontae Davis still thinks that the Dolphins have the best cornerback tandem in the league? You could just see Brandon Marshall seething with every missed Chad Henne throw. Marshall is going to lose his top at some point this year, I guarantee it. Miami is now just 17-46-1 ATS in its last 64 home games and they are on the ropes early in the season yet again. But I thought they were pretty game for three quarters and the underdog is a perfect 5-0 ATS in the Miami-Houston series.
26. Minnesota Vikings (0-1) – Man, the Vikings offense is horrendous. They don't have any cohesion in the passing game and this group is really struggling to learn Bill Musgrave's system. And I think it is obvious that Donovan McNabb isn't accurate enough to effectively run it even after he does learn it. The home team is 13-3-1 ATS in the Tampa-Minnesota series, but these two have only played twice since 2003 after formerly being division rivals.
27. Arizona Cardinals (1-0) – Arizona is back in its least favorite role: road underdog against a team in the Eastern Time Zone. The Cardinals are just 3-9 ATS in their last 12 games with a 1 p.m. EST start and many of those games have been absolute blowouts. Arizona is just 1-7 ATS as a road underdog in general, and if they can't do a better job of forcing turnovers they could be in trouble this weekend.
28. San Francisco 49ers (1-0) – Don't be fooled by San Francisco's final score against Seattle. The Niners benefitted from a pair of kick return touchdowns from Ted Ginn late in the fourth quarter to pad their lead. The score had been just 19-17 before Ginn went bonkers and San Francisco was actually outgained in the game. I am absolutely not buying this team's Renaissance just yet.
29. Cleveland Browns (0-1) – As I have said repeatedly: I want to like this team. And I think that they are headed in the right direction. But Sunday proved that Cleveland's stunning lack of talent is just going to be too much for Colt McCoy to overcome. This young team is still learning new systems and they were pretty gross in all three facets last week. Cleveland is just 2-7 ATS in its last nine games as a favorite and I am shocked that a team that is 1-8 SU and ATS in its last nine games is laying points on the road.
30. Cincinnati Bengals (1-0) – No, I'm not going to give the Bengals too much credit for their road win over Cleveland. First, the Browns stink. Second, Cincinnati didn't go out and win that game as much as they simply took advantage of the crippling mistakes that Cleveland made. Cincinnati.com is reporting that Andy Dalton should be set to start in Denver this weekend, barring any setback. As stunning as it would be for this group to start the year with two straight road wins, they have actually accomplished that feat twice since 2006.
31. Seattle Seahawks (0-1) – The Seahawks have to be the worst road team in football these days. Seattle is just 16-37-1 ATS away from home overall over the last seven years and they are just 2-12 ATS on grass. Factor in the time change (similar to Arizona) and the fact that Seattle is just 6-21 ATS as a road underdog and you can see why they are catching two touchdowns this week.
32. Carolina Panthers (0-1) – Hey, I'm happy for Cam Newton and his big day. Steve Smith has been making quarterbacks look better than they really are for a decade now. But Carolina found out that Jon Beason is out for the year and that is going to cripple a defense that is already starting a pair of rookie tackles and is suspect in the secondary. And even if the Panthers found some miracle way to stop the Packers offense I don't see them being able to move the ball enough on the ground to keep this one competitive. Carolina is 0-7 ATS in its last seven games against a winning team.
Robert Ferringo is a professional NFL handicapper and is coming off an exceptionally profitable 2010-11 football season (college and pro). Over the last year his clients have nearly tripled their bankrolls with his predictions in all sports. He is looking forward to building on his stellar football handicapping resume again this fall and you can check him out here.