2011 NFL Power Rankings - Week 3
by Robert Ferringo - 9/21/2011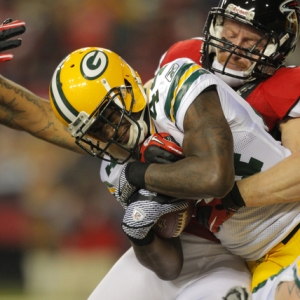 Who needs the preseason?
Scoring is through the roof in the National Football League and through two weeks of the year seasoned quarterback play and horrendous defense have been front-and-center. With the lack of a traditional offseason and with a truncated training camp the thought was that teams would be a little sluggish out of the gate and that we may see some ugly, low-scoring games through the first month until everyone got into a rhythm.
Not so much.
While turnovers and penalties have still been in abundance, defense has been scarce. As a result, the 'over' continues to be The Play in the NFL for anyone that likes betting on NFL totals, and the books have been slow to adjust to the incredible run of early season scoring. In Week 1 teams went a stunning 12-3-1 against the total, and they backed that up with a 11-5 mark last weekend. Overall, that means that the 'over' has come through in 74.1 percent of all early season games.
Ironically, this is the exact opposite of what occurred through the first two weeks of the season last year. In 2010 teams went 4-11-1 against the total in Week 1 and were just 13-18-1 against the total at this point in the season. So far this week I have not noticed a huge overreaction in the NFL odds, and with the exception of some inflated numbers here or there the NFL totals don't appear to be out of whack.
We'll see if anyone can step up and get some stops this week. But until they do, enjoy my Week 3 version of Doc's Sports NFL Power Rankings:
1. Green Bay Packers (2-0) – We will find out if the Packers were looking ahead to Chicago last week or if they are starting to try to coast a bit. Green Bay is 5-2 straight up and against the spread in its last seven meetings with Chicago and they are 10-3 ATS in their last 13 trips to Soldier Field.
2. Pittsburgh Steelers (1-1) – Pittsburgh dominated a completely overmatched Seattle team last week in a strong bounce-back situation. But their offensive line was again terrible and was pushed around by a weak Seattle front four. The Steelers are just 2-5 ATS the week after a win of 14 or more points and they are just 6-13 ATS in their last 19 games as a favorite of 10.5 or more. However, they are facing "Kookie" Collins and the shell-shocked Colts this week, so if Pittsburgh surrenders more than 13 points this week I will be stunned.
3. New Orleans Saints (1-1) – This week's game against Houston is a bit of a regional rivalry game. New Orleans has looked fantastic in its first two weeks and they should get Will Smith (suspension) and Tracy Porter (injury) back this week. There are still some holes on this Saints defense, and they did not defend Matt Forte either running or receiving last week. But New Orleans is 10-3-1 ATS as a nondivisional home favorite and I look for them to play with a chip on their shoulder this week.
4. New York Jets (2-0) – Losing Nick Mangold (ankle) is a big blow to this offensive line. The Jets will face a very impressive Oakland front four this week without their leader and with Mark Sanchez (shoulder) already banged up. This is the first of three straight road games for the Jets. They have to avoid looking past Oakland to dates with rivals Baltimore (Rex Ryan's old team) and New England (no explanation needed). The Jets have played in Oakland 10 times in the last decade and they are just 3-5 both SU and ATS in their trips to The Black Hole.
5. New England Patriots (2-0) – Yes, I lowered New England's rating this week. I had said after last week that I was not at all impressed with their defense. And after watching them get chewed up by San Diego (who, in true Chargers fashion, were their own worst enemy with four turnovers) I have to hold firm that the Patriots aren't as good as they seem. That said, they simply cannot be stopped on offense and they absolutely own Buffalo. Despite facing monster spreads, the Patriots are 7-2 ATS in their last nine games against the Bills.
6. San Diego Chargers (1-1) – This team has the talent and scheme of a Top 5 team. But they will never reach their potential with Norv Turner as a head coach. It is as simple as that. And just like Tampa Bay dumped Tony Dungy – another good-but-not-great coach – to allow Jon Gruden to get them over the hump, the Chargers should have ditched Turner last year in order to move forward this season. San Diego is 6-2 ATS in its last eight home games against the Chiefs but they are also just 2-8 ATS as a favorite of over 10 points.
7. Philadelphia Eagles (1-1) – The Eagles and their backers can't use Mike Vick's injury as any type of excuse; that is part of the package when you accept the fast and fragile quarterback as your starter. My gut instinct is that Vick will not play this week against the Giants – and that Mike Kafka will do just fine. Philadelphia is shuffling the pieces on its linebacker crew, moving Casey Matthews out of middle in favor of Jamar Chaney. The Eagles are 3-7 ATS in their last 10 home games and they are going to be tough to back this week despite their ownership of the Giants recently.
8. Detroit Lions (2-0) – Generally, Everyone's Sleeper Team comes out and falls on its face. Not Detroit. They have been playing like maniacs this entire season and they are now 10-0 SU and ATS in their last 10 games, dating back to last year and including the preseason. That is absolutely amazing. This team has been dominating and I don't see a single sign of them slowing down. Detroit is 12-3-1 ATS in its last 16 conference games and they are 15-5-1 ATS in their last 21 overall. All that said, this will likely be one of the squarest bets on the board this week.
9. Baltimore Ravens (1-1) – Last week's loss in Tennessee is exactly why I am not a John Harbaugh fan. One week after demolishing Pittsburgh the Ravens came out and played a sloppy, uninspired game against a slightly overmatched, but motivated, opponent and were blown out. The Ravens are 14-6 ATS against sub-.500 teams and they have a situational edge over St. Louis with the Rams off a MNF loss. But with a home game against the Jets on deck we'll have to see how focused this team is.
10. Chicago Bears (1-1) – Chicago ran 52 pass plays to just 11 rushes last week against New Orleans. Apparently, this surprises people despite the fact that Mike Martz is running the offense. The Bears can't protect the quarterback, they don't have great wide receivers, and they have a mistake-prone quarterback. Other than that, the offense is fine. Chicago's defense played better than the final numbers suggested last week in New Orleans. But they will need to be even better this week against a razor-sharp Green Bay crew. Chicago is 5-2 ATS at home but they are just 8-20 ATS as underdogs of more than a field goal.
11. Houston Texans (2-0) – If Houston really is a contender they will have to prove it this week. The Texans played hapless Indianapolis at home and then shell-shocked Miami last week. And, to be honest, were it not for two turnovers and two botched, short field goals the Dolphins could have won that game. This will also be the first real test for the retooled Texans defense. Houston is 1-6 ATS in its last seven as an underdog and just 4-9-1 ATS after an ATS win.
12. Atlanta Falcons (1-1) – There are few teams in the NFL that I have been less impressed with than Atlanta through two weeks. Last weekend was a Super Bowl game for the Falcons (home opener, Vick's return, etc.) and they were dominated. Were it not for some bad Philly red zone turnovers, a favorable replay review, Vick's injury, and a blown 10-point lead, Atlanta would be 0-2 with a pair of double-digit losses on their resume. This is a good team but I don't see them as a threat.
13. New York Giants (1-1) – While losing Dominik Hixon for the year doesn't help the Giants passing game this guy wasn't exactly Andre Johnson. The Giants have not beaten the Eagles since 2008 and have lost six straight meetings both SU and ATS. However, the road team in this series is 9-3 ATS and the underdog is 11-2 ATS. With or without Vick I expect the Eagles to be laying out points here.
14. Tampa Bay Buccaneers (1-1) – I guess at some point all of those fluke fourth quarter comebacks (and covers) by this group have to stop being called "flukes". Tampa was totally outplayed in Minnesota last week but hung with it, made some plays when they needed to, and came through in the clutch once again. The Bucs are in a great spot this week, catching an overrated Atlanta team in a letdown situation. Tampa Bay is 6-2 ATS in the last eight with the Falcons and the favorite is 7-3 ATS in this series. Tampa is just 5-17 ATS at home, but I expect this team to be sky-high for a piece of their division rival.
15. Washington Redskins (2-0) – Kyle Shanahan proved once again why he is a loser and has no idea how to manage a game while calling the offense. With Washington in range for a game-winning 34-yard field goal and just 1:56 to play, Shanahan had Rex "Turnover Machine" Grossman drop back to pass on third-and-four instead of simply pounding the ball on the ground. Washington gained five yards per carry for the game (4.9) and would have made Arizona burn its last timeout. Instead, Grossman threw incomplete and Shanahan was bailed out when Kevin Kolb was intercepted. It is those types of mistakes that will keep this team in the third tier.
16. Dallas Cowboys (1-1) – Dallas has dominated its opponents for seven of nine quarters this season. But injuries are starting to take their toll and that was one of my biggest criticisms of this team coming into the year: their 22 starters are as good as anyone in the league, but because they have overpaid for some many guys they have zero depth. Dallas has a lot of things working against them from an ATS standpoint this week: the Cowboys are just 2-7 ATS against Washington recently, the home team is just 1-5 ATS in the last six meetings, and the favorite is just 6-21 ATS in the last 27 meetings.
17. Tennessee Titans (1-1) – When this team is making a run in the AFC South, just remember who was driving the bandwagon. They played well last week and one week after being physically dominated by Jacksonville they went blow-for-blow with Baltimore. This team should be 2-0 right now and I don't think they have hit their stride yet. But Matt Hasselbeck is missing too many throws down the field. If he becomes more accurate this offense is going to explode, because he is just floating too many balls up for grabs down field.
18. Buffalo Bills (2-0) – The Bills have been underdogs by an average of 10 points per game in their last 10 meetings with the Patriots. They have been dogs of 9.0 or more in three of the last four meetings, but have covered a pair of those games. Buffalo's secondary has been one of, if not THE, most underrated units in football over the last two years. They will have a chance to earn a lot of respect against the New England wrecking crew this week…but I don't see it happening. The Bills are just 6-15-1 ATS in their last 22 home games.
19. Oakland Raiders (1-1) – I will give some credit: this team is a little better than I thought. The veteran presence on its defense has started to take root. But that said, as easily as they could be 2-0 right now they could just as easily be 0-2. And their second-half collapse against Buffalo last week was what we have come to expect from this franchise. The Raiders are 8-3 ATS in their last 11 games as an underdog but they are just 5-21-2 ATS as an underdog of a field goal or less.
20. Minnesota Vikings (0-2) – I don't mean to pile on – especially because I have long been a Donovan McNabb supporter – but the Vikings are just some better quarterback play away from being 2-0. Their pass rush has been fierce and the running game is potent. Minnesota gave up second half leads in each of their first two games but, trust me, after looking at the film there is a lot to like about what this team is doing.
21. St. Louis Rams (0-2) – Sam Bradford was terrible on Monday night and that was the most throws that I have seen him miss in his 18-game career. The bigger problem with this group is injuries. They have had five corners go on injured reserve since the start of training camp and they are scraping the bottom of the barrel for pass defenders. Steven Jackson may be back this week – which would be a huge help – but even if he does he won't be 100 percent. Even if this team has been shackled with a brutal schedule they are overrated, as indicated by their 1-5 ATS mark in their last six outings.
22. Jacksonville Jaguars (1-1) – Blaine Gabbert gets the nod for the Jaguars this weekend, and in doing so becomes the 20th quarterback in the last 20 NFL drafts to be selected in the Top 10 and then be named a starter during his rookie year. Regardless, I expect Jacksonville to continue to pound the ball on the ground (37.0 rush attempts per game)., especially against a Carolina front that has two rookie defensive tackles and are down a couple key linebackers.
23. Arizona Cardinals (1-1) – I still can't be sure whether Arizona's rush defense was that bad last week or whether Washington's running game was that good. Arizona better hope for the latter because their front seven was dominated. However, I liked the moxie I saw out of this team, competing in what was really a poor spot for them. Arizona has double-revenge after being swept by the Seahawks last year, but the visitor in this series is just 3-7 ATS.
24. Denver Broncos (1-1) – Denver continues to be decimated by injuries, particularly at the receiver position. But they received some good news this week with some guys (Brandon Lloyd, Knowshon Moreno, Elvis Dumervil and D.J. Williams) all back on the practice field on Wednesday. I believe all four will play this Sunday. However, I am not sure this team is at all ready to go on the road and compete.
25. Miami Dolphins (0-2) – The Dolphins may be a little underrated right now. This team still has some young talent and they have faced two of the best teams in the conference (New England and Houston) in a span of six days. Miami competed with Houston, and could have won were it not for an abundance of errors. But bad karma is setting in over this locker room and they are making mistakes because their coach and their quarterback are both sketchy. Miami is playing for its season this week. They are 11-5 ATS as an underdog and they are 9-2 ATS as a road dog.
26. San Francisco 49ers (1-1) – Early season stats in any sport are full of statistical anomalies. But in my opinion the biggest in the NFL through two games is that the Niners have scored 57 points while accumulating just 415 yards. That 7.28 yards per point mark is kind of like someone hitting 95 percent of their three-pointers or hitting .850 in Major League Baseball. The Niners are a West Coast team faced with an early local start this week and they are 0-7-2 ATS as a dog of a field goal or less.
27. Cleveland Browns (1-1) – Have the Cleveland Browns been favorites in three straight weeks since the Bernie Kosar Era? I am sure that they have, but it is still odd to see the Browns as a chalk pick for the third time already this year. I think Pat Shurmur is being way too conservative with his offensive approach, as Colt McCoy is throwing nearly everything underneath. It looks identical to what Shurmur was doing with Sam Bradford last season in St. Louis, but I'm not sure about its effectiveness in the AFC North. Cleveland is just 2-7 ATS as a home favorite and they are 0-5 ATS in their last five home games.
28. Cincinnati Bengals (1-1) – Offensively, the Bengals have been much better than I expected, notching 49 points in just two games while outgaining both of their opponents on the road. However, the Bengals have committed 18 penalties on defense (third-most in the league) and continue to be the undisciplined mess we've come to expect from a Marvin Lewis-led group. Also, Lewis's decision to go for two in the third quarter was one of the worst coaching maneuvers of the weekend. This guy has proven time and time again that he has no business being an NFL coach. I can't believe this team is laying points this week, and the Bengals are 6-21 ATS as a favorite and 8-21-1 ATS as a home favorite.
29. Carolina Panthers (0-2) – All the buzz around this team is about Cam Newton's incredible start to his career. But I think that has overshadowed the bigger story: that starting linebackers, and the two best defensive players/leaders that this team has, Thomas Davis and Jon Beason have both gone down for the year in back-to-back weeks. This team has one of the worst collections of defensive talent in the league and they will be playing from behind all season long. That should lead to inflated numbers for Newton.
30. Indianapolis Colts (0-2) – Kerry Collins better handle the blitz this week better than he did last year. Cleveland didn't bring pressure a lot against Collins, but he made terrible throws and bad decisions every time that they did, including two of his turnovers coming versus the blitz. Indianapolis did not play poorly last week – and they still lost by 15 points at home to a third-tier team. That's a really bad sign.
31. Seattle Seahawks (0-2) – Yuck. There is absolutely nothing to like about this team. But they always get a nice bump playing at home and they should play their best football of the year this week in their home opener. The problem is: will that be good enough? Seattle is just 8-20 ATS as an underdog (although they are 7-3 ATS at home). Robert Gallery has been lost for at least a month and the vultures are circling Tarv Jackson. Just bad things going on here.
32. Kansas City Chiefs (0-2) – The 2010 season must seem like a lifetime ago for this group. And when you have been outscored 89-10 and outgained by 296 yards in two games it is pretty clear that you are the worst team in football. Including the preseason this team is 0-7-1 ATS in its last eight games. However, they are 10-2 ATS as an underdog if 10.5 points or more.
Robert Ferringo is a professional NFL handicapper and is coming off an exceptionally profitable 2010-11 football season (college and pro). Over the last year his clients have nearly tripled their bankrolls with his predictions in all sports. He is looking forward to building on his stellar football handicapping resume again this fall and you can check him out here.