NFL Predictions: Rookie Quarterbacks
by Trevor Whenham - 8/18/2011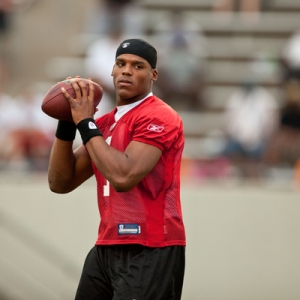 The NFL Draft this year turned into a Year of the Quarterback. That wasn't necessarily because of overwhelming talent, but because of a whole lot of need and several viable prospects. There were five quarterbacks picked in the first 36 picks in the draft. A sixth QB, Ryan Mallett, had first-round talent, but attitude issues dropped him down to the third round — 74th overall.
It's far too early to make any lasting conclusions about the futures of these guys, but we can certainly check in on the six QBs based on what we have seen from them so far:
Cam Newton, Carolina - The first overall draft pick is coming off as good a year as a guy can have last year at Auburn, but the stakes have certainly changed. Last year he was on an absolutely loaded team, but this year he is surrounded by a bunch of bums. That's a bit harsh, but fairly accurate.
Newton didn't start his first game against the Giants, but he did get significant playing time. He showed some movement and some arm strength that had some members of the national media gushing about him. That is, of course, ridiculous. We know that he can move and zip it — that's why he was the first overall pick, and how he won a Heisman Trophy and a National Championship.
There are a few things you can't ignore, though. For starters, while he looked very good at times he also looked very much like a struggling rookie with brutal accuracy at other times — and the latter outnumbered the former. He also was playing against a Giants' team that really didn't care about being there, and which didn't play starters at full intensity for very long.
Newton is also on a team with a new offensive system and a new coaching staff, so growing pains are going to be inevitable. Newton will be fine eventually, though I am not as optimistic about him as I am about others on this list.
For now, though, I don't see how this season will be anything other than mostly ugly for this team. The worst thing that can happen to Newton is that he is only competing with Jimmy Clausen, so he is probably going to be the starter right away.
I'm never convinced that that is a good thing for a young QB, and Newton will be no exception. In fact, I think starting right away would be worse for Newton than most guys because of the changes in style he'll require to adjust to the NFL.
Jake Locker, Tennessee - Locker went too high in the draft when he went to Tennessee at eighth overall. That may be the case based on his performance, but you certainly can't complain about his size, his skills, or his potential.
There seemed to be something mental that affected Locker at Washington, so a change of scenery might be the best thing for him. As far as where he wound up, I don't think things could have worked out any better for him. He's on a pretty talented team, and it's clear that he is the QB of the future.
There is no hurry at all, though, given that Matt Hasselbeck is on board and will be able to play effectively until Locker is ready. Hasselbeck should be a great influence on Locker.
The rookie has been the most impressive of the young players so far, as well. He looked poised in his preseason showing, and reports out of camp have been strong. He's a very intelligent and athletic player, so he is certainly capable of the transition.
Perhaps the lower pressure of this situation — he was the man at Washington and didn't always deal with that well — and that fresh start will make all the difference. Five years from now I expect him to be the clear class of this group.
Christian Ponder, Minnesota - I thought it was ridiculous at the time that the Vikings picked Ponder 12th overall. My mind hasn't been changed.
He has not looked confident or effective, and he clearly has a whole lot of work to do before he can be a legitimate starter. He doesn't need to be for now since the Vikings invested in Donovan McNabb, but that's probably not a long-term solution.
Unfortunately for Minnesota, I don't think Ponder is, either. If he turns out to be good then I'll happily admit I'm wrong, but I'm not nervous about that right now.
Andy Dalton, TCU - I feel bad for Dalton. He's a very good player and seemingly a very good guy, but he has landed in an impossibly bad situation. The Bengals had a brutal offseason, they have badly botched the Carson Palmer debacle, their coaching staff is as bad as one can be, and they are incredibly short of talent.
He'll start because he pretty much has to, but he won't be ready and he won't have enough help. He moved the ball decently at times in the preseason opener, but nothing came of it.
It's going to be a very, very long season in Cincinnati. The only good thing is that Dalton is a very tough guy and a strong leader, so he is much better positioned than a lot of guys to survive the disaster he will be forced to endure.
If this season doesn't destroy his will then I think he can go on to be a good player — hopefully for a team far less pathetic than this one.
Colin Kaepernick, Nevada - Kaepernick was drafted as a long-term project, and that's just what he has looked like so far. He was not good in his first game, and he has struggled in practices.
The obvious problem in San Francisco is that Alex Smith has struggled as well, and the position is a mess. Kaepernick needs to be on a Matt Schaub-like development plan where he doesn't have to do much for a couple of years while he figures things out. If that happens he could be something one day.
Hopefully Jim Harbaugh can keep his patience in the face of what could be some rough QB play this year. Rushing him into action would be a big mistake.
Ryan Mallett, Arkansas - Not much to say here. We knew he had a big arm and good poise in the pocket, and he showed that off in the preseason opener. Being in New England is a good spot for him because Bill Belichick certainly won't tolerate any attitude, and there is no one better for him to learn form than Tom Brady.
I'm not spending any time really worrying about him, though, because he's not going to see any meaningful time unless something catastrophic happens, so it really doesn't matter.