NFL Predictions: Teams Hurt by the Lockout
by Trevor Whenham - 7/27/2011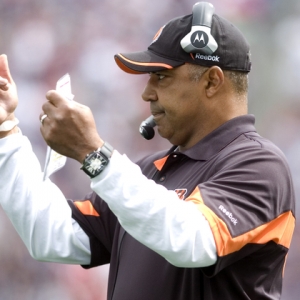 This NFL season is a strange new reality thanks to the chaos of the lockout and the ridiculously condensed offseason we are faced with as a result. Free agent would be almost a distant memory by now in most years, but it's only just begun this year, and teams have to figure out what their needs are and address them in a very short time.
The absence of any contact between coaching staffs and players all spring and summer has had a real negative effect on the preparation of some teams as well — especially those making significant changes. There are some teams heading into every NFL season that are far better poised for success than others. That will be especially true this year because teams will be able to do less and will have to rely more on what is already in place than they would like to. Here are my NFL predictions for five teams that are going to be in particularly bad shape this year because of the lockout and the timetable caused by it:
Cincinnati Bengals - Any time I mention the Bengals I have to mention that they have the worst coach at any level of football in Marvin Lewis. The guy is truly awful, yet he somehow manages to keep his job. I can only guess that he has pictures of important Bengals' officials doing some unsavory things.
While he's always an impediment to the success of this team they have a lot more to overcome here. Carson Palmer is allegedly retiring if the Bengals won't trade him. In a truly ridiculous display of pride they are refusing to give in to his demands — even though he would net them some much-needed draft picks in return. That means that they either have to get a veteran in at the last minute or they will be forced to start a very unprepared Andy Dalton. Neither situation will be ideal.
On top of that Ochocinco is unhappy and wants out of town, so they could be forced to start another rookie — A.J. Green — as their top target. This team had a toxic cloud surrounding everything they did last year, and the chaos of the offseason and the frustration that will cause certainly won't help improve things. It could get very ugly for this squad.
Indianapolis Colts - I am not a big Manning fan, so I could be accused of being negative about this team all the time. There are very legitimate reasons to be concerned here, though.
For one, Manning isn't healthy, and won't start the season at full strength. He's not a young man anymore, and this team would be in serious trouble if he gets hurt — something that is inevitable for most quarterbacks at some point. More significantly, Manning doesn't have a contract yet, and before the lockout he turned down one that would have made him the highest paid player in the league. He wants a very significant amount of money. Though he deserves it, the contract will tie the hands of the team when it comes to adding other players, and there are several holes that the team really needs to deal with.
There is a chance that the team will have a very good year again, but I can't help but be uneasy when I think about them, and having to rush to a solution isn't going to help them at all.
Carolina Panthers - This is an absolute disaster. This is a terrible team that needs to fill countless holes. They have a brand new head coach that has never run a team before, and who has had no contact with his new squad.
Coach Rivera will want to overhaul virtually everything from the mess of a season last year, but he won't have the time to do it completely. He has two very young quarterbacks to work with, and neither will be functional without a whole lot of work — which they won't get.
The expectations around Cam Newton are sky high, so the pressure doesn't help, either. This team was doomed to fail at the best of times, but in these circumstances it could really get ugly.
San Francisco 49ers - I'm not as pessimistic about the Niners as I am about the other teams on this list, but there are still issues.
Alex Smith is their starting QB for now. He has endless potential and in the long term I think the coaching staff is a good one for him. The guy has been forced to change offensive coordinators more than some guys change underwear, though, so that's going to be an issue — especially since he hasn't had an offseason of work with the new coaching staff.
Jim Harbaugh brings a lot of new faces to this staff, and beyond Smith they will have a lot of work to do in assessing what they have, figuring out what they need to change, and making those changes.
The problems aren't necessarily fatal, but if Harbaugh manages to turn this into a decent season then he really does deserve the massive new contract he received.
Cleveland Browns - Pat Shurmur has never met with his team, and now he has a short time to get to know them and to undo all the damage that his moron of a predecessor — Eric Mangini — did in his time as head coach in Cleveland.
Shurmur doesn't have a whole to work with, so it would be a very tough job for him even if he had had all summer to figure things out.
One of Shurmur's biggest strengths is his ability to work with young quarterbacks — he worked wonders with Sam Bradford in St. Louis last year. He has a lot to work with in Colt McCoy, but it is going to take time to really get him ready, and time isn't something they have.
It was already going to be a rough year for this squad, but the short time has pretty much guaranteed it won't be one to remember.