NFL Player Prop Picks: Most Passing, Rushing and Receiving Yards
by Alan Matthews - 9/8/2011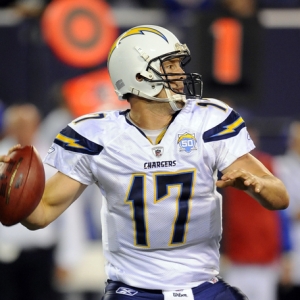 With the 2011 NFL season kicking off on Thursday night, we'll take a look at a few final props bets available at the various books. Today, let's look at the "mosts" – as in the 2011 NFL leader in most passing yards, rushing yards and receiving yards, with the odds courtesy of WagerWeb.
Since football is all about the quarterback, we shall start there. Last season the yards champion was a slight surprise and a first-timer in that category: San Diego's Philip Rivers (the year before it was Houston's Matt Schaub). Rivers at one point was on pace to break Dan Marino's passing yards in a season. He finished with 4.710 yards to beat out Indy's Peyton Manning by 10. In the first eight games, Rivers surpassed 300 yards passing five times and he did better than 430 twice. In the final eight games he exceeded 300 only once and that was in a meaningless regular-season finale against Denver.
Rivers is the co-favorite to win that title this year at +300 with Manning – but needless to say with Wednesday's news that Manning is out at least the opener Rivers will be standing alone. Aaron Rodgers, the MVP favorite, is next at +350 and Tom Brady, the reigning MVP, is at +400 with Drew Brees. Rivers will have Vincent Jackson from the start this year after his top WR target barely played in 2010 due to a contract holdout and then injuries. Obviously, forget about Manning, and I really don't think that Rodgers will pile up enough yards with a good running game and the weather a likely factor in a handful of late-season games. Brady doesn't really have a deep threat – a la Randy Moss – to put up those long gainers.
Thus I would go with Brees, who led the league in 2006 and 2008. And he still had 4,620 last year with a lousy running game. That should be better with Mark Ingram/Darren Sproles and Brees also gets to play 11 dome games: eight at home and at St. Louis, Atlanta and Minnesota.
As for the rushing yards leader, the defending champion was a major stunner: Houston's Arian Foster with 1,616. If you saw that coming, major kudos. Forget about Foster repeating as he is already banged up and may miss the opener. The co-favorites are the two guys you would expect: the Titans' Chris Johnson and Vikings' Adrian Peterson at +300. I think it will be very interesting to see Johnson this year because he might be a little content now that he got his big new deal. Plus the Titan offense really doesn't have much other than him.
I think Peterson's the guy. Opposing defenses still have to respect Donovan McNabb and Peterson is in a contract year as his deal is up after this one and he will want to surpass anything Johnson got. The one worry is Peterson has two games each against Chicago and Green Bay, which were good against the run. But Peterson also gets nine dome games (yes, I always believe offense is helped inside). The best long shot I believe is Philly's LeSean McCoy (5.2 yards per carry last year) at +1800. Think he might have some open spaces to venture into in that Eagle offense?
Finally, the defending receiving yards champion was another big surprise in 2010: Denver's Brandon Lloyd with 1,448. Houston's Andre Johnson had been the two-time champion and was the favorite last year. And he is again this year at +300. Since the merger only one player has won at least three yardage titles: Some guy named Jerry Rice with six. Johnson had "only" 1,216 yards last season, but that should rise.
Reggie Wayne and Roddy White are next at +400, but I don't like either of those. Wayne is tied to Manning, obviously. White led the NFL in catches and was second in yards last year, but stud rookie Julio Jones is bound to steal some touches. I really like the Lions' Calvin Johnson at +650, but then you are banking on Matthew Stafford staying healthy. If you want a longer shot, go with the Giants' Hakeem Nicks at +1200. He's clearly Eli Manning's No. 1 guy this year and had 1,052 yards in just 13 games a year ago.