10 Bold NFL Predictions for 2012-13
by Trevor Whenham - 8/30/2012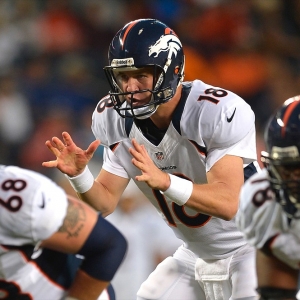 As we near the start of another NFL season here are 10 bold predictions that I feel pretty good about:
Green Bay will suffer a hangover
The Packers had an epic season that ended in a far-from-ideal way. When that happens to a team they can either use it as a motivation or it can set them back. I expect the latter. This team won't fall off a cliff, and the playoffs are still very possible — perhaps even likely. I just don't quite think they'll be the tremendous force that they were last year. They spent most of last season looking a long way from mortal. That won't be the case this year.
Tampa Bay will come back strong
The Bucs qualify as my biggest disappointment of the season last year. I expected them to be very solid. They really, really weren't. There were all sorts of reasons for that, with a lack of leadership from the coaching staff being foremost. They have plenty of talent, though, and they have had a pretty good offseason. Josh Freeman had a forgettable season, but he seems renewed and refocused, and I expect him to look much more like the QB we saw emerging two years ago. Last year this team was an afterthought. This year they are a major factor in a very tough division.
The NFC South will be the best division
Tampa Bay will be a team on the rise. New Orleans could potentially be the best team in the NFC if they can handle the distractions of the ever-changing coaching situation because of the bounty scandal. Carolina should continue their progress on the back of the most exciting player in the league. Atlanta has quietly been very competent for years now, and the Falcons have a chance to be much better than that. There isn't a team in this group that couldn't potentially be a playoff team. The biggest challenge they all face is that their divisional games will be just brutal.
The Jets will be a joke
There are a lot of people on the Tim Tebow bandwagon — including the entire ESPN family of networks. I'm definitely not one of those people. He's a distraction, and he defines overrated. Mark Sanchez is no better, and neither QB will shine looking over his shoulder every time he makes a mistake. The team will be burdened by that distraction, and by their lack of depth in too many situations. On top of it all their head coach is more volatile and less reliable than any other in the league, and he hasn't done enough to justify it. This is not going to be a good team.
San Francisco will shine
I am a believer in the Niners. They came from virtually nowhere last year to come very close to the Super Bowl. They should be even better this year. Their receiving corps has been upgraded, and that will help Alex Smith shine. He finally gets to play in the same system two years in a row, and that will pay off in his performance as well. The depth is good. The defense is very good. The coaching is outstanding. These guys are going to win the NFC.
New England will play angry
The AFC is wide-open for the taking, and the Patriots are going to take it. They have been good in recent years but not quite good enough when it has mattered. They know that their window can't stay open forever, and this is the year that they really fight to get another title. Tom Brady will be very good, and the team will be the class of its conference.
Pittsburgh is in trouble
Big Ben isn't getting any younger. The older you are the more it hurts to hit the ground and the harder it is to pick yourself up. This team has known for a long time that it can't effectively protect its star. Through a combination of bad decisions and bad luck they have failed to improve on that front. It's going to be a big problem, and that's going to be the biggest reason why this team isn't going anywhere.
Luck will be everything we expect
Andrew Luck will be the Offensive Rookie of the Year. The Colts will be lousy, and he won't win a lot of games. However, he's so smart and so adaptable that he is going to make the most of a rough situation. He'll have some bumps along the way, but not nearly as many as most guys would in his situation. By the third week of the year you wouldn't be able to tell that you were watching a rookie if you didn't know it.
Griffin will struggle
In the long-term I expect Robert Griffin III to be a very solid quarterback — and perhaps much more than that. The transition from college to the NFL will be big for him, though, because of style of play and the stunning lack of talent around him to help him out. He won't be bad, but he is going to look much more like a rookie than Luck will — or Russell Wilson, for that matter.
Manning will not be memorable
I like Peyton Manning — though more as an actor than a player in recent years. I hope the best for him, but I just don't see how he and the Broncos are anything more than only average this year. His health is a real concern. He's not young, either. This team wasn't great last year despite their playoff berth, and there are some real issues that are still there. He won't embarrass himself, but the folks at Disney won't be looking to make a movie about this season in Denver, either.