NFL Betting Advice: Home Field Advantage in Conference Championship Games
by Trevor Whenham - 1/18/2012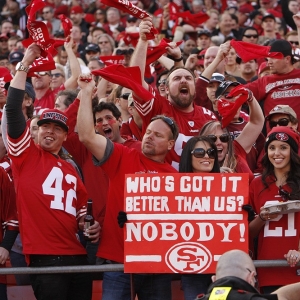 There is always a lot of talk about home field advantage in the NFL Playoffs. This is a very interesting time to be talking about it, too.
Last weekend in the NFC alone we saw two extremes. We saw how important it can be when the Niners road the emotion of a rabid crowd to a huge rallying win, and we saw how little playing in an iconic building can matter if a team isn't ready to play.
When bettors talk about the home field advantage in the NFL they will generally say that it is three points. While that may be more or less accurate in the long term, when you are looking at specific playoff games it is important to remember that the actual advantage in each game may be different, and may be a long way from three points.
There are two things to remember about the three points — it is both an average and an approximation. When you are dealing with an average any given game can fall a long way from that number. You need to look at specific games closely to get a sense of what the home field advantage is going to be. You also need to be particularly aware of this in the playoffs because the betting volume is dramatically higher.
In reality, getting a feel for home field advantage is very subjective and personal. You need to look at the factors involved, and get a sense of which are important, which are irrelevant, and what the overall impact will be. So, what factors will have an impact on the home field advantage enjoyed by the 49ers and the Patriots this weekend? Let's take a look:
San Francisco
Fans can get complacent when they have enjoyed a lot of success. A team that consistently is expected to make the Super Bowl can see fan support less than expected — either in volume or especially in intensity — until they achieve that goal.
Luckily for the Niners, though, their last success is a long way behind them. The fan base has been beaten down by constant change and unrealized potential for years, so they are going to be particularly rabid now that they have a team they can believe in.
On top of that, this is a game that they weren't expecting to have — a bonus. Everyone expected the Packers to win, and the Niners to travel to Wisconsin. The upset by the Giants put this game in the laps of San Francisco's fans, and they will be especially giddy as a result. It should be a wild building.
San Francisco has been very strong playing at home this season — they are 8-0-1 ATS. That's not just another piece of the Harbaugh magic that arrived this year, either — they are a more than solid 19-6-3 ATS in their last 28 home games. Candlestick may not be the nicest building in the league, and it certainly isn't the most conveniently located, but it is a tough place for teams to visit in just normal conditions.
The Giants have only visited San Francisco once in the last six years. That was this past November when San Francisco won by seven as four-point favorites. The Giants have fared better than that on the road in most cases this year, though — they are a solid 6-3 ATS away from New Jersey.
It's also important to remember that New York is a team that is comfortable with road success in the playoffs — when they won the Super Bowl in 2008 they were 4-0 ATS despite never playing at home.
New England
Remember when I talked about teams that could have fans that expect nothing less than a win? I was talking about the Patriots as much as any other team.
This is the sixth year since 2004 that they have won the AFC East, but they do not have a Super Bowl to show for it. After winning three in four years before that, it's understandable that the fan base could be a bit impatient. They will show up and be vocal because they always do, but this won't be quite the overwhelming fan presence that you get when something is no and hope is in full supply.
Fans don't hope for a win here — they expect it. That will color the tone of the stadium, and that will have an impact on the advantage.
While the Patriots very rarely lose games in Foxborough, and are a solid 8-1 this year, it is important to note that they aren't as strong at home as the betting public seems to think they are. Despite all the wins they are just 5-4 ATS at home — a sign that the public has a habit of driving lines up higher than they should be.
That is especially the case when the gap between the Pats and their visiting opponent is perceived to be big — as the nine-point spread against Baltimore suggests it is here. The Patriots were favored at home by more than a touchdown seven times this year. They won six of those games, but were only 4-3 ATS, which is barely better than breaking even.
Given the enthusiasm that the public displayed in betting on them in each case it seems like some caution is in order before you blindly support them.
The team has not exactly been dominant at home, in the playoffs, either — they are just 1-5 ATS in their last six home playoff games. Baltimore may not be the best-positioned team to capitalize on that, though — they are just 1-3-2 ATS in their last six visits to the Boston suburbs, and they are only 4-4 ATS on the road this year. They have yet to cover two games in a row on the road this season, and they covered last time out, so if that trend holds then they are due for a big loss here.