NFL Divisional Round Player Props and Betting Predictions
by Alan Matthews - 1/11/2012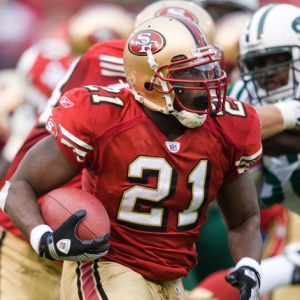 For the NFL's four-game wild-card weekend, I analyzed three player props: most yards passing, rushing and receiving. And the results, unfortunately, weren't pretty.
Saints quarterback Drew Brees was the heavy favorite to throw for the most yards last week, and that's obviously understandable considering he set the NFL single-season yardage record this year. I didn't recommend Brees against the defensively porous Lions last week only because he was such a big favorite. I went with Detroit QB Matthew Stafford, and he had a fine game, throwing for 380 yards in the Lions' 45-28 loss.
That was more than everyone last weekend – except for the incomparable Brees, who torched the Lions for 466 yards. That's the most yards ever in an NFL playoff game that didn't go to overtime. So I missed on that one.
As for rushing yards, the Falcons' Michael Turner and Broncos' Willis McGahee were the favorites last week, but I leaned toward Pittsburgh's Isaac Redman against Denver. Redman was indeed good in place of Rashard Mendenhall with 121 yards, but unfortunately that was second on the weekend to the 153 yards of Houston's Arian Foster (he was +500 on the prop). OK, so 0-for-2.
Make that 0-for-3. On the receiving yards, I went against big favorite Calvin Johnson of the Lions because I figured the Saints would double him all game and they did hold him pretty well in check during the regular season. However, Megatron tore up the Saints last week with 211 yards. My pick was the Giants' Hakeem Nicks, and he was strong with 115 yards but obviously well behind Johnson.
Geez, if you would have told me I would have picked a 350-yard passer, 100-yard rusher and 100-yard receiver last week I would have felt pretty good about things! But let's do better this week.
Brees is again the favorite on the passing yards prop at 2/1 on Bovada. Call me stupid, but I'm not picking Brees this week, either. The Saints are going to be outside the comfort of their dome and face one of the NFL's best defenses in the 49ers. Brees did actually throw for 228 more yards on the road this season than at home, but pretty much all of his other numbers were worse on the road than at the dome.
My only concern is here that the Niners are so good against the run that Brees might throw it 50 times and win this prop just because of pure quantity of passes. Plus, the weather is supposed to be nice and mild in San Francisco, unlike the other three divisional games.
The Patriots' Tom Brady and Packers' Aaron Rodgers are next at 9/4 and 5/2, respectively. Brady threw for 320 earlier this year against Denver, this week's opponent, while Rodgers had 369 in the first meeting with the New York Giants. I'm going with Rodgers on this prop. I think the Giants will mostly stymie the average Green Bay ground game – it had only 89 yards on 28 attempts in the first game – and that Rodgers also plays inspired football in the wake of the death of offensive coordinator Joe Philbin's son. Rodgers is extremely close with Philbin.
On the rushing yards props, the Ravens' Ray Rice is the 4/5 favorite. He goes against the No. 4 run defense in Houston, although Rice did rush for 101 in Baltimore's win against the Texans back in October. I definitely don't like the Texans' Foster this week at 5/2 against that No. 2 Baltimore run defense.
The pick is the 49ers' Frank Gore at 7/2. San Francisco coach Jim Harbaugh is totally a run-first guy and he will use his ground game to chew up clock to keep Brees off the field. With the week off, Gore should be fresh and as healthy as he's been in a while. In Gore's last game against the Saints, early in 2010, he rushed for 112 yards and scored two TDs in a 25-22 New Orleans win. The one concern is that Gore hasn't rushed for 100 yards in any of his past eight games, but part of that was health-related.
Finally, on the receiving prop, New England's Wes Welker is the 7/2 favorite. Welker, who finished second to the Lions' Johnson in receiving yards this season, was held to just 41 yards on four carries in the first meeting with Denver. I think tight ends Rob Gronkowski (11/2 on this prop) and Aaron Hernandez steal too much of Welker's thunder.
Thus the value pick is Green Bay's Jordy Nelson at 7/1. Nelson had a combined 277 yards in the final two games of the regular season when the Pack were without the injured Greg Jennings. I'm not convinced Jennings will be 100 percent this week – he certainly is playing – so I think Rodgers targets Nelson plenty. Nelson had 94 yards receiving in the first meeting with New York.
This time around Nelson could be matched up against inconsistent rookie Prince Amukamara if fellow Giants cornerback Aaron Ross is out or limited after suffering a concussion in last week's game. Amukamara did play pretty well against the Falcons when Ross went out, but his role with the team had been reduced to mainly a gunner on special teams before Ross got hurt because of that inconsistency.