NFL Free Agency Storylines
by Trevor Whenham - 2/21/2012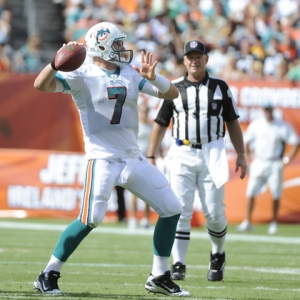 With NFL free agency just around the corner and with teams scrambling to figure what they can and can't afford to do, here's a look at some of the most interesting storylines heading into the NFL's biggest period of collective insanity:
Quarterback dominoes
The quarterback position is often fascinating in free agency, and this year is no exception. There is no shortage of intriguing names.
First, there are a couple of guys that are foregone conclusions — Drew Brees and Alex Smith don't have contracts with their teams yet, but they will.
Then there is the elephant in the room. Peyton manning is not a free agent, but he likely will be, and where he goes will impact almost everything else.
With a lot of QB need, and some risks among the draft eligible players, a lot of teams are going to be looking towards free agency.
Behind Manning the biggest name will be Matt Flynn, the Packer who perfectly timed his breakout game this year. He's definitely this year's best candidate under center to be massively overpaid. Kyle Orton would be an upgrade for many teams, and Chad Henne has shown potential when he's healthy. Jason Campbell could be a tempting guy for a team not looking to make a long-term commitment as well.
All in all, we are likely to see a lot of movement here, and a lot of new starters next year.
Running back drama
Two very big-name guys are without contracts — Ray Rice and Matt Forte. Neither the Ravens nor the Bears can afford to let them go, but neither team is excited about tying up massive amounts of money long-term at a risky position, either. Both guys seem destined to get tagged. Only one of them — Rice — has indicated that he won't be particularly upset by that. There could be some fireworks and hurt feelings here before it's all over.
Intriguing receivers
There isn't a superstar-caliber receiver who is a free agent — aside from Wes Welker, but he's not going anywhere.
There are two guys, though, that are very interesting, but also filled with risk. Vincent Jackson has a lousy attitude and he's fragile, but he has three 1,000-yard seasons, and when he's healthy and happy he's extremely dangerous. San Diego wants to keep him, but if they don't hurry they'll have competition for his services. Reggie Wayne failed to get 1,000 yards last year for the first time since 2003. That's mostly due to the mess that was the Colts last year, but teams have to be worried about his age and the abuse he has taken. They also must wonder what will happen when his QB is a mere mortal. Still, he's a guy that will be in demand — and he's likely to be in a new uniform.
Big guys wanting big contracts
Teams value offensive lines highly, so they are willing to pay for them.
Two guys who are likely to cash in this year are going to be very interesting to watch. Carl Nicks in New Orleans is one of the top guards in the league, and one of the top free agents in this class. New Orleans has already spent a pile of money locking up Jahri Evans long-term, though. Nicks warrants a contract at least as big, but that means the team would have a huge amount of money tied up on the inside of the line. He wants to stay, but it might be hard to turn down the cash that will be thrown at him. He'd be a huge loss.
Ben Grubbs of Baltimore is another guard about to get very rich. He's underrated, and a huge part of the run success for the team. Ironically, that success has made Rice so valuable that the money to resign Grubbs may be tight. With a shortage of top-level guards available the cash may again be too much to resist.
Uncertainty among defensive maulers
There are a couple of blue chip pass rushers who could surprisingly be in play.
Mario Williams has gone from the most questioned No. 1 pick in history to a legitimate all pro, but a poorly-timed injury last year and a very high price tag makes it suddenly possible that the Texans may choose to spend their money elsewhere. He'll be in demand.
So will Robert Mathis if the Colts don't commit to him. They are moving towards a 3-4 defense, so spending a fifth of the cap on two defensive ends likely doesn't make a lot of sense, and Dwight Freeney is already locked up. Unlike Williams, Mathis probably wouldn't be too sad to move on given where his team is at, either.
Leaps of faith at linebacker
The linebacker class this year isn't superstar-caliber. Three players that stand out are all guys that have upside, but that teams could easily overpay for.
Anthony Spencer has been productive on the outside for Dallas. You can't help but wonder, though, how much he is helped by playing across from the best outside linebacker in the league. Guys in supporting roles have often struggled moving up to the top-level, but some team is going to give him a chance.
Stephen Tulloch left the Titans last year and gambled on a one-year deal with Detroit. The gamble paid off, and he'll get rich. Probably too rich given the uncertainty of how hungry he'll be when a new contract isn't pulling him along.
Dan Connor is a perplexing guy in Carolina. At times he looks like a Pro Bowler. He wasn't good enough to earn a starting role until injuries opened up the door, though. Teams are going to get tempted by what he can offer, but he's a huge risk at the price he'll command.