NFL Handicapping: Exploiting the (Few) Weaknesses of Drew Brees
by Trevor Whenham - 1/13/2012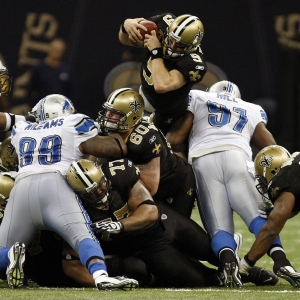 With apologies to Tim Tebow and Aaron Rodgers, Drew Brees is the quarterbacking story of the playoffs right now. Every time the guy touches the ball he seems to set another record. Even a quick summary of his accomplishments are remarkable.
He has passed for at least 300 yards in his last eight games, and he is averaging more than 350 yards per game all season. He completes passes like crazy, he has 49 TD passes and just 14 interceptions, and he is as confident right now as any quarterback has ever been in this league.
The betting public loves nothing more than an aerial assault, so they are obviously seriously in love with the Saints right now. That means that they are throwing their money at New Orleans — more than 70 percent of bets have been on the Saints so far this week even though they are on the road against a good San Francisco team.
Because the public is so committed to betting on Brees and his team it makes sense that there could be value in betting against him if the public is overestimating his edge here. That means that it only makes sense to look for reasons to doubt Brees. There aren't many on the surface,, but let's take a look at three key areas of consideration:
Pressure
It is all but impossible to throw Brees off his game, but the best chance likely lies with relentlessly pressuring him to force him out of his game plan. When Brees is comfortable he's going to complete the pass, so you have to make him uncomfortable.
That sets up the defining matchup of this game. Only the Bills allowed fewer sacks than the Saints. New Orleans has a very strong offensive line, including guards that are all but unbeatable. San Francisco has a Top 10 sack defense, led by my vote for Defensive Player of the Year in Justin Smith and my pick for top defensive rookie in Aldon Smith.
The most shocking and unexpected performance by the Saints all year was when they lost to the Rams. Brees had his season low in passing yards — a still impressive 269 — and averaged just 6.1 yards per attempt while throwing only one touchdown and two picks. It was a bad day in Brees terms.
When you look back at that game one big thing stands out — Brees was sacked six times, and hit nine more times. Four different guys had sacks, and the Rams pressured relentlessly and from all over the field. You can be sure Jim Harbaugh and company have worn the tape of that game out because they have watched it so much, and they'll be looking to replicate it.
Interceptions
You don't necessarily need pressure to beat Brees. His worst game of the year in terms of QB rating and number of interceptions thrown was in the loss to Tampa Bay. Brees was picked off three times, including once in the red zone.
On that day Tampa Bay didn't have a single sack, and only got to Brees at all once. The Niners — and NFL handicappers — will want to look at this one closely as well. Only Green Bay had more interceptions on the season than San Francisco, so if there is something to be exploited then they are capable of exploiting it.
The problem with both this game and the Rams game, though, is that they were both more than two months ago, and Brees has elevated his game since.
The road
This is an area for real hope for the Niners. Like his whole team, Brees has been a better performer at home than on the road. His QB rating is more than 20 points lower on the road, he has been sacked twice as often, and his stats on virtually every front are better at home.
All three of his losses have been on the road, and his three lowest QB ratings have been accumulated away from home as well. From a betting perspective he has been comparatively weak on the road, too. He is a perfect 9-0 ATS at home, but just 4-4 ATS on the road. One of the road covers only came in overtime, too.
The challenge for handicappers is that there isn't a lot of consistency to the road struggles. They lost three road games. One was at night in Green Bay. One was outdoors during the day in Tampa Bay. The third was in a dome in St. Louis.
The game against San Francisco will be played outside in nice weather during the day. There is no clear way to know if that will be an advantage or disadvantage for Brees based on what we have seen in the past.
San Francisco is 7-0-1 ATS at home and the Niners have covered their last six. At the very least you have to think that history suggests that the heavy support of the Saints by the public here isn't entirely justified by the betting history of the squads this season.