NFL Handicapping: Russell Wilson and the Seattle Seahawks
by Trevor Whenham - 8/30/2012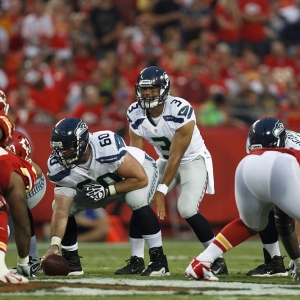 One of the more interesting developments in this NFL Preseason has been the announcement out of Seattle that Russell Wilson won the three-way race for the starting quarterback gig over free agent addition Matt Flynn and incumbent Tarvaris Jackson. The degree to which people are surprised by this development is directly related to how much they have watched Wilson play. As a Big Ten fan I watched him play a lot at Wisconsin last year. As such, the only thing I was surprised about was that it took him three preseason games to win the job. I thought he might have won the job sooner.
When you are considering how to bet on Wilson this year here are six factors to consider:
He's good
This is the first thing you don't want to forget. If you don't follow college football closely then it can seem like he came from nowhere. After all, he was just a third-round draft pick who was the third-stringer heading into camp. If you just rely on that perception you are missing out. Last year, for example, he amassed a stellar yards-per-attempt average of 10.3 yards. He also completed 73 percent of his passes and threw for 33 touchdowns while being picked off just four times. In other words, he was incredibly efficient. That didn't come against joke competition, either. The Big Ten was tough, but he handled it with grace..he also won the Big Ten Championship, and then he played very well in a tough loss to Oregon in the Rose Bowl. It was a great year. In his three previous years he hadn't been quite as good, but he was still well above an average QB, and he was effective on his feet as well. Don't underestimate what he is capable of.
He adapts effectively
Not only did Wilson have a great year last year, but he did it after joining a new team in a new league. He only joined Wisconsin on June 27, so he missed spring practice and a good portion of the training and bonding opportunities he could have had with his team. That means he was essentially learning on the fly. To be as effective as he was would be impressive in any circumstance, but even more so here. That tells us a few things — he's smart, he's very focused, he can quickly gain the respect of his teammates, and he is highly coachable. All of those things will serve him very well in the NFL. Rookies in the NFL have to absorb a massive amount of information quickly, and they can't afford to be overwhelmed or tentative. It's usually a big challenge to figure out how a player will handle that. In Wilson's case we have a good idea because he has already done it.
He scrambles to throw
In all the times I have watched Wilson play, one thing stands out as a major asset. When a guy is as athletic and capable as Wilson is they can often get impatient and tuck and run when they can find a first or second receiver. Wilson is very happy to move when his pocket disappears around him, but he isn't looking to run — he's buying time to make a throw. He is very good at scanning the field while on the move, and he can throw off-balance effectively. It will be much easier for him to adapt to the NFL game than it would be for a run-first player.
The height issue is highly overrated
Wilson is yet another victim of the height bias in the NFL. He's only 5-foot-11. If he was 6-foot-4 there is a good chance that he would have been a first-rounder. That will turn some people off of him. He was behind a big, beefy line in Wisconsin, though, including a guard who went in the first round and a center who went in Round 2 of this year's draft. In other words, he had a darned good year behind NFL linemen, so we know he can perform behind NFL lines. His mobility and ability to throw on the run also make him more dangerous than a shorter guy who is glued to the pocket.
How hard was Matt Flynn to beat out?
Matt Flynn was the leader in the QB race heading into this season. Wilson is getting a lot of praise because he beat him out despite the fact that Flynn was a free agent in demand this offseason. This is one reason to actually temper your excitement about Wilson just a little, though. Really, what has Flynn done to earn his status? In college he couldn't beat out JaMarcus Russell for the starting job, so he was on the sideline until his fifth year. He won the National Championship that year, but proof of the fact that he was more of a game manager for a very good team than a great player in his own right is that the team won the SEC Championship despite missing Flynn thanks to an injury. In Green Bay his accomplishments include beating out Brian Brohm and beating up on a Detroit team with no real reason to care about the game. Wilson was underrated heading into this race, but Flynn was even more overrated. There are a lot of reasons to be optimistic about Wilson, but the fact he won the job isn't necessarily one of them
Bettors will be easily won over
Bettors will likely be a little tentative about Wilson to start the season. If he has early success, though, then it won't take long for the public to jump on the bandwagon in big numbers. He's an underdog story, and he is very exciting to watch. He stands a good chance of winning his opener at the Cardinals. From there he plays two home games against Dallas and Green Bay. A nice win against either of those teams would get a whole lot of attention nationally, and he'd become a popular bet.