NFL Handicapping: Week 1 Bad Quarterback Performances
by Trevor Whenham - 9/11/2012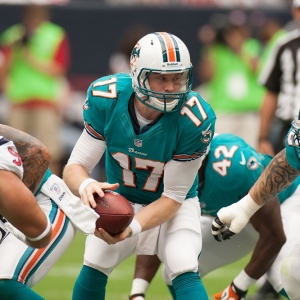 The opening week of the NFL season was defined by two contrasting themes this year. On one hand there was some shockingly good offensive production on display — five teams scored 40 or more points, and that has never happened before in the opening week. For teams that weren't so lucky, though, there was some shockingly bad QB play on display.
Six guys in particular — Brandon Weeden, Ryan Tannehill, Michael Vick, Andrew Luck, Ryan Fitzpatrick, and Matthew Stafford — had really rough days, and several of those guys weren't expected to be on this list. Let's take a look at what happened in each case and, more importantly for bettors, whether it is likely to happen again soon:
Brandon Weeden, Cleveland Browns
Weeden looked like exactly what he was — a raw rookie starting for a bad team. In short, he was in an almost impossible situation and he didn't pull off the miracle.
I'll admit I have been down on Weeden in this spot since the day he was drafted, but I can't help but be very negative about what we saw. He completed just 34 percent of his passes, and inaccuracy had a much bigger part in that than bad luck. He never looked settled in the pocket, and was disastrous when it came to picking up the rush. His 3.37 yards per attempt were by far the worst in the league, and he would have recorded even more than the four interceptions he did if Philly's secondary had softer hands on the day.
I could go on, but the point is clear — it was a very ugly performance.
Given the depth of the issues and the lack of talent around him I find it very hard to believe he's going to get dramatically better in a hurry. In fact, if I could bet that Colt McCoy will be starting before Christmas — or even Thanksgiving — then I probably would.
Ryan Tannehill, Miami Dolphins
Tannehill also convincingly played the part of a raw rookie who had been thrown to the wolves. The difference is, though, that his upside wasn't nearly as camouflaged, and it doesn't take as much imagination to see him as a solid quarterback at some point in the future.
He may have even fewer tools around him than Weeden, but only one of his three interceptions was clearly and obviously a bad mistake. His 55.6 percent completion rate and 6.08 yards per attempt were much more respectable as well.
It's still going to be a rough year because of how bad this team is, but Tannehill will just be a victim of his team's problems — not a major contributing factor to them like Weeden.
Michael Vick, Philadelphia Eagles
I'll admit up front that I have never been much of a Vick guy. Still, even I would never expect him to look this bad.
He really threw five interceptions, though the fifth, which was on the eventual winning drive, was blatantly dropped by the Cleveland defender who Vick hit perfectly.
Despite the 317 yards through the air it was as bad as a veteran QB can play. That's surprising for a guy in Vick's stage of his career, and for the team he has around him.
There are easy excuses — he missed most of the preseason, for example. The issues here, though, seemed to be far more mental. It was like he was making a decision, then questioning it in his head before committing to it. By then it was too late.
The rest of the offense was visibly frustrated by the end of the game, so that won't help his cause. He has picked himself up before, though, so I certainly don't expect this to be the first page in the final chapter of his career.
He might not be at his best next week, but he should be much better.
Andrew Luck, Indianapolis Colts
Despite three interceptions, Luck was far from terrible. He had 309 yards, though many of those came late in the game when his team was out of it, and his 6.87 yards per attempt was pretty solid. Really, his game only looked as rough as it did because Robert Griffin III, the player Luck will forever be linked with and compared to, was so unexpectedly brilliant.
Luck's issues are simple — he has absolutely no talent around him. He was running for his life all day, and no QB could have consistently made great decisions under that kind of pressure. What stood out was that he never got down about it, and was able to shake off the rough spots quickly. He also clearly had command of the huddle.
There is only so much he can do with what is around him, but there is little doubt to me that Luck is exactly what has been advertised.
Ryan Fitzpatrick, Buffalo Bills
I would have loved to have been in the Buffalo locker room in the days leading up to their dud of a performance against the Jets. They were poised to win that one in style, but they came out impossibly flat. It was so terrible that there had to be obvious signs of something — tension, nerves, lack of focus — going into the game that would have led us to expect this.
Fitzpatrick can play very well — as he showed in the first half of last year. In this game, though, he was just awful. He threw three interceptions, but he halted momentum more often than that. The lack of a pass rush was the biggest reason Buffalo lost, but Fitzpatrick was a close second.
It was far from a comforting performance. I am inclined to give the team a mulligan just because they should be so much better on paper. It's a tentative mulligan, though — one more performance like that from Fitzpatrick and he's in trouble.
Matthew Stafford, Detroit Lions
This one is the hardest to understand. By most numbers he played like we expect from him — 66.7 percent completion rate, 335 yards passing, and a 7.4 ypa are all more than solid. He threw three interceptions relatively early in the game, though, and each one was ugly.
It's hard to know if he was just too confident and underestimated what should be a much improved St. Louis team, or if he was just rusty, or if his focus wasn't at midseason levels yet. Whatever the problem, though, it was clearly a concern.
He improved significantly in the second half. Normally, then, I'd just say that he had a bad day, forget about it, and view him as the elite tosser that he is. My hesitation this time around, though, is that he faces the best defense in the league in the Niners next week - and he does it on the road.
The Stafford we saw early against the Rams would be eaten alive by San Francisco, so I'm going to reserve judgment until I see what happens in that one.
Doc's Sports is offering $60 worth of member's NFL picks absolutely free – no obligation, no sales people – you don't even have to enter credit card information. You can use this $60 credit any way you please for any NFL handicapper on Doc's Sports Advisory Board list of expert football handicappers. Click here for more details and take advantage of this free $60 picks credit today.