NFL Picks: Lions at Saints Odds and Betting Predictions
by Alan Matthews - 1/3/2012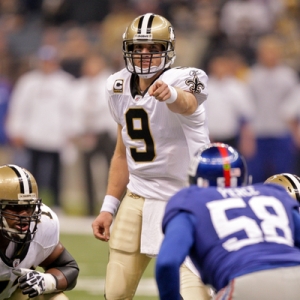 For my money and if you like offense, easily the most entertaining NFL wild-card weekend playoff game should be Saturday night's NFC matchup between South Division Champion New Orleans and wild-card Detroit (10-6), which is in the playoffs for the first time since 1999. The Saints are only the second 13-3 team ever to not earn a first-round bye (The 1999 Titans were the first).
This will be the first playoff game in history to feature two 5,000-yard passers as the Saints' Drew Brees shattered Dan Marino's single-season yardage record with 5,476 yards, while the Lions' Matthew Stafford torched Green Bay on Sunday for 520 yards to become the fourth member of that 5,000-yard club.
The Saints ranked No. 1 in the NFL in total offense this year by a wide margin, while the Lions were No. 5. New Orleans was No. 2 in points (34.2), with Detroit at No. 4 (29.6).
If you are wondering, the NFL record for most combined points in a playoff game was a 58-37 Eagles win over the Lions in a 1995 first-round game. The record for passing yards in a playoff game is 489 by Cleveland's Bernie Kosar in a 1986 divisional round overtime win against the Jets. Six touchdown passes is the playoff record, set by Daryle Lamonica and Steve Young.
Lions at Saints Betting Storylines
Detroit's 45-41 loss in Green Bay on Sunday was costly as it meant the Lions dropped to the No. 6 seed in the NFC (Atlanta's win got it to No. 5) and forced into this matchup as opposed to playing a highly mediocre 9-7 New York Giants club. That Lions defense allowed Packers backup QB Matt Flynn to throw for 480 yards and six scores in a game that meant nothing for Green Bay (and likely earned Flynn millions as an upcoming free agent). The teams' combined 971 net yards passing broke the record of 906 set earlier this season in a Week 1 game between New England and Miami.
The Saints are the hottest team in the NFL right now, having won eight in a row, but they finished as the No. 3 seed because of a tiebreaker that favored NFC West Champion San Francisco.
Brees capped his MVP-caliber season with 389 yards passing and five scores in Sunday's 45-17 win over Carolina. The NFL single-season records set by the Saints this year included offensive yards with 7,474, team yards, passing with 5,347, and first downs with 416. Brees also set the marks for completions with 468 and completion percentage at 71.6, breaking his own 2009 mark.
New Orleans won't have rookie running back Mark Ingram for the playoffs as he is set to undergo season-ending toe surgery this week.
The Saints have to be encouraged by what they have seen lately out of Chris Ivory, who has stepped up with Ingram having missed the past four games. Ivory had 19 carries for 127 yards and a score in Sunday's win over the Panthers. He has surpassed Pierre Thomas as the No. 1 back with Ingram out – plus the Saints have multipurpose RB Darren Sproles, who set the NFL record for combined yards this season with 2,969 (includes return yards), shattering the previous mark of 2,690, set by Derrick Mason with Tennessee in 2000.
The Lions and Saints met on Dec. 4 in New Orleans, a 31-17 Saints win (New Orleans was a nine-point favorite on NFL odds). That was the final game Ingram played this season, as he rushed 54 yards and a score on 16 carries (no other player had more than four carries on New Orleans). Brees threw for 342 yards and three scores, while Stafford threw for 408 but just one score.
The Lions actually had more than a 10-minute edge in time of possession, but that stat matters little to the Saints (much like Oregon in college football). The Lions hurt themselves with 11 penalties for 107 yards, including three offensive pass interference calls. New Orleans was unbeaten at home this year, while Detroit was 5-3 on road.
The Lions should get a huge boost this week with the return of top safety Louis Delmas, the anchor of that secondary. He hasn't played since suffering a knee injury on Thanksgiving yet still was voted a Pro Bowl alternate. Delmas did practice some last week and should play.
If the Saints win, they will visit San Francisco next week. If the Lions pull the upset, they return to Lambeau Field. Detroit is 2-8 all-time in New Orleans.
Lions at Saints Betting Odds and Trends
New Orleans opened as a 10.5-point favorite with the total at 58.5 on NFL odds. The Saints are 12-4 ATS this season and 8-0 ATS at home. The Lions are 7-7-2 ATS and 3-3-2 on road. 'Over/under' records: DET 10-6, NO 9-7.
The Lions are 0-5-1 ATS in past six vs. teams with a winning record. The Saints are 7-0 ATS in past seven after a win. They have covered every game of their winning streak. The 'over' is 9-2 in Lions' past 11 after an ATS loss. The 'over' is 4-0 in Saints' past four home playoff games.
NFL Predictions: Lions at Saints Betting Picks
Look for New Orleans to double-team Lions stud receiver Calvin Johnson everywhere he goes. Megatron on Sunday had 11 catches for a career-high 244 yards and a score.
He finished the regular season with 96 catches, 1,681 yards, and 16 touchdowns. The 1,681 yards are the most by any receiver since Torry Holt had 1,696 in 2003. The Saints held Johnson pretty well in check in the first meeting as he had six catches for 69 yards and no scores.
I just don't see how you can pick against New Orleans at home, at least straight up. The Saints have been unstoppable at the Superdome this season, setting an NFL record by scoring 339 points (42.4 per game) in their eight home games. But I also think 10.5 points is .5 too many to give – so take the Lions. Final score: New Orleans 38, Detroit 28, so take the 'over'.

Strike Point Sports has brought his NFL picks clients more than $5,400 in profit this season and he loves the odds for this weekend's wild card games. His NFL handicapping should produce more great results this weekend and a one-week package is only $99! Click Here.