NFL Players we want to Cheer For in 2012
by Trevor Whenham - 7/21/2012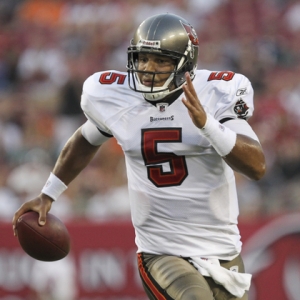 Football is the ultimate team sport. The play of one player, though — especially at quarterback — can have a huge impact on how a team performs, and more importantly how kind they are to NFL handicappers. Each of these four quarterbacks are guys that bettors should be cheering for, because, for different reasons in each case, if they perform well they are likely to deliver some very nice value for bettors.
Sam Bradford, QB, St. Louis Rams
Bradford's career is a clear example of just how quickly perception can turn. After his strong rookie year he was seen as a star in the making, and hopes were high for the Rams entering last season.
Last year was a total disaster in every way, though, and now more people seem convinced the Rams should move on than that he is going to be a regular Pro Bowler.
There were real problems last year, but if he's healthier this year and if his offensive line can protect him even a little better than they did last year then he should be much-improved from where he was. He'll also benefit from a better coaching situation with the team.
If Bradford can exceed suddenly meager expectations, then his team has a chance to deliver some nice value for bettors. The team was so bad last year that their strong 2010 season seems like an accidental blip on a long, bleak history.
Josh Freeman, QB, Tampa Bay Buccaneers
The story for Freeman is much the same as for Bradford. After a strong 2010 he and his team came into the season with high hopes. The Bucs were laughably bad last year, though, and their 10 straight losses showed that they had quit on each other and Coach Raheem Morris.
The team has no excuses not to rebound this year as their issues were more with attitude than talent. The team made an aggressive acquisition in Vincent Jackson, and he'll pay dividends both in terms of performance and on-field professionalism. The team has improved their offensive line, so he shouldn't get sacked as much, and that should help his confidence — and the betting results of his team as a result.
Another big benefit of this team from a betting perspective is the hiring of Greg Schiano. He was far from the first choice and is seen with skepticism from many. It won't be hard for him to exceed expectations this year, and strong play from Freeman would make that almost certain.
Blaine Gabbert, QB, Jacksonville Jaguars
If you read media reports you would guess that Gabbert was almost impossibly bad last year. The truth is, though, that he played about how you would expect a green rookie on a lousy team to play.
It's mostly because he was playing beside fellow rookies Cam Newton and Andy Dalton and their star debuts that he looked particularly bad.
He has a lot of work left to do, but he has the physical tools to succeed. He also has a dramatically better receiving corps to throw to this year with the additions of Justin Blackmon, Laurent Robinson and Lee Evans. Suddenly a unit that was a massive liability last year has a chance to be an elite one this year.
Either Gabbert or Chad Henne could have a much better year than the team had at QB last year, but expectations are low for Gabbert because people are so negative. Therefore his improvement would catch people particularly off-guard. Off-guard typically means value — as long as Gabbert makes the progress he is clearly capable of making.
Tarvaris Jackson, QB, Seattle Seahawks
When Matt Flynn exploded in his meaningless start at the end of last year for Green Bay, he instantly became the second most attractive free agent on the market. He flirted with several teams before signing a big three-year deal with Seattle. It was clear that he was expected to be the starter.
Since then, though, the possibility has arisen that that won't happen.
Tarvaris Jackson has had plenty of chances to start, and there is no one out there who isn't related to him who gets particularly excited by his play. If he were to earn the starting spot out of camp, then, it would be greeted with skepticism and negativity from bettors.
The way this team is built, though, and the way they played in the second half last year after they had fallen out of real playoff contention, they don't need stellar QB play — just competent game management. Jackson can do that, so the team could easily perform better than people would expect from a Jackson-led team. That could create value.