NFL Playoffs Betting Advice: Handicapping the Quarterbacks
by Trevor Whenham - 1/20/2012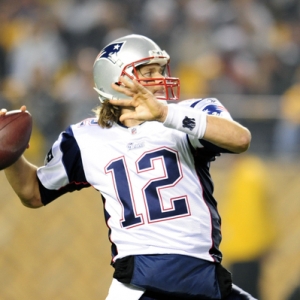 There are four teams left in the NFL Playoff bracket. That means there are four starting quarterbacks left. In a league in which bettors care about nothing more than quarterbacks, those four men have more focus on them than anyone in the sports world right now. With that in mind, it seems like a good idea to take an inventory of what these four guys offer from a betting perspective. A lot of it obviously isn't rocket science, but it is helpful to see it all in one place:
Tom Brady
The former Wolverine is the most public quarterback on the most public team in the league. Given that, he's playing at home in a game he is strongly favored to win against a QB who has had a rough week. It's no wonder that the public likes him — more than 60 percent of bets are on the Patriots. That enthusiasm isn't universal, though — the NFL odds had ballooned from seven points to nine, but the point spread has fallen back to seven at most books despite the lopsided bet distribution. That's a sign of some big bets being placed on Baltimore.
Brady is hot. He has won nine in a row, including the destruction of the Broncos last week, and he has scored less than 31 just once over that stretch — a 27-24 win over the Dolphins. He has fared much better on the scoreboard than the betting window recently, though — the Patriots have been favored by at least a touchdown in their last six games, and are just 3-3 ATS over that stretch.
The tough times big passers have fallen on in the playoffs, with Rodgers and the two 5,000-yard passers all going down, has gotten a lot of press. There is a chance that that will temper the public enthusiasm for Brady a little bit this week — especially since he's against the most iconic defense in the league right now. The enthusiasm about his big numbers and what he has done with tight ends, though, should make that impact less significant than it might otherwise be.
One big consideration this week is the mystery surrounding his health. He says he's fine, but he missed practice on Wednesday, and the explanation is vague. If the story has legs then it could be a big consideration in the lines.
Joe Flacco
It is not a happy time to be Joe Flacco. He has come under attack for his performance this year, and it has crystallized with a flat performance last week. The obvious comparisons to Trent Dilfer are being made, his own teammate is attacking him in the press, and he has repeatedly had to defend himself when he is supposed to be focusing on preparing for the biggest game of his career. Needless to say, it's not an ideal situation.
The problem is that the criticism isn't unwarranted. His statistical performance was a step down this year compared to the previous two, and despite going 4-1 in his last five games the team is just 1-4 ATS. His numbers haven't been terrible over that time — nine touchdowns compared to just four interceptions, and a QB rating of 97 or higher in three of the five games — but he hasn't been as sharp as he can be, or as sharp as he needs to be this week.
The challenge for bettors is to determine whether he has been and will be better than the bettors are giving him credit for.
Alex Smith
If you wrote a script about this season for the Niners even Hollywood wouldn't buy it. That's how unlikely the rise from perpetual underachievers to NFC Championship home favorites has been this year. A lot of credit for that goes to Smith.
His numbers are the best they have ever been, and his confidence in any situation has provided the leadership for this team. He had the game to become the No. 1 overall pick, and for the first time since playing for Urban Meyer he is showing us why. Statistically he's not the flashiest quarterback still alive, but as much as any other he has done exactly what is needed of him.
The public has not seemed to get beyond his past struggles. The team is a league-best 13-3-1 ATS this year, and 3-1 ATS in their last four, so the public has yet to fully believe that Smith and the Niners can deliver. Those of us who do believe in the team are very appreciative of that.
Beyond the numbers there are two big intangibles with Smith. First, his coaches have absolute faith in him. The play selection down the stretch against New Orleans made that clear. Second, his teammates would die for him. Despite his struggles, he didn't lose this team, and now they are playing to win for him as much as anything else. That's a big factor here.
Eli Manning
I'll admit up front that I have never been an Eli guy. It pains me to have to admit that he has been mostly impressive this year. He came within a long touchdown pass of being the fourth guy to pass for 5,000 yards this year, he gets a lot of the credit for the explosive emergence of Victor Cruz and the rest of this receiving corps, and he has led the team to an impressive 6-1 ATS mark in the last seven games when winning was crucial.
For all the issues I have with Manning I can't take anything away from his ability to raise his game in the playoffs. His numbers in the two playoff games have been much better than the regular season, and he has largely managed to avoid the turnovers that are his biggest issue during the season. The guy thrives on the playoff pressure, and that can't be underestimated.
The biggest concern I have about Manning is one that arose again this season. At times the guy can be incomprehensibly bad when he really shouldn't be. In the team's 13th game of the year he passed for 400 yards in a solid win over the Cowboys that put them pretty much in control of their own fate in the playoff race. He knew he needed to be strong down the stretch — to maintain the hot play he had been enjoying. His next two opponent's — Washington and the Jets — were seriously flawed and should have been vulnerable. He was lousy in both games — his two worst performances of the season. Against the Jets he completed just a third of his passes despite playing a road game as close to home as a team can play. He looked checked out when he needed to be huge, and that isn't the first time that has happened.
He has shaken it off with three straight very good games, but he'd also had three very good games in a row before those two high-stakes duds.
Like Brady, there are some health issues surrounding Manning as well. He has had a stomach ailment that has affected his practice time. The impact of that — both in terms of his play and the impact the situation will have on the betting public — is an added wrinkle to the challenge of handicapping this game.