2012 NFL Power Rankings - Week 1
by Robert Ferringo - 9/4/2012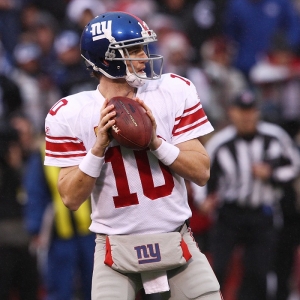 Finally.
I've been staring at these NFL Week 1 odds for over two months. I've been analyzing every matchup, every permutation, and every angle of these games as I desperately waited for the 2012 NFL season to begin.
And now it is here.
Week 1 in the NFL is finally here after another excruciating offseason, and we are about to begin another six-month battle march towards Super Bowl XLVII. And as we start down the path here are some final preseason thoughts, as well as some Week 1 information, in Doc's Sports power rankings for Week 1:

1. New York Giants (0-0) – Very quietly the Giants have had an outstanding preseason. Yes, they have had some injury issues. But, truthfully, they haven't lost anyone serious. Hakeem Nicks is still dinged up but should be available on Wednesday in some capacity. Beyond that, the Giants first team outscored its opponents 40-20 this preseason and "won" every matchup with opposing starters. I think this team is definitely undervalued, and they have to be very confident heading into the season. The G-Men are 7-2 straight up and against the spread in their last nine meetings with the Cowboys, and the team that has won the game has covered the spread 11 straight times.
2. New England Patriots (0-0) – No NFL spread on the board scares me more than the Patriots-Titans game. There is no earthly reason for that spread to be under a touchdown. Yet, not only is it short, but it is DROPPING. More than 80 percent of the action in that game is coming in on the Patriots but the line has moved from 6.5 to 6.0. That is a huge red flag. I know the Patriots have looked shaky this preseason. And they have three new starters along their creaky offensive line. But it is Brady and Belichick. And the Patriots are 8-2 straight up in their last 10 season openers, winning the last two by 14 points.
3. Green Bay Packers (0-0) – The Packers execution left something to be desired this preseason. And they will need to be sharp against a San Francisco team that has cruel intentions this week. The Packers will have B.J. Raji back this week but they lost Desmond Bishop for the season. He was one of those veterans that just did his job and made plays for that defense. This team also starts the opener without really knowing who is going to play where in the secondary, and things are not starting off well for a group that needs to improve last year's No. 32 defensive ranking. Green Bay is 18-7-1 ATS at home and they are 15-6 ATS in their last 21 games overall.
4. San Francisco 49ers (0-0) – I still think that this team is going to struggle to hit 11 wins, but I have definitely been impressed with the Niners this fall. And, again, I want to firmly stake the position that I LIKE Alex Smith. I think that he is a convenient talking point for bobbleheads discussing San Francisco. But the guy can make all the throws, has a second year in the system, and makes good decisions. His accuracy can waver. But I think Smith is a very good veteran quarterback. San Francisco is 14-4-1 ATS in its last 19 games but is just 1-9-2 ATS in its last 12 games against the Packers.
5. Baltimore Ravens (0-0) – Is it just me, or does the no-huddle offense seem like a gimmick? Joe Flacco is sick of criticism for the Ravens sketchy offense, so Baltimore comes up with a retro, 1994-style gimmick: the no-huddle offense. I don't think that it is going to do anything to up Baltimore's scoring this year. And if anything it might expose their defense a bit, which relies on some guys like Ray Lewis and Ed Reed that only have so many plays left in their legs, by failing to control the ball. This team doesn't have quality receiving options, they don't have any explosiveness, and their tight ends are mediocre at best. If the Ravens want to support Flacco they should have gone out and made a move to get him some new weapons.
6. Houston Texans (0-0) – I may have been a little too quick to brush off Houston's Super Bowl aspirations. This looks like a team that is completely comfortable in its offensive and defensive systems and they have the players to fit into those systems. The line on their game this week has blown up since its open of 6.5. As of Tuesday morning it has shot up to 12.5 and I won't be surprised if it touches 13.5 before kickoff. Houston won 23-13 on the road last year but that game was even closer than that final indicated. This will be the sixth time these franchises have met since 2006 and the underdog is 5-1 ATS in the last five meetings. Since 2006 the margin of victory has averaged just 4.8.
7. New Orleans Saints (0-0) – I think people are sleeping on the Saints this year. It is easy to point to the coaching situation and say the team lacks stability. But Indianapolis made it to the Super Bowl with Jim Caldwell – JIM CALDWELL! – the year after Tony Dungy retired. The key for this group will be how they respond to Steve Spagnuolo's defensive changes, and it is really too early to tell. The Saints are a spectacular 12-1 ATS in their last 13 home games and they are 13-3 ATS in their last 16 games on turf.
8. Pittsburgh Steelers (0-0) – It is essentially a mayday on the offensive line and it is really tough to get behind this team for 2012 with such a glaring weakness. However, the Steelers have a massive revenge angle this week in a return trip to Denver. They also are very familiar with the styling of one Peyton Manning and they won't be scared of him at all. The underdog is 5-1 ATS in the last six meetings between these two teams (going back to 2003), and this has always been a fantastic role for the Steelers. Pittsburgh will be without starting safety Ryan Clark this week. He cannot play in the thin Mile High air because of potentially life-threatening health problems related to a sickle cell trait.
9. Atlanta Falcons (0-0) – Very quietly the Falcons could be poised for a great year. The team has adjusted very well to its new offensive system and the Falcons first team was dominating this preseason. Atlanta's No. 1s outscored their opponents, 36-16, this fall, and I think they will carry over in Week 1. The Falcons are 10-4 ATS in their last 14 season openers and the spread on their game has shot up from a 'pick' to Atlanta -3.0. This team is not without issue. The offensive line is shaky at best and I am definitely buying into the Michael Turner decline. But to me the biggest question is how they will adapt to Mike Nolan's new attacking defense.
10. Chicago Bears (0-0) – It looks like the Bears will have their heart and soul, Brian Urlacher, on the field this Sunday. I was of the opinion that they should actually sit him the first two games of the season (they have a short turnaround and a game at Green Bay on Thursday in Week 2) and give him essentially an extra three weeks of rest. The Bears first team offense looked sharp under Jay Cutler's leadership. And I have to think that Soldier Field is going to be electric on Sunday after one of the most active offseasons in recent Bears history. It will also be interesting to see if Indianapolis puts new corner Vontae Davis on Brandon Marshall this week. The two were teammates in Miami last year.
11. Philadelphia Eagles (0-0) – The Eagles didn't hold back on Cleveland in their preseason meeting, outscoring them 17-3 in the first half and jumping out to a 24-3 lead midway through the third quarter. The Eagles looked like they had way too much speed for the Browns in that game. Philadelphia definitely has a sense of urgency this year that they didn't have last season when they felt a playoff berth was preordained. That led to an uncharacteristic 3-0-1 ATS mark this preseason from Andy Reid's charges. We will see if that carries over for a team that has gone 5-11 ATS as a favorite. But the fact is that Mike Vick needs to take care of the ball, take care of himself, and try to relax and be more accurate if this team wants to get off to a hot start.
12. Detroit Lions (0-0) – It is still really surprising to see the Lions as one of the biggest favorites on the board in Week 1. It seems like just yesterday they were a league laughingstock and now they are a massive chalk. Detroit's defensive line should floss its teeth with a pathetic St. Louis offensive line this week. But the Lions didn't address their glaring secondary needs this offseason and now they are again without key safety Louis Delmas. Detroit will be sky-high for this game. But they need to show some maturity (and for all the talk about the young stars on the Lions, this is the league's third-oldest roster) and lay the wood to a clearly inferior team this week. The Lions are on an 11-5 ATS run at home.
13. Denver Broncos (0-0) – Peyton Manning has improved in every game this preseason and he is going to be fine this year. He may also be surrounded by the best collection of talent he's had to work with in half a decade. One thing that has concerned me a bit is that Manning has seemed way too content to check down and is not attacking downfield. It has nothing to do with his arm strength (which is fine) but more to do with Denver's lack of speed on the outside. Even with Manning I think this team is going to have some trouble scoring early in the season. Defensively this group is going to miss D.J. Williams, who is serving a six-game suspension.
14. Seattle Seahawks (0-0) – You never want to look too much into the preseason, but Seattle's performance definitely turned some heads. Their first team outscored the opposition by 46 points this preseason, tops in the NFL. Of course, that 44-7 game in Kansas City certainly inflated that total. Russell Wilson earned the starting job. He has been active and very accurate, especially on the run, and he just makes things happen. But a huge question mark about him will be can he make plays IN the pocket on a consistent basis. The road team is just 3-7 SU in the series with Arizona, although Seattle has gone 3-1 ATS against them over the past two years.
15. Dallas Cowboys (0-0) – The interior of the offensive line is an absolute sieve. Dallas cannot control the line of scrimmage on either side of the ball (especially now that Jay Ratliff has been ruled out for Wednesday's opener), and that is a huge part of their problem. Tony Romo will be running for his life again this season, starting in New York. Jason Witten isn't going to play in the opener but Dallas does have Dez Bryant and Miles Austin healthy enough to go. Dallas will have to lean on its running game (DeMarco Murray has looked very sharp) and its defense – which allowed just six points this preseason to opposing first team offenses – if they want to spring an upset in the Meadowlands.
16. Cincinnati Bengals (0-0) – If you have a mangled offensive line the Ravens are the last opponent you want to play. The Bengals have lost their starting left tackle for the season and will have a rookie filling in for their injured starting center this week. The Bengals lost by eight and by seven to the Ravens last year but they are on a 4-1-1 ATS roll against them. They have also covered three of four trips to Baltimore.
17. Carolina Panthers (0-0) – I understand the money aspects of the move, but I am stunned the Panthers kept Justin Medlock at kicker. That seems like a random point to make, but mark it down: Medlock will cost this team two games this year. Something about the Panthers line this week is screaming, "Stay Away!" Over 80 percent of the public is on the road favorite Panthers and the line hasn't budged. Carolina throttled Tampa Bay last year, winning by 32 and 19, but that gives the Bucs a nice revenge angle. Carolina also has the added burden of having to spend the week in Tampa. They left Charlotte early to get away from the logistical craziness of the Democratic National Convention.
18. San Diego Chargers (0-0) – It is only Week 1, and this team is already at a critical stage with their offensive line. Did no one in the front office realize how horrible their line was? The Chargers are going to get bullied along the line all season long and that is going to have a ripple effect on the rest of the team. These guys couldn't stop ME from getting two sacks in a given game. They have an undrafted free agent at left tackle, a concussion case at center, one of the worst performing right tackles in football in Jeromey Clary, and no depth behind anyone. This is not going to end well and the odds of Phil Rivers making it through 16 full games is no better than 65 percent.
19. Buffalo Bills (0-0) – I understand that Chan Gailey is one of those coaches that just doesn't care about preseason games. But I don't think there was a more disappointing team this August. The Bills looked terrible and Ryan Fitzpatrick's play has to be sending up a lot of red flags around Orchard Park. Fitzpatrick can't afford to be below average because the Bills don't have enough weapons in the passing game – in fact, they have none beyond Stevie Johnson – to cover for him. The defensive upgrades have made a noticeable difference. But the Bills still need better linebacker play and I just don't know that they will get it.
20. Kansas City Chiefs (0-0) – Romeo Crennel is trying to pull double-duty as the Chiefs head coach and defensive coordinator. It is not working because he is an incompetent. Look, I thought the Crennel hire was a poor one and all those people banking on the Chiefs as a sleeper team out West are overlooking just how bad of a coach Crennel is. Not helping his cause has been K.C.'s personnel issues on defense. Critical starters Brandon Flowers and Derrick Johnson are banged up and questionable for this weekend and stud linebacker Tamba Hali will miss the game due to suspension.
21. Jacksonville Jaguars (0-0) – Maurice Jones-Drew missed each of the last two preseasons and it didn't affect him one bit. The guy just doesn't like the preseason. I think the holdout this fall was almost incidental. And I think that it is a boost for this team to have him back in the fold. Jacksonville's defense has been suspect so far this fall and does not look like the league's No. 6 unit from last season. Their front four has to find a way to get pressure on Christian Ponder this week if the Jaguars want to score a rare road win. In an odd trend, Jacksonville is 11-2 ATS in its last 13 season opening games.
22. Tennessee Titans (0-0) – I think that the Titans made a big mistake naming Jake Locker as the starter. This team has perhaps the toughest opening month of any team in football. They play the Patriots, at San Diego, Detroit, at Houston, at Minnesota, and Pittsburgh. They are not going to win more than one of those games unless they are much better than I think. And I don't think that it is going to do Locker much good to get throttled by some of the best defensive fronts in football while this team struggles. I will say that the Titans defense looks night-and-day different (better) this season. They registered 13 sacks and eight interceptions in their four games after mustering just 11 and 28, respectively, last year. Tennessee is 9-3 ATS as a home dog.
23. Washington Redskins (0-0) – Yeah, lets not buy into the Robert Griffin III rebuild just yet. Every year for the past decade the Redskins have had a new "savior," and it just never pans out. He has shown a lot of potential this preseason, but the fact is Griffin is still a rookie making his first NFL start on the road in one of the toughest venues in football. I think that this defense is too bulky and plodding to keep up with the Saints in New Orleans this week. And going back to 2009 the Redskins are 0-4 ATS in their last four non-divisional road games in a dome.
24. Minnesota Vikings (0-0) – Very rarely am I wary of betting against a team because of one player. And even more rare is when That Guy is on defense. But I am terrified of betting against Jared Allen. He is the best defensive player in football and can almost singlehandedly will the Vikings to wins. But Minnesota is obviously rebuilding. Twenty-eight of 53 players on the roster are age 25 or younger and 16 of their players have been drafted in the last two years. I don't expect to see Adrian Peterson in Week 1, but Toby Gerhardt has looked very good pounding the rock in the preseason.
25. New York Jets (0-0) – Rex Ryan's statements about his team – that this year's club may be his best yet – have gone from being obnoxious bombast to just delusional. I don't even know what to say about this circus. The Jets are a sideshow and they are terrible offensively. There really isn't much to say about this lot that hasn't already been said, and they have suffered by far the biggest drop of any team on this list since the start of the season. Their first team offense and defense was outscored 23-12 and they didn't even seem that competitive.
26. Tampa Bay Buccaneers (0-0) – I really think that the Bucs will be a live dog in Week 1. They match up very well with the Panthers when you compare what both teams bring to the table offensively and defensively. Tampa also has some revenge motivation after being throttled twice last year by their division rival. The underdog is just 1-8 ATS in this series but Tampa Bay is 4-2 ATS in its home opener the last six years. Remember: Carolina enters the season with a lot of the same buzz that Tampa Bay had last year and the Bucs came out flat in a Week 1 loss to actual upstart Detroit. Be careful with this game.
27. Oakland Raiders (0-0) – I said it in my initial NFL Power Rankings: Carson Palmer is a LOSER. The guy is like a mixture of the worst parts of Tony Romo and Rob Johnson. Palmer is a turnover machine that is just horrendous under pressure. This team cannot win with him under center and their trade to get him last year is a massive anchor around this organization's neck. The Raiders defensive line has been impressive so far this season and their front seven appears solid. It may not seem like it, but the Raiders have dominated the Chargers lately. Oakland is 3-1 SU against San Diego the last two seasons and they are on a 5-1 ATS march against their California rivals.
28. St. Louis Rams (0-0) – Sam Bradford appears to be adjusting well to his third offensive system in three years. He has lethal accuracy and I think that this kid has the tools to be a Top 10 quarterback. He just doesn't have anything to work with on the offensive line and in the receiving department. What has been most troubling about St. Louis this preseason has been their total disorganization in the secondary. They are giving Janoris Jenkins a trial by fire and starting him from Day 1. But he's not nearly ready and he doesn't have the skills or the focus to play a complete four quarters. Look for him to get victimized for a lot of big plays early in the year. Also, the loss of starting defensive tackle Michael Brockers was a big blow to a defense that lacks any type of credible depth. Jeff Fisher didn't take long to make his mark on this team, though, as over 60 percent of the 53-man roster is completely different from this time last year.
29. Indianapolis Colts (0-0) – There is no doubt that the Colts look much better this season and they have a quiet confidence about them. A lot of the focus on this team has gone to Andrew Luck. But to me a major question mark is how successful the shift to a 3-4 base defense will be. I still am not sold on seeing Dwight Freeney and Robert Mathis in coverage, and I think that they are going to be victimized early and often. It will also be interesting to see how Luck handles the Cover-2 that Chicago will throw at him this week. The Bears will let the Colts move the ball in the middle of the field. But Luck will have to be accurate and decisive in the red zone if he wants to turn yards into points, and I don't know if he's ready for the Bears swarming style.
30. Miami Dolphins (0-0) – If "Hard Knocks" has taught us anything, it is that this team isn't any good. At all. I laughed this April when the Dolphins reached for Ryan Tannehill in the Top 10, and now it is even more hysterical that he is starting for this team. Oh, yeah, and he has no one to throw the ball to. The defense is taking a major step back and don't underestimate the deflated feeling the veterans on this team have after the Vontae Davis trade. Look for the Texans to use a lot of three- and four-man receiving sets against the Fins because they know Miami has serious issues with their cornerback depth. And if Jake Long isn't able to play this weekend look for the Texans to overrun Miami's beleaguered offensive line.
31. Cleveland Browns (0-0) – I like Brandon Weeden, but he is finding out what Colt McCoy already knows: it is just impossible for the Browns passing game to be consistent and to play at a high level with the ass-clowns that they have at the skill positions. The Browns have had the worst collection of receivers and running backs in football over the past four years and it looks pretty pathetic again this year. The Browns have 15 rookies on the 53-man roster and are one of the youngest teams in football. And one of the best "veterans," second-year man Joe Haden, will be forced to miss the first four games of the season.
32. Arizona Cardinals (0-0) – What a train wreck. Both of their QB options are a disaster. The already shaky offensive line lost its best player, meaning that whichever horrid quarterback is in there will be under constant, smothering pressure. The running backs are injury prone. And there is absolutely no depth on this roster. Arizona has reverted back to what we expected from this team in the pre-Kurt Warner days. Poor Larry Fitzgerald. This defense has some moments and plays with a lot of effort and energy. But we've seen what happens to Ken Whisenhunt teams when they fall behind by two touchdowns – they usually end up losing by four touchdowns.
Robert Ferringo is a professional NFL handicapper and has posted back-to-back profitable seasons (college and pro). Robert has turned a profit in three of four football seasons and over the last 12 months his clients have more than tripled their bankrolls with his predictions in all sports. He is looking forward to building on his stellar football handicapping resume again this fall and you can check him out here.