2012 NFL Power Rankings - Week 10
by Robert Ferringo - 11/6/2012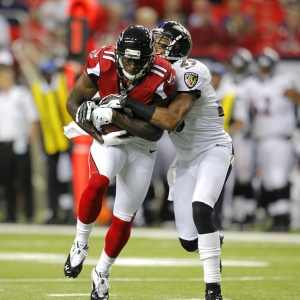 We're going to do things a little different with the NFL power rankings this week. In honor of Election Day and this amazing country of ours, we're going to pair each NFL team with a former president.
Just so I'm clear: I am not trying to rank the presidents. Not at all. I am just trying to pair each current incantation of each NFL team with its presidential doppelganger.
Here are Doc's Sports Week 10 power rankings:
1. Atlanta Falcons (8-0) – Woodrow Wilson. No, this team isn't going to go undefeated. And, frankly, I think their receivers look like they are getting a little worn out. But this team is solid in all aspects and is a legit Super Bowl contender. I'm glad people are finally realizing how good Matt Ryan is and has been. And as long as he stays aggressive – and as long as the team stays aggressive – they will be an undervalued favorite. The favorite is just 1-5 ATS in the last six Falcons-Saints games, and this is one of the most underrated rivalries in all of football.
2. New York Giants (6-3) – George Washington. There are weaknesses with the Giants, just like there were some holes in Washington's game. However, they are still Numero Uno and everything runs through New Jersey. The Giants are deceptively small favorites this week at Cincinnati. However, NFC teams are 14-7 ATS in their last 21 games against AFC, including a 3-0 ATS showing last week.
3. San Francisco 49ers (6-2) – Andrew Jackson. Like Jackson, the Niners are vicious and possess a savage mean streak. The 49ers have really opened up the playbook this year and are doing some unique things. I am interested to see what they installed in their bye week. San Fran is 8-3 ATS in its last 11 against the Rams.
4. Pittsburgh Steelers (5-3) – Theodore Roosevelt. Walk softly – and carry a big stick. That is what the Steelers are doing right now, and they are simply punishing opponents with their stellar defense. This team should be 7-1 right now and is clearly one of the best in football. They are 10-4 ATS in their last 14 home games, but the Steelers have not been a strong double-digit favorite under Mike Tomlin.
5. New England Patriots (5-3) – Thomas Jefferson. Both are classic and timeless. Hopefully Bill Belichick was able to straighten out his defense during the bye week. That unit looked vastly improved early in the season, but its play has tailed off considerably. The favorite is a stunning 20-6-1 ATS in the Patriots-Bills series and New England is 19-7-1 ATS in the last 27 meetings.
6. Chicago Bears (7-1) – James Monroe. Under Monroe's leadership, fractured, partisan politics gave way to the "Era of Good Feelings". Naturally, it didn't last. Just like the current Era of Good Feelings in the Bears locker room won't last the next time Jay Cutler gets sacked 10 times or has another four-interception game.
7. Houston Texans (7-1) – John Adams. That HBO mini-series was horrifically boring – and I love history and long, drawn-out mini-series – and so are the Texans. Their 'C+' game is 10 points better than 80 percent of the NFL. But do they have another gear when they face the best of the best?
8. Denver Broncos (5-3) – Franklin Roosevelt. It is all about having a steady hand in a leadership position. Peyton Manning is an absolute surgeon. And even though losing Demarius Thomas is going to hurt Denver's vertical game and eliminate some big plays, Manning could pretty much pick someone off the street and turn them into a big-play guy. Denver also needs to expand their running game though. If teams can shut down that inside trap play then this team is going to be in trouble.
9. Baltimore Ravens (6-2) – Dwight D. Eisenhower. Just like Dewey, the Ravens are solid, steady and secure. I do not like where this team is headed because I don't like their offensive identity. But trading Ray Lewis for Terrell Suggs, essentially, is a wash on defense. The secondary is susceptible. But as long as the Ravens continue to dominate the line of scrimmage with veteran offensive and defensive lines they will be a playoff team.
10. Green Bay Packers (6-3) – Bill Clinton. There are some glaring flaws. But the bottom line is that you can't understate their effectiveness. The Packers are on a bye this week and they need to focus on getting the players in the secondary all on the same page.
11. Seattle Seahawks (5-4) – James K. Polk. Both Polk and Seattle have been undervalued. Over the last 10 years the Seahawks have covered the spread in 61 percent of all home games. They are 49-31 ATS in their last 80 home games and should continue their dominance this week against the woeful Jets.
12. Minnesota Vikings (5-4) – Harry Truman. Both started with a bang, but then came back to earth quickly. Teams are hip to what the Vikings are doing. And as good as their defense was early in the season, they appear to be getting worn down. They have given up 30 points or more in three of four games. That doesn't jibe with the run-the-ball-and-play-good-defense mantra this team is trying to practice.
13. Philadelphia Eagles (3-5) – Ulysses S. Grant. Grant seemed like he would be a great president. Just like the Eagles "seemed" like they would be a great team. I have said it 1,000 times: Mike Vick is a loser and he is not an NFL-caliber quarterback. I have no idea why Andy Reid won't go to Nick Foles, other than the growing belief I have that he actually wants to be fired. After what Reid has endured in his personal life the last few years, that feeling is understandable. His heart and his head simply do not seem to be into this team.
14. Tampa Bay Buccaneers (4-4) – Lyndon Johnson. Underrated. The Bucs have continued to improve this season, and now the word is out that Doug Martin is actually an excellent back. He is not doing it alone, though. Tampa Bay's investment into its offensive line is starting to pay massive dividends.
15. Detroit Lions (4-4) – Chester A. Arthur. It was written about Arthur, "No man ever entered the Presidency so profoundly distrusted." That is exactly how I feel about the Lions. How has no one figured out Detroit's offense yet? All they do is clear their receivers down field and then Stafford goes to a back or someone in the slot. Seriously, how many passes each week does Stafford actually complete more than 10 yards down field? Two? Three?
16. Washington Redskins (3-5) – John F. Kennedy. Both JFK and RGIII have enormous, clearly recognized talent and potential. The Redskins desperately needed this bye week. They have had a grueling two-month schedule, and they looked mentally and physically exhausted last week.
17. Dallas Cowboys (3-5) – George W. Bush. Despite all evidence pointing to their total and utter incompetence, there are still staunch supporters of both Bush and the Cowboys. Dallas is a bunch of losers, plain and simple, and the best thing for this team would be to bottom out like the Bush economy and then completely rebuild.
18. Carolina Panthers (2-6) – Ronald Reagan. Both Reagan and Carolina were a little overrated. But there is also no denying that the talent does exist. The Panthers defensive transformation has been underappreciated.
19. Miami Dolphins (4-4) – Herbert Hoover. The policies aren't working at the moment. But the groundwork is being laid for success. The Fins have been able to mask their shockingly bad secondary through half the season. But opponents have to be excited about what they saw on tape in the Colts game.
20. Cincinnati Bengals (3-5) – John Tyler. Tyler actually supported the secession movement by the southern states. The Bengals are equally clueless. This team has a nice young core. But they can't keep from shooting themselves in the foot. The Bengals have still not beaten a team with a record over .500 in nearly three years.
22. St. Louis Rams (2-5) – George H.W. Bush. The reviews are mixed on both team and president. But there is no denying that despite the overall results there are a lot of individual things to like.
21. Arizona Cardinals (4-5) – Franklin Pierce. Pierce was known for his divisive policies. A bit like Ken Whisenhunt's approach to his quarterback controversy. Look, that run the Cardinals made at the end of last season and beginning of this year was an anomaly. They were winning games in spite of horrific statistical indicators. But now this team has been exposed, and I actually think it might be worse than I have it rated here.
23. New Orleans Saints (3-5) – James A. Garfield. We'll never know what could've been with a Garfield presidency (he was assassinated just four months into office) just like we'll never know what could've been with this Saints season. They will be active home underdogs this week against their hated rivals. But I don't trust the Saints defense to get stops. They are horrific.
24. Indianapolis Colts (5-3) – Andrew Luck is the most overrated player in football right now. He has been a mess on the road (two touchdowns to six interceptions), and I think he is going to flop on national TV this week. Once again, the Dolphins dropped two easy interceptions that would've been game-changing plays. Luck is not as good as everyone thinks. I'm telling you.
25. New York Jets (3-5) – Richard Nixon. Both are know for their bluster – and their shockingly bad resume. The Jets had their bye week sabotaged by Hurricane Sandy and now have to fly cross-country. They won't be put off by Seattle's physical style of play. But I don't see Mark Sanchez escaping that game with less than three turnovers.
26. San Diego Chargers (5-4) – Millard Fillmore. Fillmore was a member of the "Know Nothing Movement". That is pretty much the stance that San Diego ownership has taken on the idiocy of Norv Turner and A.J. Smith. Don't be fooled by last Thursday's blowout: this team is awful.
27. Tennessee Titans (3-6) – Jimmy Carter. They are nice enough. And you want to root for them. But the weaknesses are glaring. The Titans defense has no depth and Mike Munchak appears to be in over his head when it comes to in-game team management.
28. Buffalo Bills (3-5) – William McKinley. Neither could play defense and both died tragically in Buffalo. This team simply cannot stop anyone. The effort is there. But they just don't have any talent.
29. Cleveland Browns (2-7) – Gerald Ford. Just completely unprepared to compete on a week-in, week-out basis. The Browns have moments when they show signs of being a good team. But Brandon Weeden is sure to crush those moments swiftly with another ill-advised throw.
30. Jacksonville Jaguars (1-7) – James Buchanan. Both the Jags and Buchanan are best known for letting things spiral out of control. I still think that this team could be better and is a bit underrated right now. Their schedule has been brutal and I like their physical style. But there is simply no denying it: Blaine Gabbert is pathetic.
31. Oakland Raiders (3-5) – Warren Harding. There are some things to like about both. But a total corruption of the system made Harding one of the worst presidents and makes the Raiders one of the worst organizations in the game.
32. Kansas City Chiefs (1-7) – Andrew Johnson. Both have exhibited total incompetence during reconstruction. The Chiefs are facing their former coach, Todd Haley, this week. Don't think for a second that Haley will hesitate to run up the score on his former employers. That is, if he gets a chance.
Robert Ferringo is a professional NFL handicapper has banked nearly $10,000 in football profit over the last 11 months he has had football picks. He will keep it going this week and is looking forward to building on his stellar football handicapping resume again this fall. You can check him out here.