2012 NFL Power Rankings - Week 12
by Robert Ferringo - 11/21/2012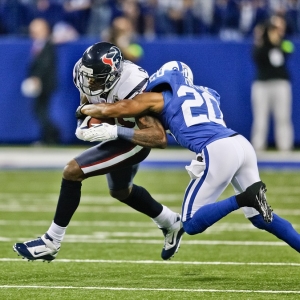 Holidays. Travel. Injury reports. In-laws. College football rivalry games. Turkey. Romo. Shopping. More travel. Gambling.
Sleep in June?
Sleep in June.
OK, so it's a huge week for gamblers the world over, and from Maine to Maui there is wall-to-wall betting action this week. So I'm going to keep this one short and sweet. Here are Doc's Sports Week 12 NFL power rankings:
1. Houston Texans (9-1) – As I've said all season, this team has not been nearly as dominant against lower-tier teams as their final scores have indicated. Houston has a quick turnaround time for this week's trip to Detroit. But just as they did at Denver and at Chicago this year, I expect a strong effort on the road from this physical lot.
2. San Francisco 49ers (7-2-1) – I don't think there is any way that Alex Smith is back under center this week. Nor should he be. But everyone that is slobbering all over Colin Kaepernick right now are going to be in for a rude awakening if they think he is as good as he played on "Monday Night Football".
3. New England Patriots (7-3) – The Patriots have not lost a regular season game in the second half of the season in three years. They will not lose this week. New England thrives amidst chaos and controversy. And instead of being overrated after their blowout win over the Colts, they might be underrated because of the issues surrounding Rob Gronkowski's injury. The Patriots are 11-2 ATS in their last 13 games in New York.
4. Denver Broncos (7-3) – Double-digit favorites are just 2-8 ATS over the last couple months. The Broncos are smoking hot right now, but it is really tough to lay double-digits with any NFL team right now, much less one that is going on the road.
5. New York Giants (6-4) – Anyone that thought the Giants were going 13-3 was kidding themselves. This team needs to put itself in a corner before it actually starts to play or perform. The Giants are just 17-40-2 ATS in their last 59 games in November, and they are just 3-8-1 ATS after a bye week, so I would be careful on expecting a blowout performance by this team this week.
6. Pittsburgh Steelers (6-4) – I don't care who is quarterbacking the Steelers – they are not going to lose to the Browns this week because they do not lose to the Browns. The Steelers have still won four of five games, despite back-to-back weak performances. This team is still a little undervalued because A) their quarterback situation and B) their misleading win-loss record. They have to be kicking themselves for giving away those games at Tennessee and at Oakland earlier in the season.
7. Atlanta Falcons (9-1) – Again, the Falcons are really slowing down right now. And the reason is their lack of depth on both sides of the ball. The Falcons haven't beaten a team that currently has a winning record since all the way back in Week 2 when they took advantage of four Peyton Manning INTs to hold on for a home win.
8. Green Bay Packers (7-3) – The road team is 6-2 ATS in the last eight Packers-Giants meetings, and the underdog has covered five of six. This is another significant revenge situation for Green Bay, which was bounced in somewhat fluky fashion by New York last January. It looks like Clay Matthews is out this week, and the Packers will be without Sam Shields. They somehow manufactured stops against the Lions last week, but I'm not sure they can this week.
9. Chicago Bears (7-3) – My sources are telling me that Jay Cutler is going to play this Sunday for the Bears. If so, I expect this spread to be around Chicago -4.0. The home team is 6-2 ATS in the last eight meetings in the Vikings series, and the Bears have covered five straight. The favorite is also 6-2 ATS when these two get together.
10. Baltimore Ravens (8-2) – I'm sure the public is going to load up on the Ravens this week. But they are in the middle of a Steelers sandwich, and they have to fly across country. The Ravens are just No. 21 on offense and No. 25 on defense this year, and it is a huge red flag that they have twice as many wins as the Chargers but they are the underdogs here.
11. Seattle Seahawks (6-4) – I really want to buy into Seattle this week. But they are still just 9-21-1 ATS in their last 31 games on the road, they are playing off-surface, they are making one of the longest road trips in the NFL, and they are a West Coast team heading east for a 10 a.m. PST kickoff. Oh, and they are doing it with a rookie quarterback.
12. Minnesota Vikings (6-4) – Percy Harvin has returned to practice, and I am expecting him to suit up and play for the Vikings this week. However, I don't expect him to be featured. Minnesota can put a lot of the same type of pressure on Chicago that Houston and San Fran have been able to do the last two weeks. As a result, I expect another low-scoring game. The Vikings are just 4-12-2 ATS in their last 18 games against a team with a winning record.
13. Tampa Bay Buccaneers (6-4) – You can't mess with the magic. Tampa Bay has covered four straight, and that was an absurd comeback last week on the road against Carolina. The Bucs have a chance to make things interesting in the NFC South this week if they can steal a win over Atlanta, and Tampa Bay is 7-3 ATS in the last 10 in this series. The Bucs are just 9-23 ATS in their last 32 home games but this team is riding a killer hot streak right now.
14. Cincinnati Bengals (5-5) – Are the Bengals for real or are they still just the same old Bungles? That is what is at stake this week against Oakland. Cincinnati has gotten much better play out of its defense. That is not surprising since I pointed out early in the year that this group was really underachieving. They have given up just 19 points the last two weeks, and now that their secondary is healthy I expect them to continue their exceptional play.
15. New Orleans Saints (5-5) – Yeah, this team is making a run. Joe Vitt has given them a bit harder edge, and you can see the pieces falling into place. But this week the defense has to prove that it can bow its back and get stops. The Saints have a killer revenge angle this week against the team that unceremoniously knocked them out of the playoffs last year.
16. Dallas Cowboys (5-5) – The next time that someone tries to tell you that Tony Romo is one of the best quarterbacks in football but he just isn't surrounded by a good enough team, you need to point to the last eight minutes of last week's Cleveland game. That fumble, up four, with three minutes to play and the Boys already in field goal range, is the quintessential Romo failure and the perfect microcosm of what a loser this guy – and this team – really is.
17. Washington Redskins (4-6) – All the numbers are setting up well for the Redskins. The underdog is 22-6 ATS in the Cowboys series and the road team has covered six of eight. The Skins are 5-0 ATS in their last five trips to Dallas and have covered four straight meetings over the last two years. Dallas is also just 2-12 ATS after a win and 4-12 ATS in conference games. Washington's improvement is less about RGIII and more about the improving defense. The Skins are now 1-4 against the total in their last five games.
18. Detroit Lions (4-6) – The Lions have lost five straight on Thanksgiving Day, and I don't know how much they have left in the tank after last week's brutal loss against Green Bay. The Lions are just 5-11-1 ATS in their last 17 games, and they are just 3-10-1 ATS when they face a team with a winning record.
19. Carolina Panthers (2-8) – I can't wait for 2013 when I can pound this team to make a huge bounce back. See Tampa Bay this year? That will be Carolina next year. This Panthers team has played a BRUTAL schedule this year and has lost a ton of heartbreakers. If they can keep the locker room together this will be an important growing experience.
20. Indianapolis Colts (6-4) – I don't want to point out the fact that I was one of the only – if not the only – handicapper/analyst in the country that has been talking about how OVERRATED Andrew Luck is. He is weak right now and is absurdly overvalued. The guy who deserves the credit for this team being in the mix is Bruce Arians, who is a genius. Luck is just a turnover machine that is along for the ride.
21. Miami Dolphins (4-6) – That was a gross display by the Dolphins last Thursday, and this team has gone completely schizoid on me this year. Heading into the regular season I thought they were the worst team in the NFL. They played well, I bought in, and now over the last three weeks they have again looked like one of the worst teams in football. I give up.
22. Philadelphia Eagles (3-7) – If this is how poorly this team is playing now, just wait a few weeks until they really start mailing it in.
23. St. Louis Rams (3-6-1) – As I have said time and time again: some teams just are not strong favorites. Jeff Fisher always had that problem when he was in Tennessee, and I'm sure he will have it in St. Louis as well. Fisher and his teams are always excellent bets as an underdog, but his failure to win games in which he is favored is what drives the fan base nuts.
24. Arizona Cardinals (4-6) – I think that I am starting at quarterback for the Cardinals this week. Oh, wait, no, Ryan Lindley is getting the call. Look, I wouldn't expect much out of the youngster this week against the Rams. He was pretty gross last week at Atlanta, and I think he will struggle against an opportunistic Rams secondary this week.
25. New York Jets (4-6) – I really hope you aren't buying back into this Jets team. They are still pathetic, despite a win against an emotionally-drained St. Louis team last week. The home team is just 8-20-1 ATS in the last 29 meetings between the Patriots and Jets.
26. San Diego Chargers (4-6) – Losers. There really isn't much more to say. San Diego is catching Baltimore in a letdown/look ahead situation this week. But what have we seen from the Chargers to think that they can take advantage of their huge situational advantage? The home team is 7-2 ATS in the series, and the Chargers are 9-2 ATS in conference games. But they are catching just 30 percent of the betting action this week.
27. Tennessee Titans (4-6) – I know the Jaguars are terrible, but I'm not sure how much I trust the Titans as road favorites. The Titans are on an 0-3 ATS slide in this series, and the home team has won four of six meetings. Tennessee is also just 4-10 ATS in its last 14 games and they are 0-5 ATS in their last five divisional games.
28. Buffalo Bills (4-6) – The Bills offense is really clicking right now, and the more touches they can get C.J. Spiller, the better. If we look back, the game that is killing this team right now was that late loss to Tennessee. Beyond that, their last four losses have come against New England (twice), Houston and San Francisco. Those are three of the top five teams in football. I'm starting to think that this team might be really underrated.
29. Cleveland Browns (2-8) – I know Pittsburgh is reeling right now. But I still think that people are giving the Browns too much credit for a potential upset going into this week. I like the direction that this Browns team is going in. But they are in a letdown situation after letting that Dallas game get away from them. And Cleveland has such a mental block about playing against the Steelers that I would be stunned if they could get the win this week, regardless of who is under center for the black-and-gold.
30. Jacksonville Jaguars (1-9) – There is no doubt that Chad Henne is a much better quarterback than Blaine Gabbert. But let's not think that he is some sort of savior. He is one of the least accurate and most erratic throwers in the league, and after having an excellent game last week I would expect at least two turnovers and a reality check game this Sunday.
31. Oakland Raiders (3-7) – As I have said: no bet against the Raiders is a bad bet against the Raiders. This team is pathetic. There is truly nothing more that needs to be said.
32. Kansas City Chiefs (1-9) – Chiefs fans have essentially staged an open revolt against their team. A fledgling, grassroots fan organization staged a "blackout" last week at Arrowhead, where the home fans wore black to protest how pathetic their team is. According to the local papers, nearly 25,000 people followed through. So, yeah, the whole "home field advantage" thing is pretty much out the window for Kansas City. Arrowhead has been one of the most overrated and overvalued home fields in the NFL over the last six years – the Chiefs are just 15-30-1 ATS since the start of 2007 – and right now no one should be afraid of betting against them on their own turf right now.
Robert Ferringo is a professional NFL handicapper has banked nearly $10,000 in football profit over the last 12 months he has had football picks. He will keep it going this week and is looking forward to building on his stellar football handicapping resume again this fall. You can check him out here.