This Week in NFL Betting by the Numbers
by Ricky Dimon - 12/28/2012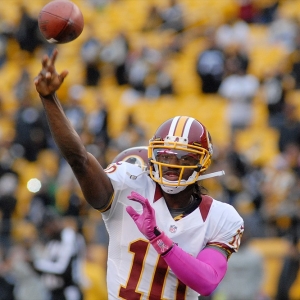 Well, it all comes down to this.

The Cowboys and Redskins aren't the only ones who can say that on Sunday, although they certainly can preach it louder and prouder than every other team. Fellow NFC East rival New York is clinging to life as the NFL turns the page to Chapter 17 of the regular season. Minnesota and Chicago are also in contention for the sixth and final playoff spot in a conference that should be completely up for grabs during postseason play.
Buckle up. Strap in. Enjoy the annual post-Christmas gluttony that is the NFL's regular-season swansong.


(All odds provided by Sportsbook.ag).
3 – Times in his career that Adrian Peterson has run for at least 175 yards against Green Bay, including a 210-yard outburst in Week 13 (when the Packers prevailed 23-14 at Lambeau Field). AP needs only 102 yards to reach the 2,000-yard mark for the season but he is 207 yards away from Eric Dickerson's single-season record. The Packers are in the middle of the road in terms of rush defense, 14th in the NFL at 111.9 yards per game. Needing a win to assure a first-round bye in the playoffs, Green Bay is a -3.5 road favorite in Week 17.


4 – Games, out of four, in which Arian Foster has rushed for at least 100 yards against the Colts. Houston's running back is averaging 164 yards against them and has scored five total touchdowns. A 29-17 home victory over Indianapolis in Week 15 saw Foster rush for 165 yards. The Texans are looking at a number of scenarios that will snag them home-field advantage and/or a first-round bye, but a win would keep it all very simple. The Colts, meanwhile, are locked into the No. 5 seed. Houston is a -7 road favorite.
7 – Consecutive losses for Detroit heading into Sunday's season finale against Chicago. The Lions are 0-4 against the spread in their last four overall and 1-8 ATS in their last nine against NFC North opponents. While the Bears need a win, the Lions are playing for nothing. Heck, even the Calvin Johnson suspense is over, as he went for 225 yards last week against Atlanta to break Jerry Rice's single-season record. Johnson will look to extend his new mark while also prolonging two other record streaks: 100 yards receiving in eight consecutive games and 10 catches in four straight. Chicago is a -3 road favorite on Sunday.


8 – Wins for Philadelphia in its last nine games against the Giants, including a 19-17 home victory back on Sept. 30. Michael Vick, who is back in action for this one due to a Nick Foles injury, threw for 241 yards and one touchdown without turning the ball over. The Eagles are 7-1-1 ATS over those nine contests. They are looking to end the 2012 campaign on a positive note, while the Giants need a win and a smorgasbord of help in order to keep their Super Bowl defense alive. New York is a -7.5 home favorite in Week 17.

9 – League-leading number of Pro Bowl representatives from the 49ers. The group includes six defenders: NaVorro Bowman, Dashon Goldson, Aldon Smith, Justin Smith, Donte Whitner, and Patrick Willis. All of that individual talent wasn't quite enough for the No. 1 seed in the NFC, but San Francisco can still clinch the NFC West with a victory and would snag the second seed if that victory coincides with a Green Bay loss. The Niners are -16.5 home favorites over down-and-out Arizona in the regular-season finale.

224 – Season-high rushing yards for Baltimore, which the team churned out in a 33-14 drubbing of the Giants last weekend. At the same time, however, Cincinnati has allowed a paltry average of 58 yards on the ground over its last four outings. This is the second of bookend games between the two AFC North rivals. In Week 1, the host Ravens rushed for 122 yards and threw for 308 in a 44-13 rout of the Bengals. Both teams are in the playoffs but neither can greatly impact its respective positioning. Cincinnati is a -2.5 home favorite.

6,793 – Single-season record number of yards allowed by the 1981 Baltimore Colts. New Orleans is just 281 yards away from that mark of futility heading into the finale against Carolina on Sunday in the Superdome. The NFC South rivals faced each other back on Sept. 16, when the host Panthers racked up 463 yards of total offense in a 35-27 victory. The Saints are -5.5 favorites on Sunday.
16 – Years since the Redskins last won six games in a row. Their current six-game surge has them at 9-6 and one win away from the NFC East title after starting the season 0-3. Speaking of long droughts, this would be Washington's first division title in 13 years. Dallas, meanwhile, is also a win away from the title. Yes, the NFC East all comes down to this Sunday night showdown. The 'Skins are -3 home favorites.

RAPID FIRE

3.3 – Yards per rush being averaged by Oakland's Darren McFadden, the third-lowest mark among qualifying runners.

6 – Third-down conversions, out of 27 attempts, for New England over its last two games.

10 – Denver's current winning streak, which is tied for second in franchise history. The 1998 team that went on a 13-game surge ended up winning the Super Bowl.

24 – Years since Cleveland swept a season series against Pittsburgh. With both teams done and dusted, the Browns will have a real shot at accomplishing the feat on Sunday.
150 – Points scored by the Seahawks in their last three games, the most in a three-game stretch since the Los Angeles Rams poured in 163 from in October and November of 1950.