This Week in NFL Betting by the Numbers
by Ricky Dimon - 12/4/2012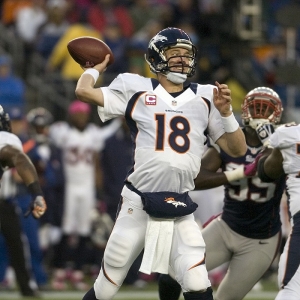 While three teams (Atlanta, Denver, and New England) coasted to destinations that were inevitable many weeks ago, a number of NFL divisions just got a whole lot more interesting after Week 13 developments. Pittsburgh stayed alive in the AFC North, Green Bay finally pulled even with Chicago in the NFC North, and Seattle and Washington are suddenly in play in the NFC West and NFC East, respectively.
It should make for a wild Week 14, for which we crunch the numbers below (all odds provided by Sportsbook.ag).

27 – Unanswered points scored by the Broncos in their previous meeting against Oakland this season, a 37-6 home thrashing on Sept. 30. They covered the -6.5 spread by an overly comfortable 24.5 points. Peyton Manning completed 30 of 38 passes for 308 yards and three touchdowns. Denver wrapped up the AFC West in Week 13, but it is still playing for a first-round bye. The Broncos are -10.5 road favorites on Thursday night.

0 – Times since its inception in 2002 that the NFC South has been won back-to-back times by the same team. In order, the champions read: Bucs, Panthers, Falcons, Bucs, Saints, Bucs, Panthers, Saints, Falcons, Saints, Falcons. That's two for Carolina and three each for Atlanta, New Orleans, and Tampa Bay. Talk about parity. Parity, however, was not the story this season. The Falcons sealed the deal on Sunday (thanks to Tampa's loss at Denver) with four weeks to spare. Atlanta, with an NFL-best 11-1 record, is a -3.5 road favorite at Carolina on Sunday.

8 – Number, in thousands, of Twitter followers that @RoyalFetus had by Monday night (despite having plenty of competition from other parody accounts), shortly after it was announced that Kate Middleton is pregnant. Less importantly (only because it's the meaningless Cardinals), eight is also the number of consecutive losses by Arizona after starting the season 4-0. It arguably hit rock bottom in Week 13 by losing to the Greg McElroy-led New York Jets, 7-6. The spread for Cardinals at Seahawks on Sunday is currently off.
13 – Days in between the two regular-season matchups involving NFC North rivals Chicago and Minnesota. They faced each other on Nov. 25 (the Bears scored a 28-10 home win) and will square off again on Sunday at Minnesota. Chicago has won four in a row in the head-to-head series (4-0 against the spread), and it has won the last three dating back to the start of the 2011 season by a combined 51 points. The Bears, who are 3-1 ATS in their last four away from Soldier Field, are -3 road favorites.

54 – Drew Brees' NFL all-time best streak for consecutive games with a touchdown pass, which was snapped last Thursday in New Orleans' 23-13 loss at Atlanta. Brees was picked off a hard-to-believe five times for the first time in his career as the Saints dropped to 5-7 and put themselves in must-win situations from now until the end of the regular season just to have a prayer of getting in as a wild card. New Orleans will visit the Giants on Sunday. In last season's meeting, Brees threw for 363 with four touchdowns (five total) and no interceptions in a 49-24 home blowout.

168 – The Dallas Cowboys franchise record for career touchdown passes, now held by Tony Romo. He was tied with Troy Aikman at 165 heading into last weekend's home game against Philadelphia before throwing three in a 38-33 victory. Romo has scoring throws in nine consecutive outings and six in his last two. Of course, Dallas has been forced to throw the ball a ton because it is averaging 3.6 yards per rush and is 30th in the NFL in rushing at a paltry 82.4 yards per contest. The Cowboys are +3 road underdogs at Cincinnati in a crucial clash for both teams.

3 – Teams in the history of the NFL that have lost three consecutive home games by blowing fourth-quarter leads in all three. Detroit became the third such infamous squad when it fell to Indianapolis 35-33 last Sunday after leading 33-21 with the ball and just more than four minutes remaining. The Lions led Green Bay 20-14 on Nov. 18 before losing, 24-20. They led Houston 31-24 on Thanksgiving before losing 34-31 in overtime. Detroit is a +6.5 road underdog at the Packers on Sunday night.
12 – Combined winning streak of Houston and New England heading into Monday night's showdown. Both teams have won six in a row, good for the second-longest streaks in the NFL behind Denver — which has been victorious on seven consecutive occasions. They last lost in Week 6 on Oct. 14, the Texans 42-24 at home to Green Bay and the Patriots 24-23 at Seattle. New England must win on Monday night in order to have any chance at home-field advantage throughout the AFC playoffs. It is a -4 home favorite.

RAPID FIRE

1 – Road games won by the Rams this season heading into a Week 14 date at Buffalo. They are, however, 3-1 ATS away from home.

2 – Games in the NFC East standings made up by the Redskins over the last three weeks after their 17-16 defeat of New York on Monday night. Washington is now one back of the Giants heading into a huge matchup with Baltimore.

4 – Remaining games that will be started by Nick Foles, according to Philadelphia head coach Andy Reid. It continues on Sunday at Tampa as Philly looks to end an eight-game slide.

5 – Number of game-winning drives engineered by Colts' rookie quarterback Andrew Luck through 12 games of his rookie campaign.

364 – Career-high passing yards for Brandon Weeden in Cleveland's 20-17 win over Oakland in Week 13. He is now going up against a Kansas City defense that is ninth in the NFL against the pass.