Basic Strategy Teasers: Best Options for Week 12
by George Monroy - 11/21/2013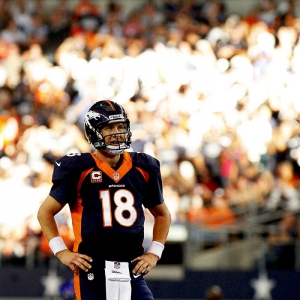 Basic Strategy teasers had another solid showing on Sunday and ended with a 2-1 record for the week. The New York Jets were the only team that did not cover their teaser spread as they were blown out by 23 points. Both the Denver Broncos and Tampa Bay Buccaneers easily covered their lines and ended winning by double-digit margin of victories. The teasers have an impressive 44-11 record on the season and are winning at an 80 percent rate. The wager, for those that are unfamiliar, is a positive-expected-value bet that uses NFL key numbers to add or subtract points from certain lines and move them past the three- and seven-point mark.
Basic Strategy teasers only use favorites of 7.5 to 8.5 points and underdogs of 1.5 to 2.5 points and are six-point, two-team teasers. This week there are four wagers for bettors to choose from, all of which will be played on Sunday. Let's take a closer look at Week 12's basic strategy teaser options and decide which have the most value to bet on.
Denver Broncos at New England Patriots
Original spread: Patriots +2.5
Six-point teaser: Patriots +8.5
Sunday's matchup between two of the AFC's best teams is the must-see game of the week, and it's probably one of the few remaining Tom Brady versus Peyton Manning matchups that NFL fans will get to see. The Broncos are taking a mediocre 2-2 road ATS record into the matchup, while the Patriots are 4-1 ATS at home. New England is rarely an underdog in any situation let alone a home underdog late in the season. This is a huge matchup for both teams based on the past history alone. Tom Brady and the Patriots do not want to be embarrassed by their old rival inside of Gillette Stadium, so expect this game to remain close no matter what happens. There is probably value taking New England plus the points on the original spread, so adding another six points is the best teaser play to make this week.
Indianapolis Colts at Arizona Cardinals
Original spread: Colts +2.5
Six-point teaser: Colts +8.5
The Cardinals have been one of the surprise teams in the league this season with a 6-4 record. The team is on a three-game win streak and has planted themselves firmly in the NFC Playoff hunt. Arizona is 3-2 ATS at home and wins by an average five points per game. The Colts, however, have one of the best road ATS records in the NFL at 4-1 and win those games by an average of 10 points. The team has looked impressive over the last four weeks outside of a head-scratching 30-point loss to the St. Louis Rams in Week 10. Arizona could win this game, but all the value on Indianapolis plus the 8.5 points
Dallas Cowboys at New York Giants
Original spread: Cowboys +2.5
Six-point teaser: Cowboys +8.5
The Giants are on a solid four-game winning streak and are just one of those weird teams that can get hot and play like Super Bowl contenders then fall apart all within a week's time. New York has played against bad or injured teams over the last few weeks and is probably not as good as their four-game win streak indicates. Dallas has a 3-2 road ATS record but is only 1-4 SU. This is a game that New York may very well win, but expect the Cowboys to keep the matchup close and approach this as a must-win situation for the team.
Pittsburgh Steelers at Cleveland Browns
Original spread: Steelers +2.5
Six-point teaser: Steelers +8.5
The Steelers have won two games in a row and have made a huge improvement from the beginning of the season when they started out with four straight losses. Pittsburgh is one of the worst road ATS teams in the NFL and has lost by an average of over nine points a game when playing outside of Heinz field. The Browns have a 3-2 home ATS record, but they are only 4-6 SU on the season. Taking the Steelers plus the points seems like the correct play, but with all the drama and trade rumors still surrounding the team, this matchup is a game that bettors should probably skip.
Last Week: 2-1; Season: 44-11
New to Doc's Sports? We'd like to offer you $60 of free, no obligation picks. Try us out. See why experience matters, and why we have been around for so long while others have come and gone. Click here to sign up today.
Read more articles by George Monroy