College Coaches Who Might Make Jump to NFL
by Trevor Whenham - 1/3/2013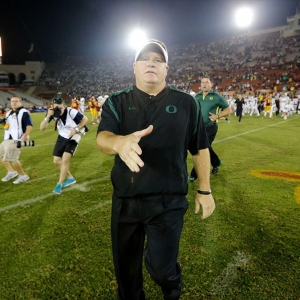 The NFC West was, for once, a very entertaining division to watch this year. The biggest reason for that is the developing rivalry between Pete Carroll and Jim Harbaugh. The two coaches are establishing themselves as among the best in the NFL, and they both do it after growing their reputations in the Pac-12. Their success has made it more popular than ever before for NFL teams with coaching openings — and there are a lot of them this year — to consider someone from the coaching ranks to take the helm.
Despite the success of Carroll and Harbaugh, history has taught us to be very cautious when coaches make the move from coaching students to pros. Steve Spurrier and Nick Saban were (and are) both wildly successful in college, but neither amounted to much in the NFL. In fact, it's pretty easy to call the experiments failures in both cases. Bobby Petrino was an epic NFL failure. Mike Riley, Lou Holtz, Butch Davis, Dennis Erickson, Rich Brooks — the list of college coaches who have flamed out on the brightest stage is long, and certainly much longer than the list of successes.
Despite the track record, the egos of successful coaches ensure that coaches will always be willing to make the jump, and the desperation to win will lead NFL teams to look to the college ranks. This year there are at least five current college coaches who are getting a lot of buzz. Let's take a look at what we might expect from each:
Chip Kelly, Oregon Ducks
Kelly was all but signed with the Bucs last year before he chickened out and Greg Schiano of Rutgers took his place. It seems very likely that Kelly will take the plunge this time around, and he'll probably have his choice of offers. Philadelphia and Cleveland seem to be the most interested at this point. Neither has the perfect talent for Kelly to work with, but teams know that they'll have to make changes after committing to a guy like Kelly. My bet is that the Fiesta Bowl is his last game with Oregon. I also bet that he'll be back in college in three or four years. He seems less able to adapt and put his ego aside than his two Pac-12 peers who are succeeding now, and his bread-and-butter offensive play won't mesh perfectly with the realities of the NFL.
Bill O'Brien, Penn State Nittany Lions
O'Brien has only been with Penn State for a year, and he had a surprisingly strong season. However, there are several clues that he is considering a change. He reportedly was assured when he took the job that the NCAA sanctions against the team wouldn't be nearly as crippling as they are, so his loyalty to the program was tested at the start. He was the offensive coordinator at New England before moving to Happy Valley, so we know he knows the NFL. He's going to succeed whenever he inevitably hits the NFL — his time at Penn State has shown he is an excellent motivator, and his offensive mind is sharp. If he decides to interview he'll be tough to beat, but my gut still tells me that he sticks with Penn State for at least another year.
Kirk Ferentz, Iowa Hawkeyes
It seems like every year Ferentz is rumored for jobs. Every year I hope it happens because his new team would be incredibly easy to bet against. The guy is hopeless in the Big Ten, and he'd be a disaster in the NFL. He's been most closely rumored in Kansas City this year because he is close friends with Scott Pioli, and the GM somehow managed to keep his job (for now, despite some breaking news about Andy Reid and a new GM). If the Chiefs want to continue their streak of patheticness, then Ferentz is the perfect choice.
Doug Marrone, Syracuse Orange
Marrone isn't as high-profile as others on this list, but he is arguably the most likely to make a move this year. He has been at Syracuse for four years, and he has quietly built a respectable-though-not-spectacular team. Before that, though, he was offensive coordinator at New Orleans for three years, and he previously worked for the Jets and Titans. He's willing to interview with teams, and he's likely to get more than one chance to. The Bills are the best bet because of his ties to upstate New York, but he could wind up elsewhere. Outside of Buffalo he likely wouldn't be the first choice anywhere, but he'd be a sound backup plan. I bet he winds up in the NFL, and that his college days are done for good. He won't likely to be a coaching star, but his ties to Sean Payton would make him valuable as an assistant even if his head coaching days don't work out.
Nick Saban, Alabama Crimson Tide
I initially doubted these stories, but the more I think about it the more of a glimmer of possibility there seems to be. Saban is likely to win another National Championship in a few days. He's got the best job in college football, but he has little left to prove. He's also so competitive that it has to kill him that he didn't succeed in the NFL. A few teams will break the bank to get him — Cleveland and Jacksonville have already expressed interest, and others will if he is available. There is no reason for him to make the move unless it's an attractive situation, because he can go whenever he wants to. As such, I can't imagine him taking either job. There are bottomless pockets in the owner's suite in Jacksonville, though, so he could build the program he wants. There isn't an opening right now, but that's only a technicality if Saban wanted the job. Ultimately, though, I just don't think the right opportunity exists now. Harbaugh and Carroll both went into better situations than are available right now, and Saban seems more likely to patiently wait for something similar as well. I'm betting he'll be tormenting the SEC for at least one more year, but he'll be in the NFL again before it's all over.