2013 Dallas Cowboys Predictions and NFL Futures Odds
by Alan Matthews - 8/16/2013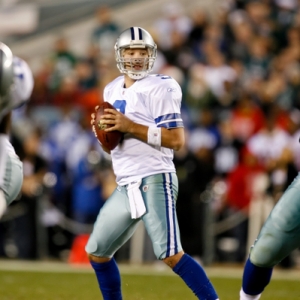 I have to admit first off that I was sucked into the whole Dallas Cowboys thing when I was young. They were the coolest team in the NFL, with the stars on their helmets and the fact that they were not only America's Team but also apparently God's, too. That's why there was an opening in the stadium, so God could watch.
Now I hate the Cowboys. Maybe it's partly Jerry Jones' fault. The guy is a marketing genius, no question. He manages to continually keep the Cowboys relevant despite that fact they have one playoff win since 1996. They have more value than any other franchise in the United States.
It's time for Jones the general manager to step aside, however, if Dallas misses the playoffs for the fourth straight year in 2013. The Cowboys haven't done that since the transition from Tom Landry to Jimmy Johnson when Jones first bought the team. Will Jones the GM step aside? His ego would never allow it. Coach Jason Garrett certainly will be gone if no playoffs. The problem is that no big-name coach -- say a Jon Gruden -- will come to Dallas, no matter how much money Jones throws at him because of Jones the GM. Any star coach wants player control and won't get it in Dallas. It's why Johnson eventually left. Jones needs to be like George Steinbrenner finally was in the early 1990s. You can spend all you want and be in the newspapers every day, but let the personnel guys do their jobs and stay out of that part of it.
Offense
There's no reason this shouldn't be a Top 10 or maybe even Top 5 offense with all the skill position talent. Dallas ranked No. 6 in yards last year but only 15th in points, largely because of turnovers and failing to score touchdowns instead of field goals in the end zone. Tony Romo tied for the NFL lead with 19 picks last year. He had three games with at least three, and of course the Cowboys lost them all. The biggest was in the regular-season finale against Washington with the NFC East title on the line. It was the second straight season Dallas came up short in Week 17 with the division at stake. I am a huge DeMarco Murray guy. He's averaging 4.8 yards per carry in his two seasons, but he's brittle. He has played in just 23 of a possible 32 games. He won't have a fullback this year, with Dallas using more two-tight end sets to spread out defenses and prevent a safety from creeping near the line of scrimmage. You won't find many better receiving duos than Dez Bryant (if he behaves) and Miles Austin. Tight end Jason Witten had one of his best years despite starting the season with a very serious spleen injury. New coordinator Bill Callahan will take over play-calling from Garrett.
Defense
This unit will look a lot different under new coordinator Monte Kiffin. Gone is the blitzing, aggressive 3-4 scheme under former coordinator Rob Ryan and in is the Tampa-2 under Kiffin, the grandfather of that bend-but-don't-break scheme. Ryan's defense ranked 19th overall and actually failed to force turnovers. Dallas ranked 28th in takeaways with 16 combined interceptions and fumble recoveries. The key is how DeMarcus Ware, arguably the NFL's best pure pass-rusher, and Anthony Spencer convert from outside linebackers to defensive ends. I don't expect a problem as both played with their hands on the ground in college.
2013 Dallas Cowboys Schedule Analysis
The Cowboys have the eighth-easiest schedule with an opponents' 2012 winning percentage of .480. Dallas has the fourth-easiest road slate with teams combining for a .414 percentage. Week 1 will be interesting because Dallas has yet to beat the Giants at newly-named AT&T Stadium. Win that, and 3-0 looks very doable with games at Kansas City and home to the Rams following. It may be tough to win at San Diego in Week 4, with Peyton Manning visiting Dallas in Week 5 and the first chance for payback on the Redskins in Week 6. Dallas has only one set of back-to-back road games, which is Week 7 in Philly and Week 8 in Detroit. I expect somewhere along the lines of 6-4 entering the Week 11 bye. Then it's a visit to the Giants with a quick Thanksgiving turnaround against the Raiders. The Cowboys then will get 11 days to prepare for a Monday nighter at Chicago in what could be some nice wintry weather. Green Bay visits Big D on Dec. 15, with the Cowboys closing at Washington and home to Philadelphia. I realistically see only one two-game losing streak in here but also probably no more than a three-game winning streak.
2013 Dallas Cowboys Futures Odds
Odds courtesy of BetOnline and Sportsbook.ag: Dallas has an "over/under" wins total of 8.5, with the under a -140 favorite. The Cowboys are the +180 NFC East favorites, +1500 to win the NFC and +2900 to win the Super Bowl. Romo is +3000 to win NFL MVP and +1500 to throw for the most yards. His yardage total is set at 4,675.5 (both -115). He is +2.5 touchdown passes (even) against Matt Ryan. Murray is +1500 to win the rushing title. Bryant is +800 to win the receiving yardage title. His total is set at 1,250.5 yards. Bryant is +2 receiving touchdowns against Detroit's Calvin Johnson and +1 against Chicago's Brandon Marshall.
2013 Dallas Cowboys Predictions
It's the same question I ask myself of Dallas nearly every year: Are the Cowboys more style than substance? It appears on paper the talent level at key positions is one of the best in the NFL. But you don't win just with glamour players. I do believe there's a sense of urgency here. I would take the over wins, the NFC East prop and I would roll the dice on Murray to win the rushing title. If he can play all 16, it's very possible. Take Romo under the yardage, Bryant over and against Marshall on the TDs but not Megatron, who had an uncharacteristic five last year.
Ready to bet on some NFL winners this year? Doc's Sports wants to help you get started by giving you $60 worth of picks completely free. No obligation. No salespeople to deal with. You don't even need to give us a credit card number. Click here to get started and get your free picks in minutes.
Read more articles by Alan Matthews