NFL Handicapping: Rob Ryan Is Actually Terrible At His Job
by Robert Ferringo - 7/17/2013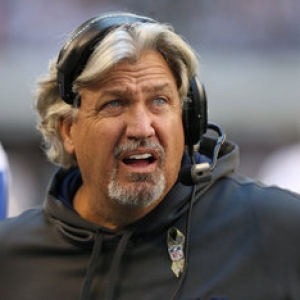 Rob Ryan is the new Mike Martz.
That's not a compliment.
For years I tried to tell anyone that would listen that Martz was one of the worst and most overrated offensive coordinators in NFL history. Yet, for years any time his name came up in the bobblehead media the first thing you would hear someone say is, "Mike Martz is an offensive genius. We all know that. But…"
And then the, "But…" usually lead to a discussion about awful Martz's current offense was performing.
Martz always received way more credit than he deserved for The Greatest Show on Turf title team in St. Louis. The 1999 team was truly amazing. Having eight Hall of Fame or Pro Bowl talents on an offense can do that for you. And that lone year of championship success didn't make up for all of the squandered seasons that the Rams had under the guidance of the bespectacled Martz.
Martz was the losing coach in one of the biggest upsets in Super Bowl history. Martz wasted one of the greatest offenses ever assembled (St. Louis went 33-31 in Martz's last four seasons), and he ran the St. Louis franchise into the ground (they haven't had a winning season since he left). Of the last nine offenses that Martz ran through his years in St. Louis, Detroit, San Francisco and Chicago, only one of them finished in the Top 10 while the other eight actually finished in the league's bottom half. And in his last five years in the league Martz didn't have a single offense rank in the Top 15 in either total offense or scoring offense.
Martz was a loser. But for some reason the chuckleheads and bobbleheads in the media never recognized it.
Cue Ryan.
Rob Ryan is generally considered to be a viable and successful NFL defensive coordinator. His wild hair and devil-may-care attitude make him a fan favorite. And Ryan's brash, outspoken, profane demeanor makes him a great interview and a magnet for the cameras, thus making him a media favorite. Thanks to Ryan's years of service, and the success of his brother Rex and father Buddy, the Ryan name has been synonymous with defensive ingenuity in NFL circles.
One problem though: Rob Ryan's defenses have been horrendous. He is known for his aggressive, blitzing style. That sounds great. Fans and media members love aggressive coaches, right? Just like they loved Martz's aggressive, pass-wacky styles and the fact that Martz never met a fourth down that wasn't worth going for, game situation be damned. Sure. It is fun to have a coach that just says, "Screw it" and lets it rip time and time again.
But just like trying to whack your way around a golf course using nothing but your driver, eventually that "aggressive" approach is going to kill you on the scoreboard.
And while Ryan sure looks good when he pumps his fists and swears on the sidelines after a big play, the truth is that his approach constantly exposes his unit. Repeated blitzing has consistently left his back seven vulnerable to the big play. And even worse, for all of Ryan's bluster about toughness, his all-out approach has frequently produced some of the worst rush defenses in football, including a stretch from 2007-2009 in which his D finished in the bottom five against the run three straight seasons. (Ryan also guided Bottom 11 run defenses in 2004, 2005 and 2012.)
In fact, were it not for superhuman efforts from his teams' red zone defense then Ryan's resume would be even uglier than it is. But where it stands right now, that resume isn't even close to living up to the hype that Ryan carriers as a DC.
Sound familiar?
Besides their consistent underreported failings, Martz and Ryan share another major similarity: they are both known for the convoluted, overly complicated and voluminous schemes and playbooks. People always talked about Martz's playbook being thicker than a New York City phone book. Well this February it was leaked that one reason for Ryan's ouster in Dallas was that he "used too many schemes".
And like Martz, Ryan has shown a shocking inability to adapt those tangled, tortuous schemes to the actual personnel that he is working with.
Ryan's first defensive coordinator gig came in Oakland, where he served from 2004-2008. His defenses finished No. 25 or worse in points allowed in four of the five years he was there. They also finished No. 22 or worse in total defense four of five times, with the one outlier coming in 2006 when the unit was No. 3 in scoring but just No. 18 in yards.
But no one held those horrific defenses against Ryan. After all, it was Oakland. They are always a train wreck, and no one can really be held responsible for it, right?
Well, Ryan took his show on to Cleveland, where he served as DC in 2009 and 2010. But just like in Oakland, his teams were perpetually substandard. The Browns defense finished No. 21 and No. 13 in points and No. 31 and No. 22 in yards allowed, respectively, in those two seasons.
But, still, that can't be pinned to Ryan, right?
Well, how about the fact that in both stops, Oakland and Cleveland, the defenses posted better statistical seasons in both the year before Ryan took over and the year after he was let go? Because that happened.
That wasn't the case in Dallas, however, where Ryan went next. The 2010 Cowboys defense finished No. 31 in scoring and No. 23 in yards allowed. They improved to a perfectly mediocre No. 16 in scoring and No. 14 in total offense in Ryan's first year with the team.
Success! And all Ryan, right?
Not exactly. The 2010 Cowboys defense was a bit of an anomaly. That season came off the rails due to Tony Romo's injury and the in-season firing of Wade Phillips. But prior to that, the Cowboys had fielded a Top-10 total defense three straight years and in four of five. In fact, Dallas has had a Top 10 defense 13 times in the 18 years prior to Ryan's arrival.
So that No. 16/No. 14 group in 2011 doesn't really look so hot, comparatively. And then last year the Cowboys sunk to No. 24 and No. 19, respectively, before Ryan was cut loose this offseason. And he left such an impression with his style that Dallas decided to go in the complete opposite direction this year when they brought in their new defensive coordinator.
Another similarity between Ryan and Martz: their defiant delusions about their own ability.
After Dallas canned him, Ryan stated he would, "be out of work for like five minutes." His delusions continued when asked about his unceremonious exit from Dallas, saying to Josh Katzowitz of CBS Sports that, "Better coaches than me have been fired. Just not many."
Ryan was pretty close on his predictions, as New Orleans came calling not soon after he interviewed with St. Louis. Ryan signed with the Saints in February and became one of several big name coordinators to turn up this offseason. And his new division, the NFC South, is one of several that will feature a new offensive coordinator this year.
In New Orleans, Ryan should be able to buck his trend of fielding a worse defense in his first season at the helm with a new team. But that is only because the bar has been set historically low for him. The 2012 Saints defense set an NFL record for yards allowed – an almost unfathomable 7,042 – and surrendered nearly 30 points per game (28.4 to be exact). Since they ranked No. 32 in yards allowed and No. 31 in points allowed, there is nowhere to go but up.
I'm still not predicting a smooth ascent. By going with Ryan the Saints are committing to a 3-4 base defense. However, they have been running a 4-3 for the duration of Sean Payton's tenure, so they have the wrong personnel to run Ryan's schemes. In a lot of ways it is the proverbial square peg in the round hole.
But the Saints could've hired a scarecrow to be their defensive coordinator this year and they are likely to improve from last year's historically bad unit. So while Ryan will get the credit – which will force us into another offseason of sports columnists praising his performance – the reality is that he will likely have very little to do with any positive movement.
And the fact that New Orleans is going to overhaul their personnel and techniques and transition to a 3-4 tells me that they intend to keep Ryan around for the foreseeable future.
The information that Rob Ryan is actually terrible at his job holds little gambling value. New Orleans totals are already set comically high by the oddsmakers. That has more to do with Drew Brees and the Saints' unstoppable offense than it does their debacle of a defense. After last year's 10-6 mark against the total, I think that the Saints are headed for a season in which they cash more "under" tickets regardless of what scheme they are running. So really the idea that we should bet against Ryan's defenses and play "over" actually looks like a losing proposition.
There may be some value betting against the Saints this preseason though. As we mentioned, they are undergoing a complete remodel on the defensive side, and that could make them vulnerable in August.
But perhaps the value of Ryan's incompetence can truly pay off for us next year. After the Saints make an improvement of Year 1 in Ryan's scheme, the offseason storylines will focus on how the long-haired ogre and "defensive guru" has turned around the Saints culture on that side of the ball. But we know that's not really the case.
And just like all those teams – the Lions, the 49ers, the Bears – late in Mike Martz's career that got sucked into believing the hype of Mad Martz over the actual production, it is only a matter of time before Reality hits the Saints like an unblocked blindside blitzer and that Ryan is exposed as the fraud that he is.
Robert Ferringo is a lead writer for Doc's Sports and one of the best football handicappers in the nation. Robert has posted five of six winning Augusts and his football plays for the NFL Preseason are available right now for just $49. CLICK HERE to sign up and quit missing out!
Read more articles by Robert Ferringo