NFL Betting and Handicapping: Scouting the Week Ahead
by Alan Matthews - 12/23/2013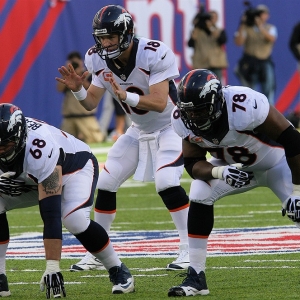 **Breaking News Update: Dallas QB Tony Romo is out for the season with a back injury, which was announced right after this article was posted on Doc's Sports. Of course, this will change the line for the game and makes this story a bit outdated.**
God help us: A full week of ESPN fawning over the Dallas Cowboys. It could be worse, I suppose, if Tim Tebow was the Dallas quarterback.
For the third season in a row, Dallas, always a media darling, will play in a winner-take-all NFC East Championship Game. And for the third year in a row, the game was flexed into the Sunday night finale slot. It hasn't worked too well for Dallas previously. In 2011, at MetLife Stadium, Dallas lost 31-14 to the Giants, completing a late-season collapse where Dallas lost four of its final five games. Oft-criticized Tony Romo wasn't at fault for that one, completing 29-of-37 for 289 yards with two scores and a pick.
Last season at the Redskins, Dallas lost, 28-18. Romo certainly deserved plenty of blame for that one as he was just 20-of-37 for 218 yards, two touchdowns and three picks. Alfred Morris gashed the Dallas defense for 200 yards rushing, a result that probably cost former Cowboys defensive coordinator Rob Ryan his job, which has turned out to be a huge mistake.
Romo was under fire heading into Sunday's game against the Redskins after his two late interceptions cost Dallas a 37-36 loss to Green Bay. To his credit, Romo led Dallas to the game-winning score on fourth-and-goal at the Washington 10 with 1:08 remaining. That ended a four-game December losing streak for the Cowboys. It was Romo's 13th game-winning drive in the fourth quarter or overtime since 2011. That's what infuriates people about the guy. He can be brilliant but also incredibly careless. There's also the fact he's 1-6 in elimination games in his career.
The Cowboys' win meant that the Eagles had nothing to play for Sunday night, yet they still slaughtered the Bears -- who would have clinched the NFC North with a victory. Philly and Dallas also played in a winner-take-all game in 2008. The Eagles won 44-6 at home with Romo throwing for just 183 yards and a pick. Philadelphia, which has won six of its past seven games but lost 17-3 to Dallas in Week 7, opened as a 2.5-point road favorite this time at BookMaker.
Broncos' Super Hopes Dashed?
The Denver Broncos remain the AFC's Super Bowl favorite at 3/1 at Bovada, and Peyton Manning wrapped up his record fifth NFL MVP Award by throwing his single-season record 51st touchdown pass in Sunday's win over Houston. However, not all the news was good. The Broncos lost their best defensive player, linebacker Von Miller, to a season-ending torn ACL. He had five sacks and three forced fumbles in nine games this season. True, the Broncos were 6-0 without Miller when he started the year suspended, but that was because of Manning's brilliance. The defense was pretty lousy. Can the Broncos count on Manning continuing to put up arcade-type numbers when the weather goes south? I say no.
In addition, Denver was hoping to not have to play Manning this week, but the Broncos likely are going to have to win in Oakland to have the AFC's No. 1 seed. They are 11.5-point favorites. On the bright side, Denver will know by the time it takes the field whether the starters would need to play. If the Patriots win in an early-starting game against Buffalo, and they are nine-point favorites, then Denver does have to give it full effort.
I'm frankly surprised Seattle remains the overall Super Bowl favorite at 11/4 after the Seahawks were upset at home by Arizona on Sunday, the first home loss in Russell Wilson's young NFL career. The Seattle offense has looked very mediocre at times the past few weeks and better hope Percy Harvin can get healthy by the playoffs. In the life isn't fair department: The Cardinals could finish 11-5 and miss the playoffs.
Finale For Cutler?
It's possible that Jay Cutler could be playing his final game in a Chicago Bears uniform on Sunday. The Bears host Green Bay for the NFC North title. Cutler didn't look very good in the loss to the Eagles, but in fairness the Chicago offensive line played by far its worst game of the season. Coach Marc Trestman already has said Cutler, who can become a free agent this offseason (Bears may franchise tag him), will be his starter even thought backup Josh McCown has looked far better in 2013.
The Bears could catch several breaks Sunday. Aaron Rodgers is still considered unlikely to return from his broken collarbone suffered in Green Bay's Week 9 27-20 loss to the Bears. The Pack's best defensive player, linebacker Clay Matthews, reinjured a thumb that cost him a month earlier this season in Sunday's loss to Pittsburgh. And running back Eddie Lacy, the likely NFL Offensive Rookie of the Year, hurt his ankle Sunday. Don't look for a line on this game until maybe Friday as the Packers will presumably hold out as long as possible before announcing a Rodgers decision. They will be road favorites if he does.
Go Against Lions, Chiefs, Texans
Week 17 is often a great time to bet, because those teams whose playoffs hopes were just dashed are going to be going through the motions. Perhaps nowhere more than in Detroit. The Lions lost their fifth game in the past six Sunday, 23-20 in overtime to a Giants team that had been outscored 60-14 in its previous two games. I'm not sure I've seen a more undisciplined team in years than the Lions. Coach Jim Schwartz absolutely can't return. I would bet the farm this week on the Vikings -3 hosting Detroit in the final game at the Metrodome. I also wouldn't expect Calvin Johnson to play as he's clearly far from 100 percent, and there's no point now.
Another team I would jump on this week is San Diego -10 against Kansas City. The Chiefs are locked into the AFC's No. 5 seed -- every other team assured a playoff spot still has something to play for -- and almost certainly will rest some key guys. The Chargers can still get into the playoffs with a win and losses by Baltimore and Miami. The Ravens are +5.5 at Cincinnati, and the Bengals still have a possible first-round bye to play for. The Dolphins are -6.5 at home against the Jets and are in with a win and Ravens loss or a victory and Chargers win. The Jets could play inspired in a last-ditch effort to save Coach Rex Ryan's job.
Other coaches likely in their final games Sunday: the Vikings' Leslie Frazier, Cowboys' Jason Garrett (if they lose), Giants' Tom Coughlin, Redskins' Mike Shanahan, Bucs' Greg Schiano, Texans' Wade Phillips (interim), Titans' Mike Munchak and Raiders' Dennis Allen. I'd go big against Houston +7 at Tennessee as the Texans can clinch the No. 1 pick in the draft with a loss. Yeah, the players don't care about that, but if I'm Houston GM Rick Smith I'm resting any starters who have even minor injuries just for that right of the top pick.
Ever want to try out a Doc's Sports NFL handicapper? Now new clients can do it for free, and with no obligation. Click here for $60 worth of free, no obligation NFL picks.
Read more articles by Alan Matthews