NFL Betting and Handicapping: Scouting the Week Ahead
by Alan Matthews - 11/5/2013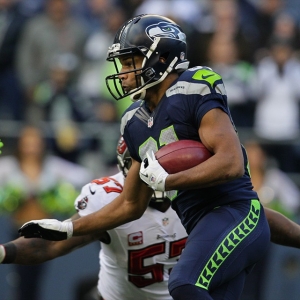 For much of the season, I thought a Seattle-Denver Super Bowl was looking likely, but I no longer think there is a truly dominant team in the NFL this season. The Broncos were off in Week 9, but they clearly have defensive issues. As for the Seahawks, maybe they are just playing down to their competition. They were lucky to win in Week 8 at the St. Louis and then even more fortunate on Sunday to beat visiting and winless Tampa Bay 27-24 in overtime. The Bucs were up 21-0 at one point and 24-7 midway through the third quarter. It would be the biggest comeback in Seahawks history.
While Percy Harvin might solve some of the Seahawks' problems whenever he debuts -- which apparently won't be this week, either -- the defense has shown cracks as well. The Bucs and Rams both rushed for at least 200 yards, the first time Seattle had allowed that much in back-to-back games in 11 years. We aren't talking about James Wilder and Eric Dickerson here but Mike James and Zac Stacy.
Keep an eye on Seattle the next two weeks as it is at Atlanta (+6) on Sunday and then hosts Minnesota. Obviously, both games the Seahawks should win, but maybe they are coasting to their bye week and already looking ahead to Week 13 (vs. New Orleans) and Week 14 (at San Francisco). Seattle remains the NFC favorite at 9/4 on Bovada, but the 49ers are playing much better right now, crushing five straight opponents. So is Carolina, which has routed four straight and will be a team no one wants to play in the wild-card round. Panthers-Niners is arguably the game of Week 10, with San Francisco opening at -6.5.
I also realize Kansas City, which is off this week, is still unbeaten, but the Chiefs should have lost Sunday to Buffalo and Jeff Tuel. K.C. didn't score an offensive TD but two on defense. Hey, sometimes it's better to be lucky sometimes than good. K.C. has seen its AFC title odds lowered to 5/1, now tied for third with the Colts and right on the Patriots' heels.
M*A*S*H* Report
Andy Reid is showing that the right head coach can turn around a franchise right away, but what about teams that lose their current coaches unexpectedly? That's the case with Denver and John Fox and Houston with Gary Kubiak.
Kubiak nearly fainted when his team was going in for halftime on Sunday night against Indianapolis, and it sure seemed his absence affected the Texans. Houston led 21-3 at intermission but lost 27-24 on yet another Andrew Luck fourth-quarter comeback. Kubiak may have had a mini-stroke, and he certainly won't be coaching this week as the Texans look to end a six-game skid at Arizona (-3). I'd be surprised if Kubiak comes back the rest of this season with Houston not going anywhere. It may have saved his job, however. Ownership would look cold-hearted if they fired him now.
Fox's absence could be a big problem for Denver, which remains the 3/2 Super Bowl favorite. He knew he had a heart issue that needed surgery but was hoping to put it off until after the season. It didn't cooperate, and Fox underwent heart surgery. Former Jaguars coach and current defensive coordinator Jack Del Rio will be team's interim coach, so at least he has experience. Plus, he's tight with Fox (another defensive guy), so I'm guessing not much will change and that Del Rio won't even touch the offense. Really, the Broncos are as well-suited to deal with this as anyone because Peyton Manning is the essentially the team's coach. The Broncos also could use this as a rallying point. Fox is out several weeks.
The biggest non-coaching injury of the week was easily on Monday night when Bears defensive end Shea McClellin sacked Green Bay's Aaron Rodgers on the Pack's first offensive drive. Rodgers landed hard on his non-throwing shoulder and wouldn't return. Seneca Wallace, who only signed with the team on the eve of the season, was forced into action and looked predictably lost as Chicago upset Green Bay, 27-20. Early reports are Rodgers has a small fracture in his left collarbone and will miss three weeks.
I'm surprised the Packers don't have a better option than Wallace as they've long been known as grooming good backup QBs -- Mark Brunell and Matt Flynn, to name two. Flynn is now available, and it wouldn't surprise me to see Green Bay give him a call. The good news for Green Bay is it has one of the NFL's easiest schedules the rest of the way and faces teams with losing records the next three weeks: vs. Philadelphia (this opened as Packers -9 at one book, but that was before Monday's game and obviously will change), at the Giants and vs. the Vikings. No reason Green Bay can't at worst go 2-1 by riding Eddie Lacy hard (he's your Offensive Rookie of the Year). There's a three-way tie atop the NFC North between Chicago, Green Bay and Detroit at 5-3. The Bears and Lions face off at Soldier Field on Sunday, and Chicago might get Jay Cutler back. The Bears can at least feel comfortable knowing they have a very capable backup QB in Josh McCown.
Week 10 Enticing Underdogs
I did hit on those Buccaneers getting +17.5 in Seattle in Week 9 but missed on the Falcons +7.5 at Carolina and Pittsburgh +7 at New England, even though the game was tied late in the third quarter until the Steelers defense laid down.
St. Louis (+10) at Indianapolis: How can the Colts not have some sort of a letdown here? They have played in a prime-time game three games in a row and had that unbelievable comeback on Sunday night. The Rams should have beaten Seattle two weeks ago and lost in the final minutes Sunday against Tennessee. They seem to have found their running back of the future in Stacy, who has totaled 53 carries for 261 yards and two scores in the past two games. The Colts will care more about their Week 11 short turnaround game at Tennessee, which is the only team that can catch Indy in the AFC South.
Jacksonville (+13) at Tennessee: And speaking of those Titans, they also will be looking ahead to that Colts matchup. The Jaguars will be as prepared as they can be having been off last week, but losing Justin Blackmon for the season to another suspension doesn't help things. It's not like the Titans are an offensive powerhouse, so the Jags will lose by single digits for the first time this season.
Tampa Bay (+3) vs. Miami: How can all this Richie Incognito mess not be a gigantic distraction for the Dolphins? Now the Fins are down two of their starting offensive linemen in Incognito and Jonathan Martin, against whom Incognito apparently performed a Code Red. Tampa Bay will be feeling pretty confident off its effort in Seattle and pull the upset. I could see this line getting over 3 with heavy early action on the Fins.
Doc's Sports has been successfully handicapping the NFL for years – more than four decades in the business – and wants to give new clients a chance to try our service for free. Click here for the hassle-free sign up and get $60 in free NFL picks today.
Read more articles by Alan Matthews